Charlottesville: Virginia governor Terry McAuliffe says police failure to control protest due to militia's 'better equipment'
The violence at the weekend white supremacist rally resulted in one death and multiple injuries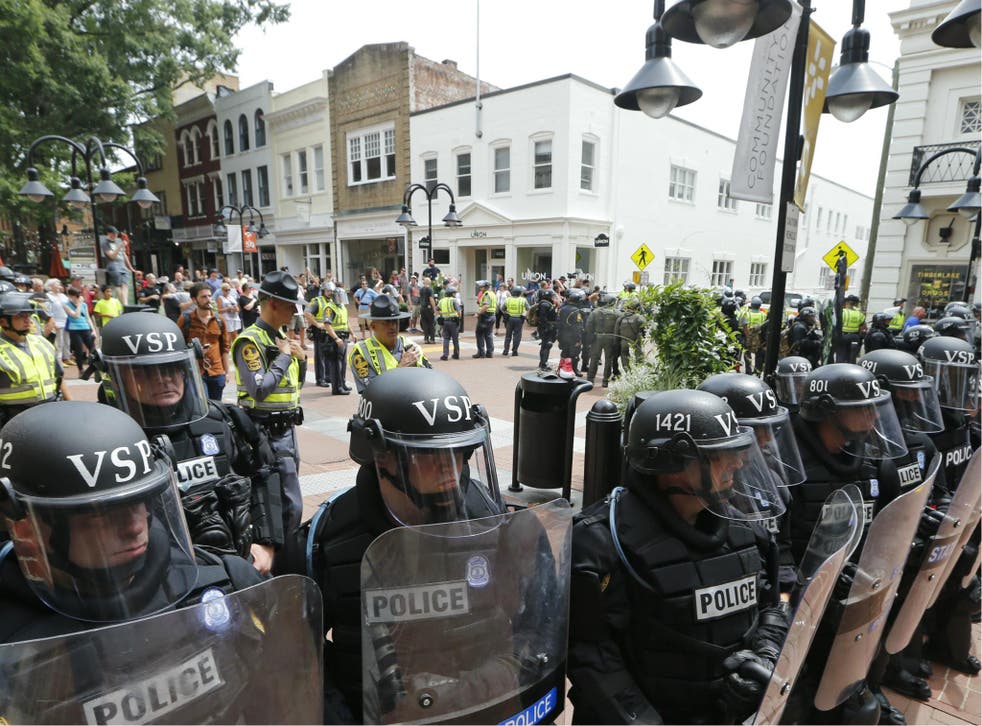 Virginia Governor Terry McAuliffe has said one of the reasons the police failed to control the violence during a white supremacist rally in Charlottesville was because militia members at the rally were armed with "better equipment" than the state police themselves.
"It's easy to criticise, but I can tell you this, 80 per cent of the people here had semiautomatic weapons," Mr McAuliffe said.
Several members of militia groups, seen wearing tactical gear and carrying assault rifles, were marching from the early morning to Emancipation Park where the rally was supposed to take place to protest the removal of a statue of Civil War Confederate General Robert E Lee.
On the other side of town, counter-protesters comprised of faith leaders, groups like Black Lives Matter and Showing Up For Racial Justice, and others gathered as well.
The governor defended the police in what he called "a very delicate situation".
Mr McAuliffe said the tragic death of Heather Heyer, 32, a peaceful counter-protester who died as a result of a car being driven into the crowd, could not have been stopped.
The alleged driver of the vehicle, James Alex Fields Jr, 20, is in police custody on charges relating to Ms Heyer's death and injuring up to 35 people. He was denied bail at his first court hearing.
Violence on the streets of Charlottesville

Show all 9
Brian Moran, Virginia's secretary of public safety and homeland security, said he saw from a post at a downtown bank that there were sporadic fights until people began throwing water bottles, smoke bombs, and using pepper spray.
Attendees told the newspaper that police waited to intervene. Jason Kessler, the organiser of the rally, claimed police "exacerbated the violence" and were "underequipped for the situation" in a statement.
Spokesperson for the Virginia State Police Corinne Geller said that though it may have looked like a lot of our folks were standing around" but there were several officers who responded to incidents.
She did not address a plan to prevent the violence in the first place, but witnesses said the perception of a lack of police presence was enough to spur more violent situations in pockets of the crowd.
Police, wearing riot gear, attempted to disperse the crowd after declaring the gathering an unlawful one just ahead of Mr Field's attack.
Two Virginia State Police troopers were also killed: Lieutenant H Jay Cullen and Trooper-Pilot Berke MM Bates when a helicopter they were piloting crashed while assisting public safety resources during the clashes.
Mr Sessions has said that "terrorism investigators from the FBI are working on the case as well as civil rights division FBI agents" to understand the whole incident.
In an initial speech given by Mr Trump ahead of a bill signing regarding the Veterans Administration, the President blamed "many sides" for the violence and stopped short of condemning the Klu Klux Klan and Nazis present at the rally. He called on the nation to "unite" and "heal wounds" of a problem that had been around for "a long, long time. Not Barack Obama. Not Donald Trump".
One senior administration official said "on background" to reporters that Mr Trump "of course" denounces these groups. Mr Trump called racism "evil" and condemned white nationalist groups during an address at the White House on Monday, having come under pressure to directly condemn those involved in the violence.
Join our new commenting forum
Join thought-provoking conversations, follow other Independent readers and see their replies