Breakdancing granny performs hilarious dance routine to Brussels beatboxer - video
Now this granny can throw some shapes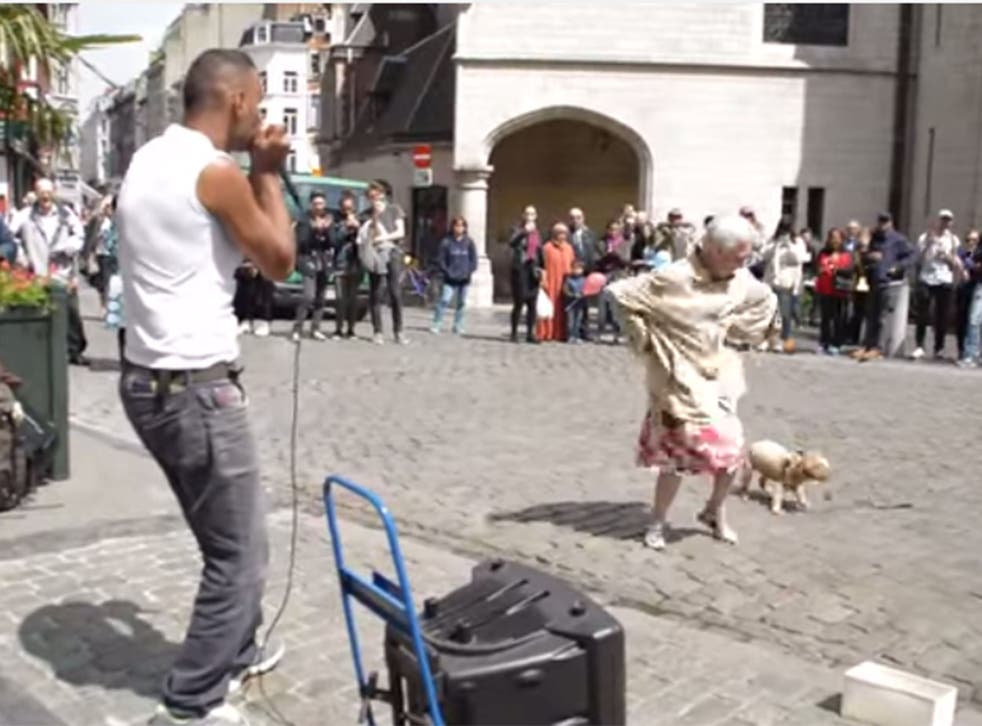 They say that you should dance like no one's watching, but for one elderly woman in Brussels a crowd only seemed to spur her on as she threw down some incredible dance moves to the beat boxing of a street performer.
The footage captured on Monday afternoon, shows street performer Amma Dufri, like he does most days, beat boxing to the passing crowds in Belgium's capital.
However, instead of the usual appreciative nod or occasional euro being thrown his way, on Monday he had his very own dancer to accompany his music. The unnamed elderly woman, who can be seen holding her dog throughout, was filmed thrusting, shaking and shimmying along to the music.
At one point, she even drops to the floor and writhes around before getting back onto her feet.
When the music stops, the stunned bystanders burst out in applause in appreciation at the impromptu performance by the "breakdancing granny".
Read More:
Writing later online, Dafri, also known as "Power Beat", said: "I was really moved by this woman and I played the harmonica for her. That's what art can do."
The video has already proved a massive success online, with over 500,000 internet users watching the video in two days.
Register for free to continue reading
Registration is a free and easy way to support our truly independent journalism
By registering, you will also enjoy limited access to Premium articles, exclusive newsletters, commenting, and virtual events with our leading journalists
Already have an account? sign in
Register for free to continue reading
Registration is a free and easy way to support our truly independent journalism
By registering, you will also enjoy limited access to Premium articles, exclusive newsletters, commenting, and virtual events with our leading journalists
Already have an account? sign in
Join our new commenting forum
Join thought-provoking conversations, follow other Independent readers and see their replies