Britain's property obsession grabbing them early: Luxury playhouses now on the market for as much as £800
Tom Bawden
Thursday 17 April 2014 18:31 Comments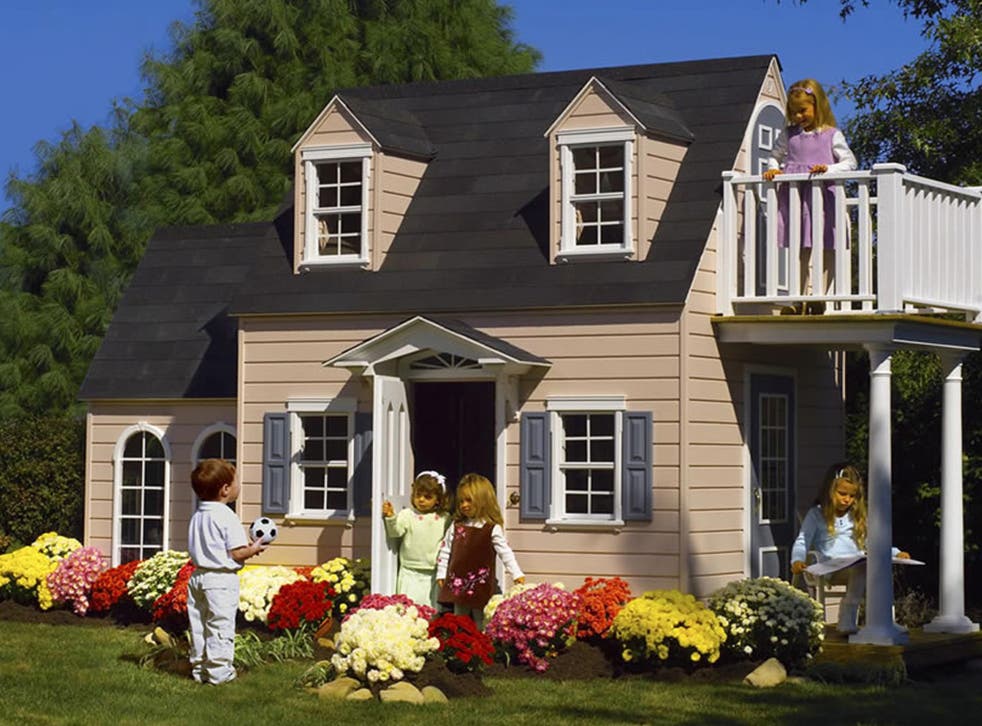 Not so long ago, the average child was perfectly happy with a playhouse made from cheap scrap wood, cardboard or even a bed sheet draped over a line between two poles. Wonky wendy houses wobbled across the land.
Nowadays that won't do at all, with youngsters around the country living it up in des-res two-storey garden mansions with a balcony, double-glazing, window box, electronic doorbell and, in some cases, even a pretend oven.
Given Britons' obsession with property and competing through their children, it's no wonder that a new construction boom is underway that is costing parents an arm and a leg.
Homebase reports that sales of garden playhouses are soaring, with parents routinely paying £549.99 for a "premium log cabin" and £449.99 for a double-storey cottage playhouse with fence – record amounts that would have been unthinkable to most, only a few years ago.
"Britain's continual fascination with houses and property now begins when children are just three years old. They've become status symbols for parents as well as toys for children," says Homebase buyer Helen Portess.
The DIY chain has conducted research into the shopping habits of more than 60,000 people across the UK and found that demand for playhouses is soaring across the country. It reports that 13 per cent of homes with children now have playhouses – translating into almost 700,000 playhouses across the UK.
Parents are spending an average of £194.99 on a playhouse, with some customers forking out four times that amount – or nearly £800 – says Portess.
However, if parents' pockets are hurting, they only have themselves to blame. She argues that the extravagance is "lost on the children themselves" and blames their mothers and fathers for engaging in a game of good old-fashioned one-upmanship with friends and neighbours. The children themselves are generally perfectly happy with Homebase's cheapest models, which come in at less than £20, she says, presumably rather against the spirit in which the survey was conducted.
"Today's parents come from a generation where buying a trophy home was seen as an undeniable sign of being 'upwardly mobile'. So ingrained is this approach to property that it seems to be influencing their choice of playhouses too. As a result, owning an elegant, well-appointed playhouse has become a statement of aspiration," Portess says.
She draws a comparison between the 1990s sitcom Keeping Up Appearances, which featured social climber Hyacinth Bucket, who insisted her surname was pronounced Bouquet.
"We believe that a desire to maintain social status may also be driving sales at the top end of the market. It's a traditional, British, Hyacinth Bucket approach to home ownership – but played out in miniature," she explains.
Joclyn Silezin, B&Q's horticultural category manager, has also noticed a surge in demand for playhouses.
"There are definitely more people buying them," she explains. "Gardens have become much more children-focused in the last couple of years."
Silezin points out that garden houses are by no means the only thing people compete about when it comes to their backyards.
"Charcoal and barbecue sales have seen big growth – people want to show off their bigger and better barbecue to the neighbours," she adds.
Some of the pretend ovens in some top-of-the-range garden playhouses can be converted into pretend barbecue grills – a kicthen set-up that provides the perfect training to host a fine adult barbecue at a beautiful real house, to let the guests know just how well you're doing.
Register for free to continue reading
Registration is a free and easy way to support our truly independent journalism
By registering, you will also enjoy limited access to Premium articles, exclusive newsletters, commenting, and virtual events with our leading journalists
Already have an account? sign in
Join our new commenting forum
Join thought-provoking conversations, follow other Independent readers and see their replies