Cadbury launches investigation after 'wasp is discovered' in bar of Dairy Milk
Joe Krishnan
Monday 27 January 2014 14:15 Comments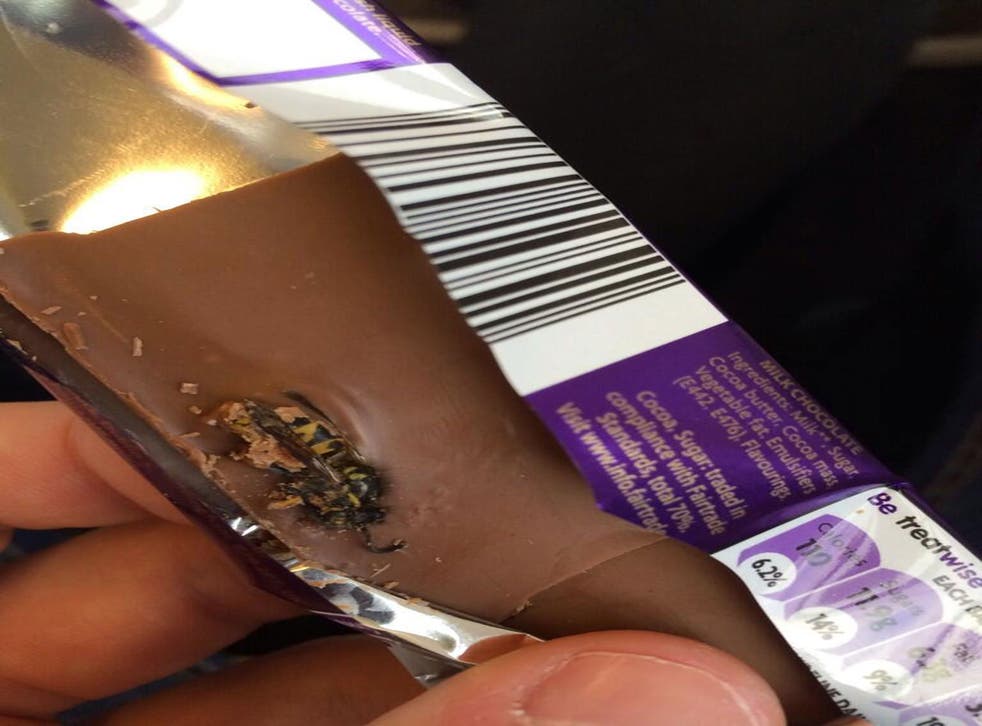 Cadbury has vowed to launch an investigation after a picture of a wasp embedded into one of its chocolate bars was posted on Twitter.
Jake Keating, from Liverpool, tweeted the image after he found the insect lodged inside a bar of Dairy Milk.
He used Twitter to contact Cadbury via their official account (@CadburyUK), saying: "As if I have just found a WASP in my chocolate!!! What are you gonna do about this!?!"
The company swiftly responded on the social networking website, replying:"We'd love to reply with a pun, but we want you to know how seriously we're taking this, so we won't,"
The image soon swept around Twitter, prompting Cadbury to take action, assuring their other followers the matter was being dealt with: "'Hi guys, we're investigating this and are in contact with the original poster. Thanks for flagging."

Cadbury, based in Birmingham, is listed as the second largest confectionery company in the world, after being acquired by Mondelez International in 2012.

Register for free to continue reading
Registration is a free and easy way to support our truly independent journalism
By registering, you will also enjoy limited access to Premium articles, exclusive newsletters, commenting, and virtual events with our leading journalists
Already have an account? sign in
Register for free to continue reading
Registration is a free and easy way to support our truly independent journalism
By registering, you will also enjoy limited access to Premium articles, exclusive newsletters, commenting, and virtual events with our leading journalists
Already have an account? sign in
Join our new commenting forum
Join thought-provoking conversations, follow other Independent readers and see their replies