Crash victims in car flattened by shipping container emerge with just minor injuries
The container had to be lifted off the crushed car with a 100 tonne crane
Heather Saul
Saturday 26 July 2014 10:17 Comments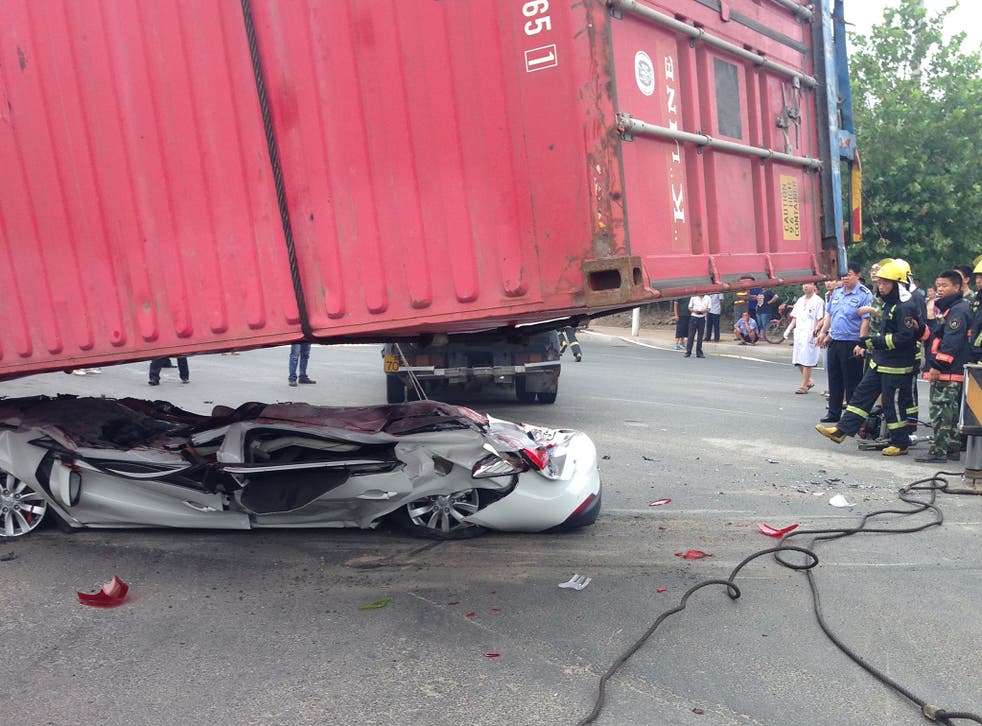 Dramatic pictures have emerged showing the moment two passengers were rescued from inside a car flattened by a shipping container, with the driver escaping with just minor injuries.
The incident occurred when a truck carrying the container swerved to avoid colliding with a vehicle in the city of Qingdao, eastern China, causing it to topple from the lorry and land directly on top of the car.
Emergency services called to the scene said they were convinced no-one could not have survived being crushed by such a huge weight, until they heard a woman's voice emerging from the squashed vehicle.
The fire brigade spokesman Chi Tang was quoted by the Daily Mail as saying: "We had a call about the accident to say that a lorry had fallen onto a car. We didn't expect anybody to be alive but then we heard a woman's voice and realised that actually somebody had survived."
Traffic police were then called in to hoist the container while firefighters cut through the Sedan to reach the accident victims, the paper reports. After lifting the container, the woman even managed to give a thumbs-up to show rescue workers she was alive.
The container was so heavy it had reportedly squashed the car to just 60cm.
Miraculously, both the female driver and male passenger were pulled from the wreckage alive. The driver reportedly suffered just cuts and bruises, while her companion sustained more serious but not life-threatening injuries.
The lorry driver was hospitalised with minor injuries.
Register for free to continue reading
Registration is a free and easy way to support our truly independent journalism
By registering, you will also enjoy limited access to Premium articles, exclusive newsletters, commenting, and virtual events with our leading journalists
Already have an account? sign in
Join our new commenting forum
Join thought-provoking conversations, follow other Independent readers and see their replies