Death of a clown: Why America's red-nosed ones are disappearing
Older generations of clowns are dying out and young people are reluctant to replace them, warn the Clowns of America
Tim Walker
Tuesday 18 February 2014 11:56 Comments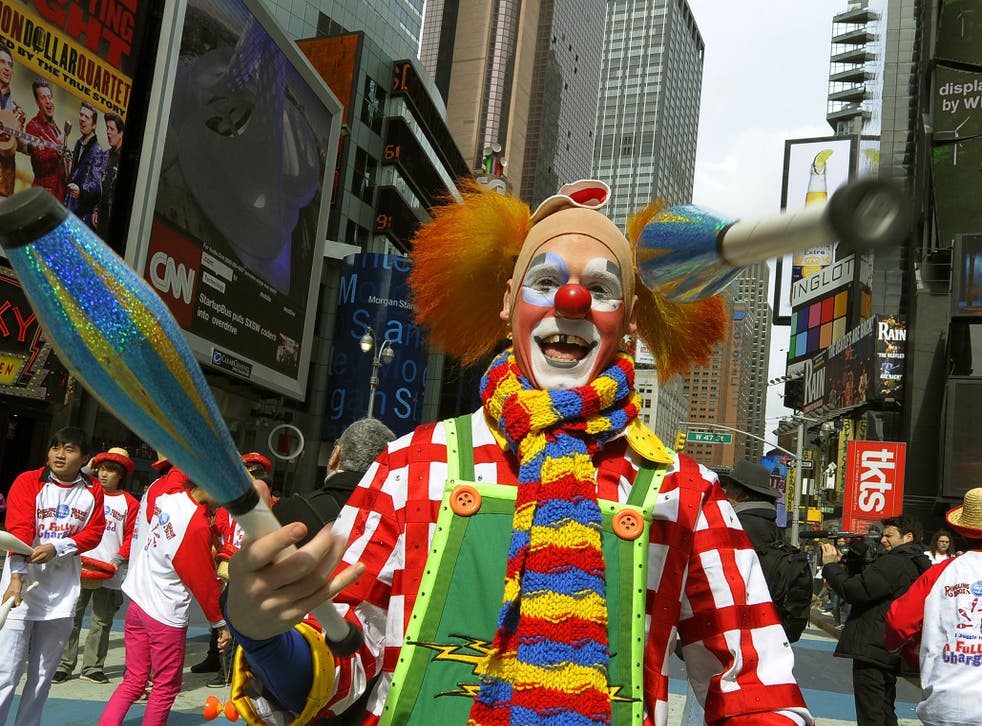 Daub a greasepaint tear on your cheek, for this is no chuckling matter: America may soon be bereft of clowns. That's the claim being made by the country's shrinking clown-based trade organisations in a report by the New York Daily News, which warns of an imminent national clown shortage brought on by a decline of interest in clowning, and the advanced age of its existing practitioners.
Glen Kohlberger, the president of Clowns of America International, told the New York Daily News that his organisation's membership had dropped like a perfectly executed pratfall since the middle of the last decade. "What's happening is attrition," Mr Kohlberger said. "The older clowns are passing away." Meanwhile, he explained, younger potential clowns are being put off taking it up professionally. "They go on to high school and college and clowning isn't cool anymore," he said. "Clowning is put on the back burner until their late 40s and early 50s."
The largest clown organisation in the US is the World Clown Association, which has seen membership fall from about 3,500 in 2004 to 2,500 today. Its president Deanna Hartmier explained most of the Association's members are over 40. "The challenge is getting younger people involved in clowning," she said.
Yet with the number of large-scale circuses also in decline, there are fewer opportunities for aspiring clowns to make a living. Clowns in the US can expect to earn between $200 (£119) and $300 (£179) for birthday party appearances, with only an elite few selected to perform at world-renowned circuses such as Ringling Bros and Barnum & Bailey.
According to Daily News, of 531 applicants to the Ringling Bros Clown College in 2013, a mere 14 were selected to take part in a two-week boot camp, and just 11 of those were offered jobs with the circus, which employs around 26 clowns in all. "Our audience expects to be wowed," said David Kiser, director of talent for Ringling Bros. "No longer is it good enough to just drop your pants and focus on boxer shorts."
Though popular culture contains many beloved clowns, the prevalence of malevolent funnymen such as Pennywise from Stephen King's chiller It has led to a rise in the number of people suffering from coulrophobia, a fear of clowns. In the UK, clowning recently suffered a pie in the face, publicity-wise, from a Northampton man who dressed as a scary clown and terrorised local residents. The Northampton Clown reportedly began a wave of copycat clown incidents, which unnerved unsuspecting members of the public across Derbyshire and South Yorkshire.
In Pictures: 17th International Clown Convention in Mexico City

Show all 6
However, Tony Eldridge, aka Bluebottle, the secretary of the British clowning organisation Clowns International, told The Independent that there was no corresponding clowning shortage in the UK. "There's no crisis here," Eldridge said. "The figures are fairly static. There's never been that many clowns in Great Britain. We've always had around 250 to 300 members."
Mr Eldridge explained that several of his members have had to go part-time as a result of a drop-off in the number of children's parties hiring clowns since the economic crisis. "The business was flourishing 10 years ago because people were financing quite elaborate children's parties," he explained, "There was quite a lot of competition between families for entertainers."
Despite the declining number of registered clowns in the US, one youngish entertainer, Jeff Seal, told Gothamist it's not the clowning profession per se that's in crisis, but its somewhat fusty trade groups. "There are still a lot of younger people becoming clowns, they're just not joining the Clowns of America International," Mr Seal said. "It's more of a generational thing."
Register for free to continue reading
Registration is a free and easy way to support our truly independent journalism
By registering, you will also enjoy limited access to Premium articles, exclusive newsletters, commenting, and virtual events with our leading journalists
Already have an account? sign in
Register for free to continue reading
Registration is a free and easy way to support our truly independent journalism
By registering, you will also enjoy limited access to Premium articles, exclusive newsletters, commenting, and virtual events with our leading journalists
Already have an account? sign in
Join our new commenting forum
Join thought-provoking conversations, follow other Independent readers and see their replies