The Independent's journalism is supported by our readers. When you purchase through links on our site, we may earn commission.
For sale: One woolly mammoth skeleton, intact
Believed to be first sale of its kind in United Kingdom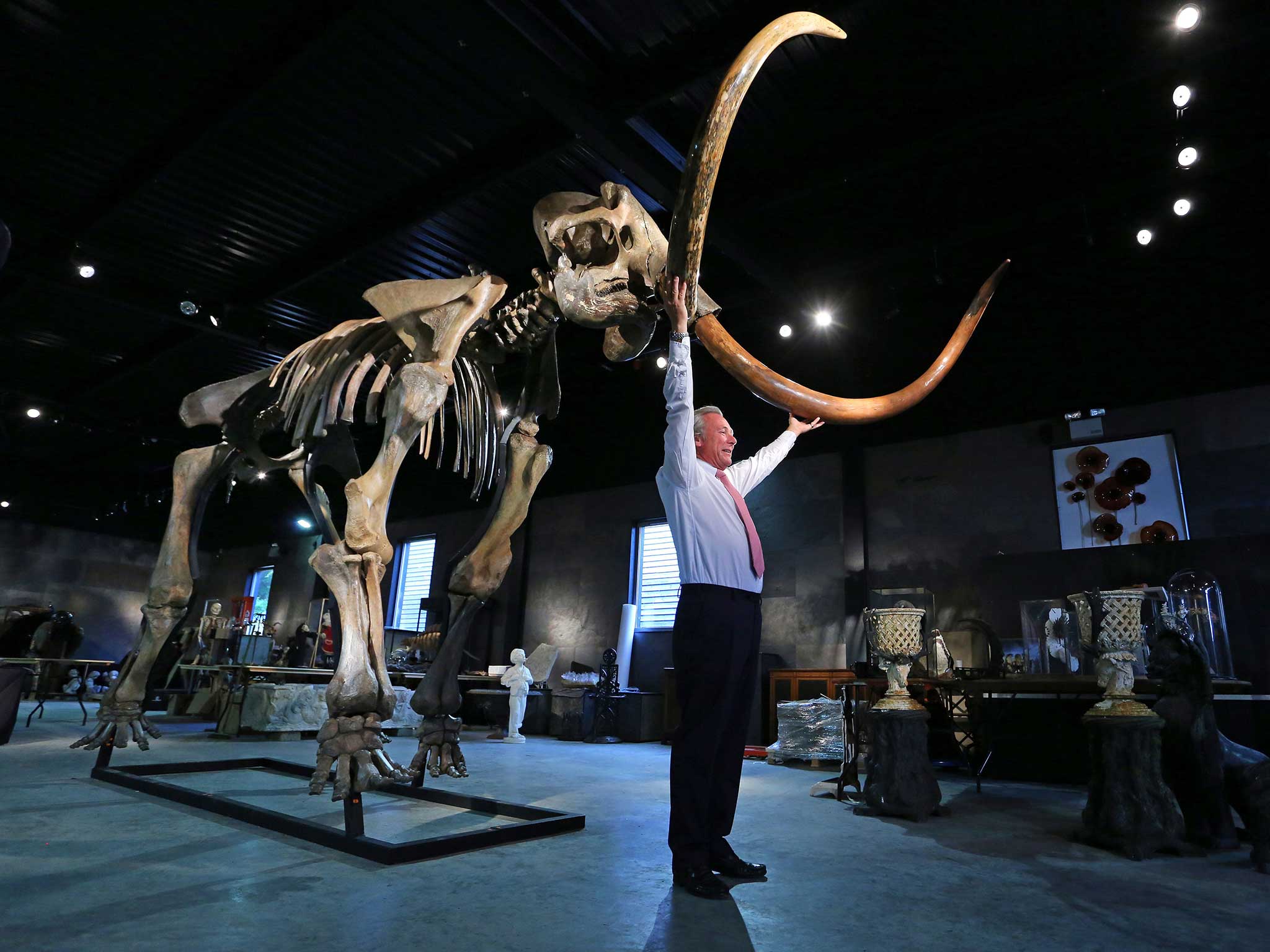 For one luck bidder it will be a mammoth purchase – and one unlikely to be forgotten.
Summer Place Auctions is selling an entire woolly mammoth skeleton, complete with tusks, in a rare auction.
The sale is particularly unusual because although parts of ice-age animals are occasionally sold, it is uncommon for the complete body – especially one of this size – to be sold intact.
"Nearly complete skeletons are pretty rare. This is a fabulous skeleton in pretty good condition," Rupert van Der Werff, director of the auction house selling the woolly mammoth, said to Sky News.
Mr van Der Werff reckons the ice-age skeleton could fetch around £250,000.
Measuring 11.4ft (3.5 metres) high and 18ft (5.5 metres) long, the mammoth is thought to have been an old male weighing around six tonnes when it was alive over 10,000 years ago.
"The size of the tusks indicate this was a pretty old and mature animal," said Mr van Der Werff.
Woolly mammoth for sale
Show all 8
"Its bones are pretty robust. It was clearly a big, powerful, healthy animal that had a good long life."
James Ryland, also from Summer Auctions, said of the purchase: "It's not like a number 14 bus, there isn't going to be another one coming along."
Woolly mammoths, who were similar to present day elephants aside from possessing longer fur and a shorter tail to minimise frostbite, lived in Britain as recently as 14,000 years ago, surviving on a diet of mainly grasses and sedges (a type of grass).
They co-existed alongside humans who hunted them for their tusks and skin.
Mr Ryland, speaking to the Daily Mail, added: "To the best of my knowledge, I don't think there has been one sold at auction, certainly not in the UK and I don't think in Europe, so it's a first in that respect".

Due to its enormous size the mammoth – recently part of an old Eastern European private collection – it has only been pieced together recently.
The auction will be held on 26 November.
Join our commenting forum
Join thought-provoking conversations, follow other Independent readers and see their replies