Bakery sends 'horrific' version of Frozen-themed birthday cake to unsuspecting customer
Reddit user OfficialBigHead posted a picture of what they ordered...and what they got
Caroline Mortimer
Tuesday 07 July 2015 01:22 Comments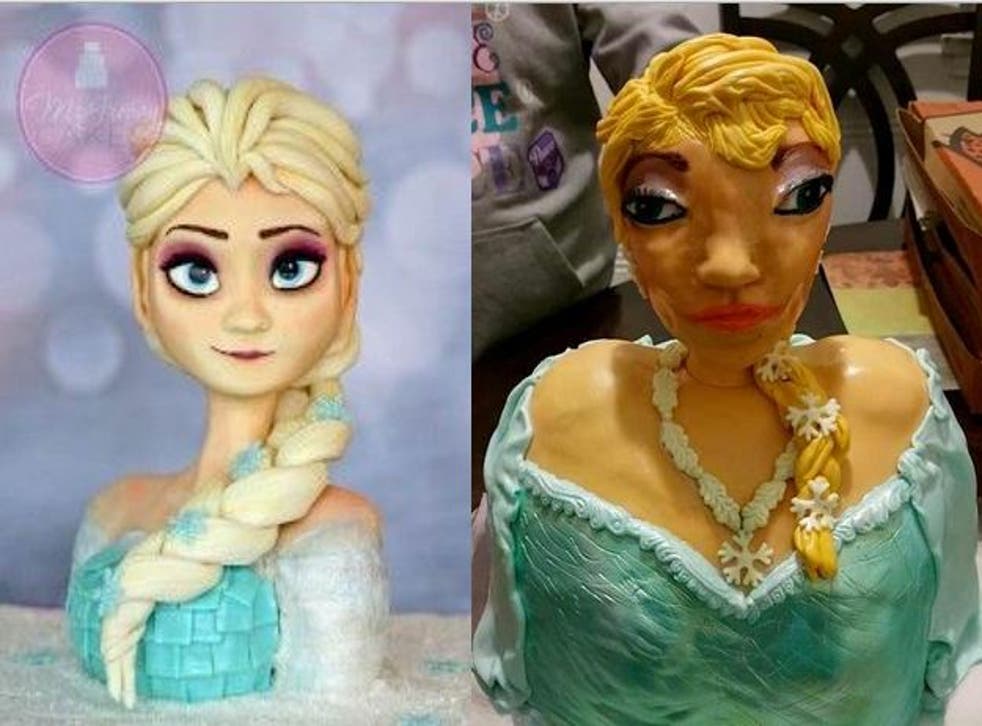 A Frozen-themed birthday party didn't end up happily ever after when a bakery botched a commissioned Elsa cake.
The unnamed bakery was commissioned to make a cake based on the design by high end decorating tips website McGreevey Cakes for one little girl's birthday party - but instead boxed up and sent an entirely different version to her unsuspecting family.
Instead of pale skin, silvery hair and delicate, proportional features, the Elsa they got had aged at least 10 years with straw colour coloured hair and eyes bulging out of the side of her face.
The two pictures were posted side by side on Reddit by user OfficialBigHead with the caption: "The cake that was ordered and the cake that arrived".
The post received over 2,200 comments in just 24 hours with users dubbing the cake "Elsa the Hutt".
One user ViciousPuddin said: "The sad thing is, as horrific as it looks, someone put serious time into making that cake. Every misshapen blob, every terrifying curve and flourish. There are hours and hours of terrible craftsmanship here."
Another added: "It is possible to work really hard and still suck at what you're doing."
"Does the purchase price include 3 free counseling visits for the kids at the party?" one asked.
Disney's empire: 25 years at the box office

Show all 8
With any luck the cake will taste better than looks.
Register for free to continue reading
Registration is a free and easy way to support our truly independent journalism
By registering, you will also enjoy limited access to Premium articles, exclusive newsletters, commenting, and virtual events with our leading journalists
Already have an account? sign in
Join our new commenting forum
Join thought-provoking conversations, follow other Independent readers and see their replies