Great Dane devours 43 socks in one sitting
Canine won third place in 'they ate what?' competition
Heather Saul
Friday 05 September 2014 12:46 Comments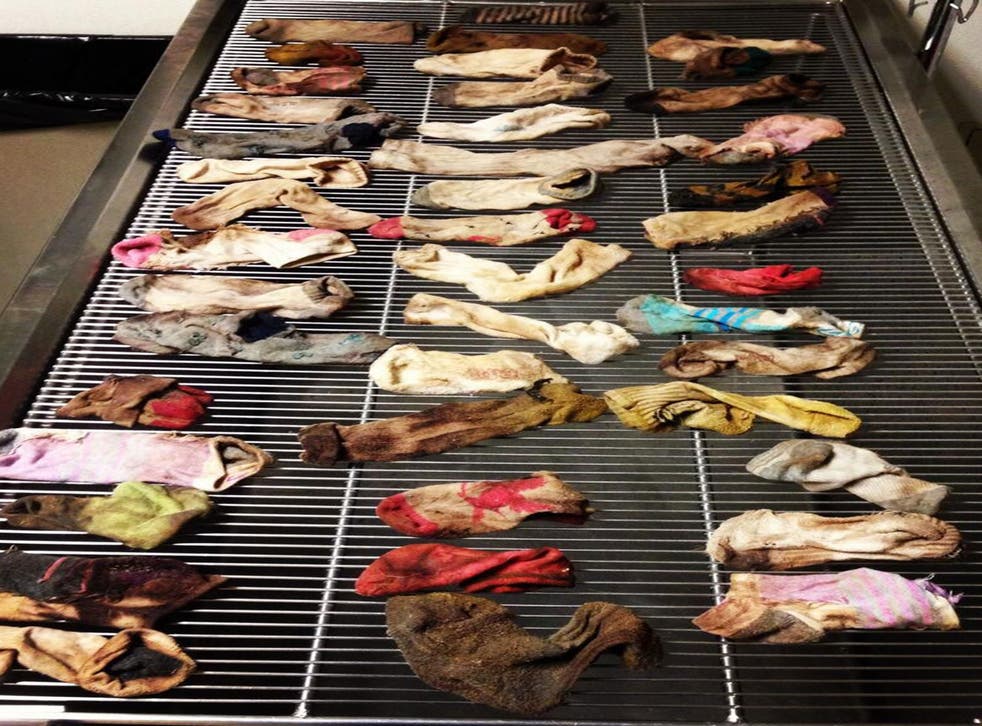 Vets who performed emergency surgery on a "miserable" Great Dane who could not stop retching found the cause of the animal's suffering to be the 43 socks it had eaten.
The three-year-old canine, who enjoyed chewing on socks but was not known to swallow them whole, was rushed to Portland's DoveLewis Emergency Animal Hospital in February, hospital spokeswoman Shawna Harch said.
After two hours of surgery, Dr. Ashley Magee retrieved all 43 socks from the 140-pound (64-kg) Dane.
"We see some very strange things, but this is by far the most socks we've ever pulled out of an animal," Ms Harch said after X-ray images of the dog's belly won third place in a veterinary industry competition called 'They ate WHAT?'
The Dane was beaten to the top spot by an X-ray of Kermit the frog who had eaten more than 30 small ornamental rocks from his owner's garden. The rocks were safely removed and Kermit went on to make a full recovery, according to Veterinary Practice News.
In pictures: The weirdest x-rays

Show all 6
Marley, a male German shorthaired pointer, won second place with an X-ray of his stomach after he devoured a shish kebab – and the skewer.
DoveLewis will put the $500 (£306) prize money towards funding emergency care for pets of low-income animal owners, Ms Harch said.
"His owners wish to remain anonymous," she added. "But they are getting a kick out of the award."
Register for free to continue reading
Registration is a free and easy way to support our truly independent journalism
By registering, you will also enjoy limited access to Premium articles, exclusive newsletters, commenting, and virtual events with our leading journalists
Already have an account? sign in
Join our new commenting forum
Join thought-provoking conversations, follow other Independent readers and see their replies