'Oh man I'm locked in!': Man pleads for help on Twitter after falling asleep in shop massage chair
Manager apologises for staff's failure to notice man was still enjoying the mechanical back-rub when locking up
Rebecca Flood
Sunday 21 August 2016 13:22 Comments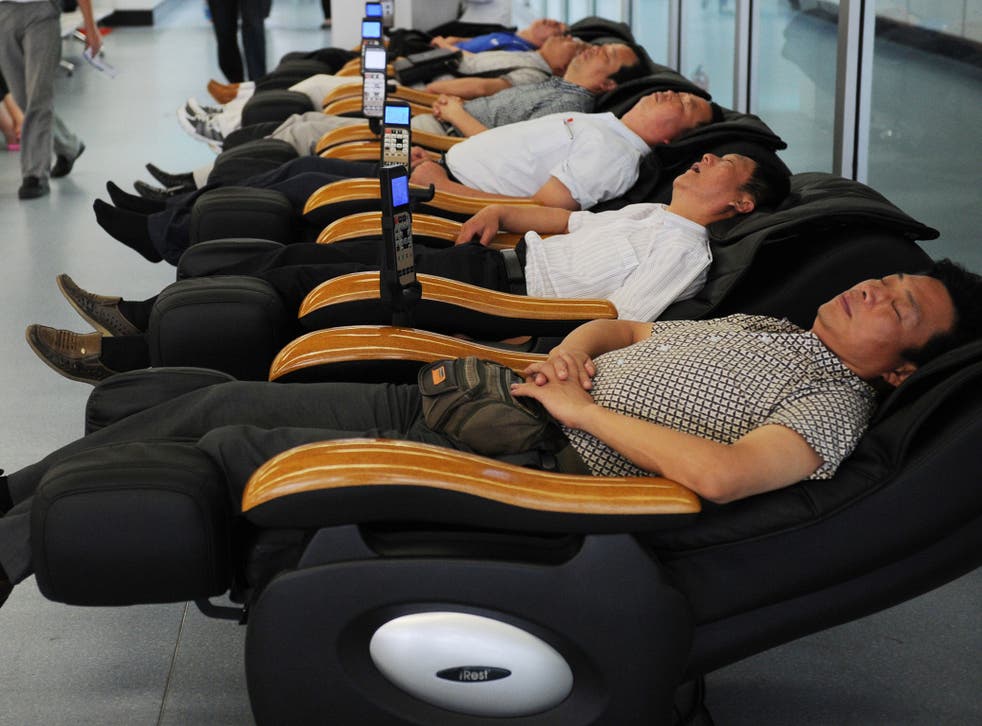 A man was forced to tweet for help when he got locked in a department store after falling asleep on a massage chair.
The man awoke to a deserted shop floor after dozing off in an electronics store in Japan.
Identified only by his twitter handle, @_Asphodelus, the sleepy customer was forced to tweet his plight when he discovered he was locked inside the shop.
Posting various photos of a dark and empty interior, he captioned the photo: "Oh man, I'm locked in!"
In the photos the shutters at the front on the shop, named Ks, are clearly shut.
It is thought the man triggered an alarm which notified the police, who managed to get in touch with the shop's manager.
After 10 police officers searched him to confirm he was not a shoplifter, he tweeted that he had finally managed to get out.
10 best massagers

Show all 10
The manager apologised to the man for staff's failure to notice he was still in the chair when locking up.
The man also said sorry, although it was unclear how long he nodded off for.
His original post has since been retweeted more than 39,000 times.
In response one user, @sasuga_23, simply said: "How did this happen?"
Yonedore replied: "It is a valuable experience."
Others commented it was their childhood dream to be locked inside a department store, while others likened the man's predicament to popular 'escape the room' style games.
Register for free to continue reading
Registration is a free and easy way to support our truly independent journalism
By registering, you will also enjoy limited access to Premium articles, exclusive newsletters, commenting, and virtual events with our leading journalists
Already have an account? sign in
Register for free to continue reading
Registration is a free and easy way to support our truly independent journalism
By registering, you will also enjoy limited access to Premium articles, exclusive newsletters, commenting, and virtual events with our leading journalists
Already have an account? sign in
Join our new commenting forum
Join thought-provoking conversations, follow other Independent readers and see their replies