Monopoly reveals the cities chosen for its 80th anniversary World Edition – and where they will be placed on the board
Lima and Hong Kong claim the top spots – but there's disappointment for London and New York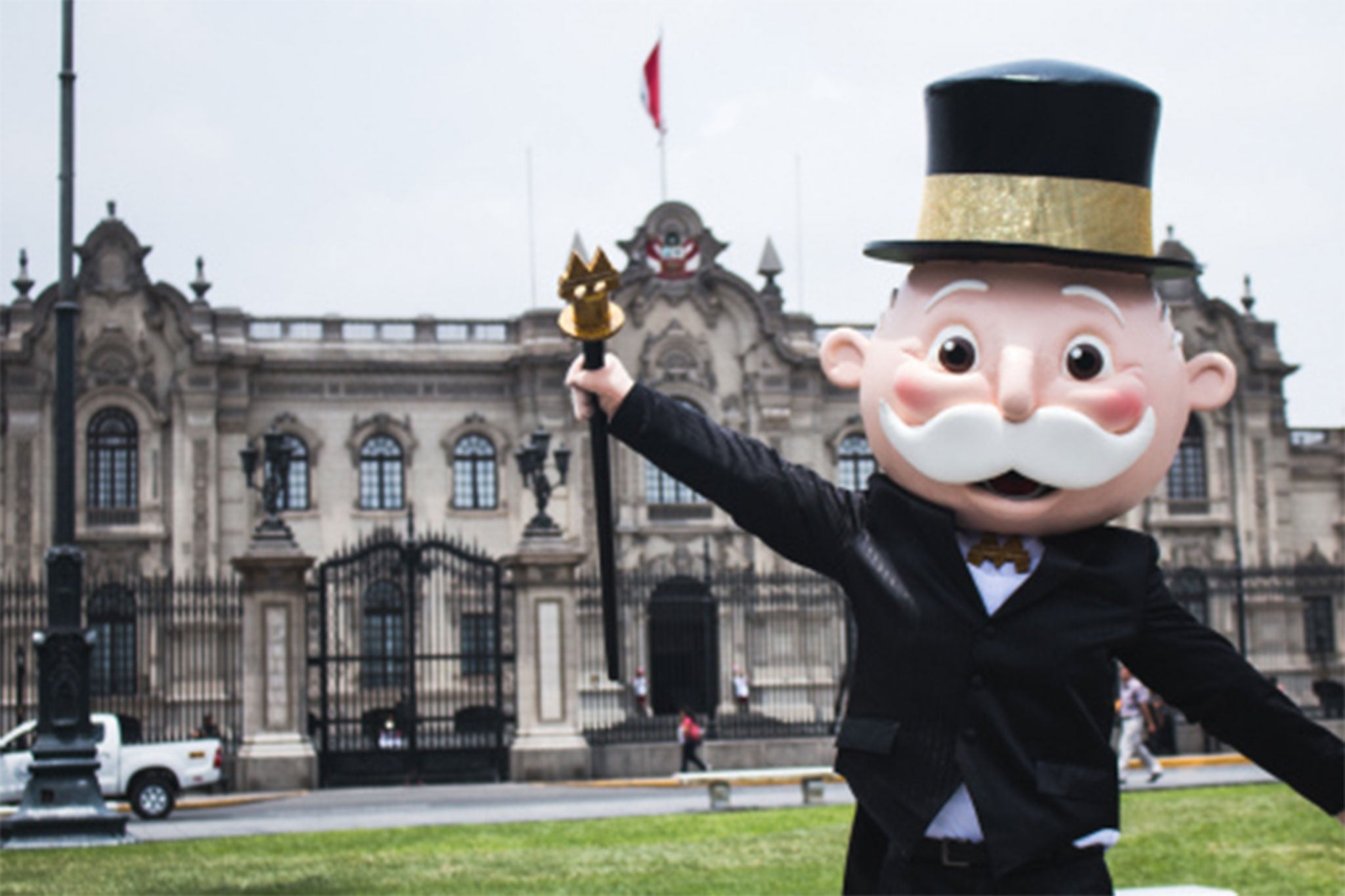 It has been a source of disputes among families for 80 years – but now the Monopoly board game is taking its ability to cause arguments to a global scale.
To mark eight decades since Parker Brothers acquired the rights to the game, current owners Hasbro decided to make the world vote on which cities would be featured in a "World Edition" to be released this autumn.
The results are now in – and the fact that they essentially provide an urban top 20 world ranking means they are certain to prove divisive.
In the coveted dark blue Mayfair/Park Lane spaces on the world edition will be Lima and Hong Kong respectively, prompting "Mr Monopoly" to celebrate in bizarre scenes outside the Government Palace buildings in the Peruvian capital.
New Yorkers could have some claim to disappointment at seeing their city placed among the £150 magenta spaces alongside Amsterdam and Sydney, while Latvia's Riga appears to have punched above its weight to make it into a premium £350 green slot.
London, meanwhile, comes midway in the rankings as a £200 orange destination, as do Moscow and Tokyo.
The city rankings were decided by online vote, and Hasbro said nearly 4 million were cast across 182 countries.
World Edition places in full
• Dark Blue: Lima, Peru; Hong Kong, China
• Green: Riga, Latvia; Lisbon, Portugal; Istanbul, Turkey
• Yellow: Warsaw, Poland; Mexico City, Mexico; Santiago, Chile
• Red: Belfast, Northern Ireland; Athens, Greece; Belgrade, Serbia
• Orange: London, England; Moscow, Russia; Tokyo, Japan
• Magenta: New York, NY, U.S.A; Amsterdam, Netherlands; Sydney, Australia
• Light Blue: Queenstown, New Zealand; Cape Town, South Africa; Taipei, Taiwan
• Brown: Giethoorn, Netherlands; Madrid, Spain
The cheap and cheerful £50 Old Kent Road/Whitechapel Road brown slots were opened up to a "Wildcard Week" where participants could vote for any town or city, big or small, that hadn't made it onto the most popular list.
That explains the appearance of minnow Giethoorn. Don't feel bad if you haven't heard of it – the picturesque Netherlands village has a population of just 2,620.
Hasbro's Jonathan Berkowitz said getting fans to vote on the "Monopoly Here & Now: World Edition" board was "a great way to celebrate the 80th anniversary of the brand".
He said: "It was amazing to see both fans and local organizations around the world rally behind their cities and we were wowed by the overwhelming pride people displayed during the Here & Now vote."
Join our commenting forum
Join thought-provoking conversations, follow other Independent readers and see their replies