Most unlikely Valentine's Day pairing? Japanese bird centre releases adorable video of smitten penguin chasing her keeper
Matsue Vogel Park centre posts footage after widowed female Sakura apparently decided to swear off penguins altogether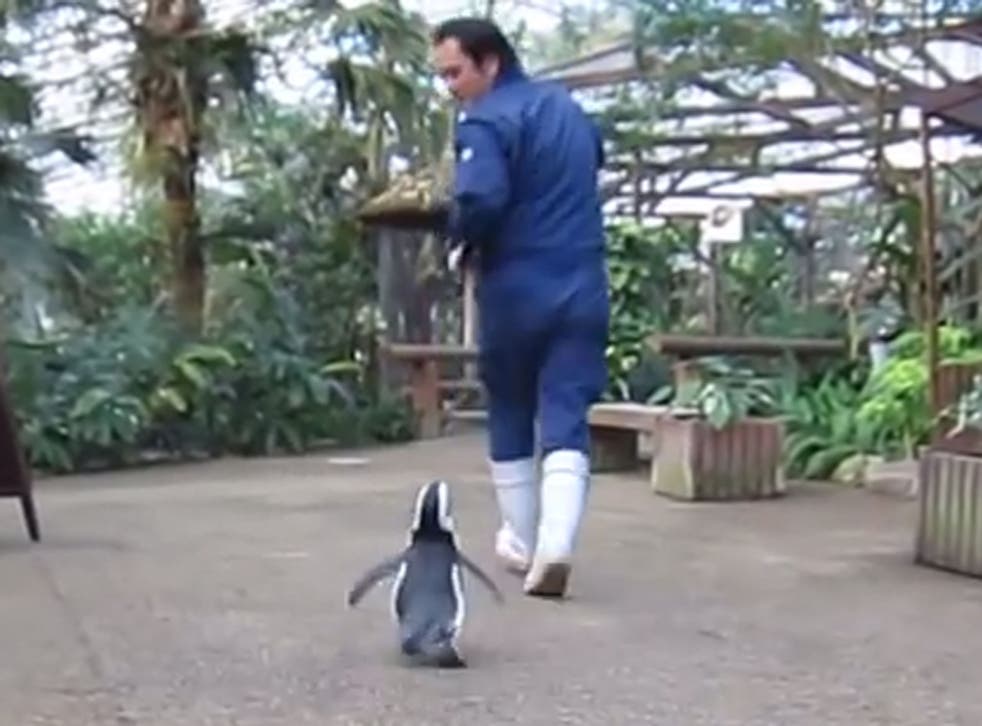 A video showing the unlikely love-match between a penguin and her keeper has shot the pair to internet stardom – and just in time for Valentine's Day.
The brief but adorable footage (see below) shows 10-year-old female Sakura following right on the heels of Tsuyoshi Notsu at the Matsue Vogel Park bird centre in Japan.
Smiling for the camera, Mr Notsu, 40, starts running – and Sakura gives chase, desperate to stay as close to him as she can. She strikes courting poses and at one point, when appearing to fall over, is actually assuming a breeding position.
The video clip is cut short at 36 seconds when park visitors walk in on the affair – but it has been viewed more than 150,000 times in the past 24 hours after it was posted on the aviary's YouTube page.
Scores have commented, mainly on how it is "possibly the world's cutest thing ever" – but there is also a tragic back story to Sakura's advances.
According to reports in the local Mainichi Daily News, Sakura's mate Musachi died last October. She spent months searching for her partner, but in December appeared to have given up.
At that point she turned her affections to Mr Notsu, and has been following him around ever since. The Mainichi also pointed out that in penguin years Sakura is 30 – meaning there is an age gap to add to the difference in species between the pair.
Mr Notsu told the newspaper that while he is happy to have Sakura around – and after the success of the video clip she is sure to be popular with visitors – the relationship has started getting in the way of his work.
Register for free to continue reading
Registration is a free and easy way to support our truly independent journalism
By registering, you will also enjoy limited access to Premium articles, exclusive newsletters, commenting, and virtual events with our leading journalists
Already have an account? sign in
Register for free to continue reading
Registration is a free and easy way to support our truly independent journalism
By registering, you will also enjoy limited access to Premium articles, exclusive newsletters, commenting, and virtual events with our leading journalists
Already have an account? sign in
Join our new commenting forum
Join thought-provoking conversations, follow other Independent readers and see their replies