The Independent's journalism is supported by our readers. When you purchase through links on our site, we may earn commission.
Passenger Shaming Facebook page exposes disgusting behaviour on aeroplanes
Barefeet are shown encroaching  onto tray tables all too often on the page...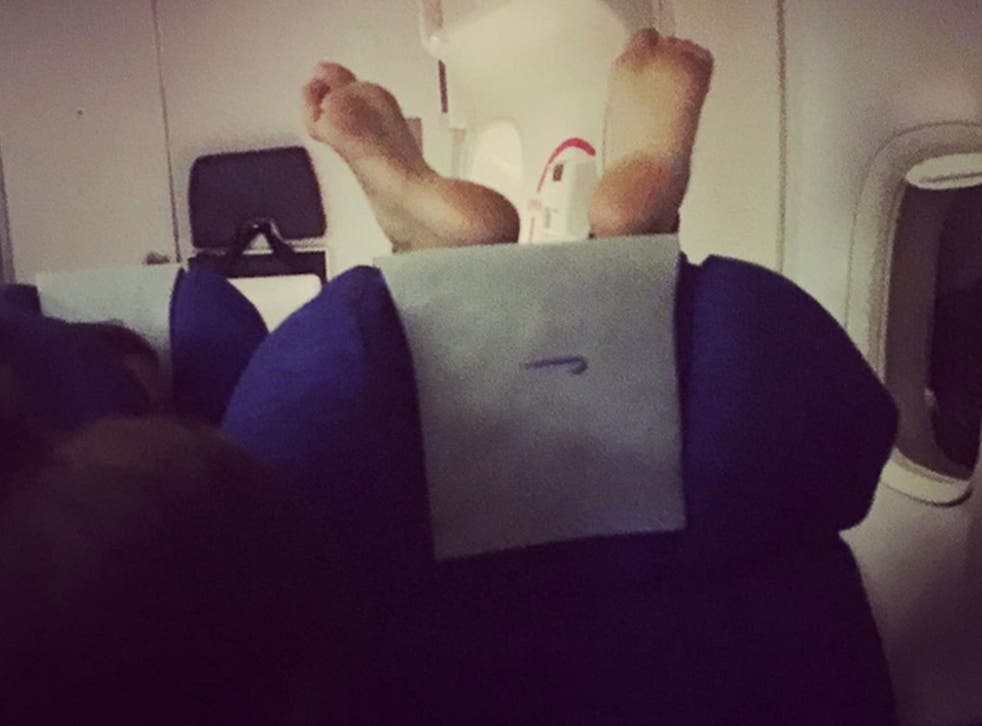 As soon as passengers board aircrafts and soar thousands of feet into the air they lose the ability to judge basic social etiquette – or at least that's what the eye-opening Passenger Shaming Facebook page seems to suggest.
The mind-boggling horrors showcased on the page, which has over 300,000 likes both on Facebook and Instagram, include dirty nappies and dirty bandages stuffed into seat pockets, faeces on the bathroom floor and people clipping their nails.
Barefeet on tables, arm rests, and peeking round from behind seats feature on the page all too often, as well as inexplicably topless passengers.
Judging by the photos, it is hardly surprising that a recent study revealed that tray tables are the dirtiest places on aeroplanes - collecting more bacteria than the lavatory flush button.
Another photo shows a passenger selfishly taking up half of the overhead storage compartment to neatly layout a panama hat and a pair of stilettos.
The owners of the page recently collated their favourite faux-pas to create a passenger shaming bingo sheet, featuring "galley yoga", "feet on tray table" and "open mouth snoring with drool."
Followers of the page often pledge never to replicate the behaviour showcased on the page, with one writing: "Recently my children and i took their first flight, they are 2, 8, and 9.
"I told them before boarding "under no circumstances are you allowed to take off your shoes"... "WHYYYYYYY" they wailed at me... "Because I am not raising you to be THAT person."
Register for free to continue reading
Registration is a free and easy way to support our truly independent journalism
By registering, you will also enjoy limited access to Premium articles, exclusive newsletters, commenting, and virtual events with our leading journalists
Already have an account? sign in
Register for free to continue reading
Registration is a free and easy way to support our truly independent journalism
By registering, you will also enjoy limited access to Premium articles, exclusive newsletters, commenting, and virtual events with our leading journalists
Already have an account? sign in
Join our new commenting forum
Join thought-provoking conversations, follow other Independent readers and see their replies