#PermanentRetweet: Immortalise your 140-character musings in wood or metal
'Preserve your favourite tweet for all time as a physical artefact', says branding pro Brian Thompson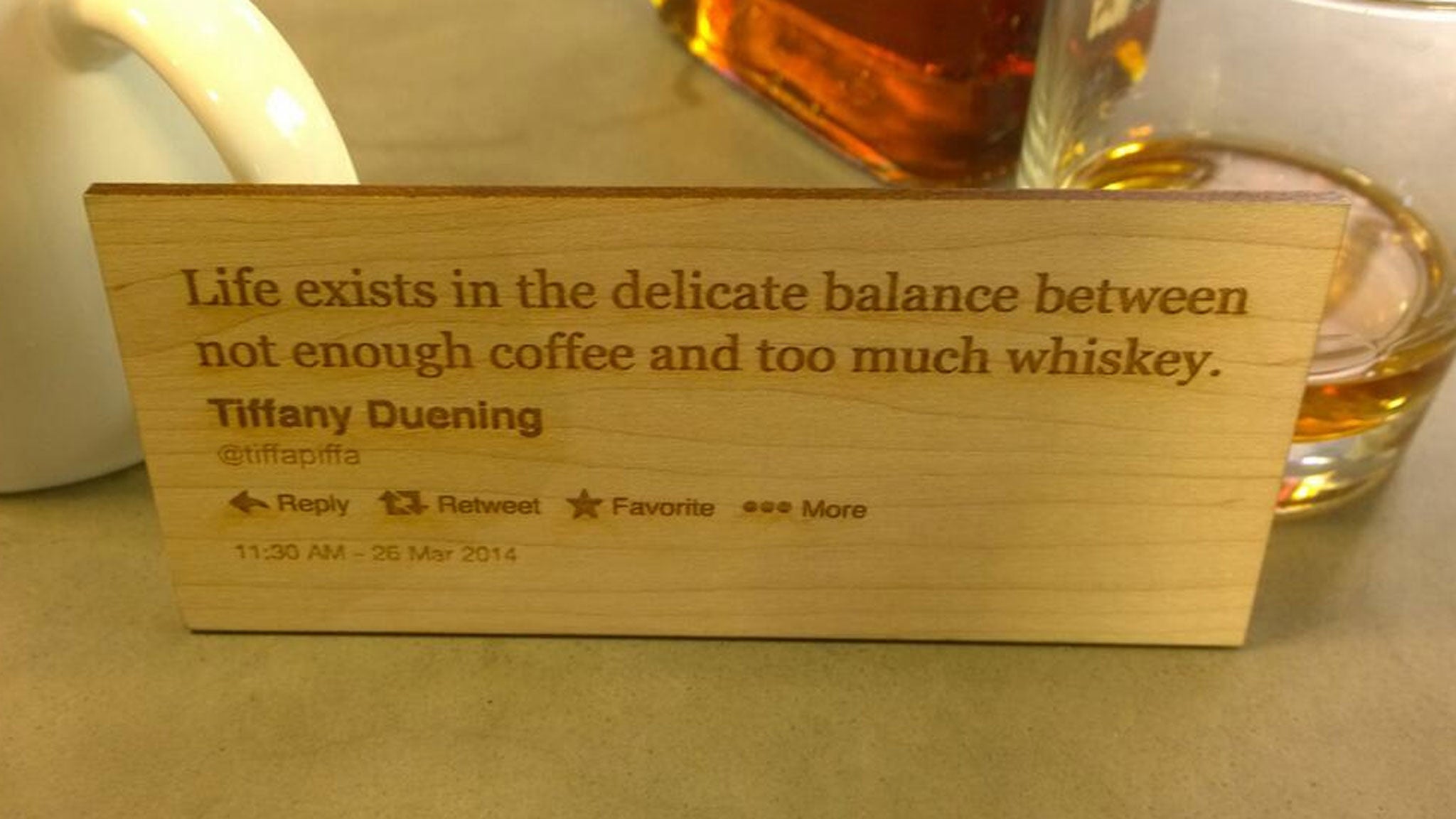 However digitalised your world has become, sometimes you just need something a bit more concrete.
And now you can immortalise your favourite tweets through the timeworn mediums of wood and metal.
That's right – no more scrolling through the eons of cyberspace to locate that 140-character nugget of wisdom that you favorited, retweeted or even composed yourself. With the help of #PermanentRetweet you can have it right in front of you - forever.
The initiative was launched on 1 April by branding pro Brian Thompson and allows people to "preserve your favourite tweet for all time as a physical artefact".
Despite being announced on April Fools' Day, the project is not a prank. "I'm really making #PermanentRetweet a thing," Mr Thompson, of Austin, Texas, tweeted.
Mr Thompson, whose studio is called Brand Writer, told Yahoo! that his wife inspired the venture: "It was originally inspired by my wife's frustration with how distracted I get by Twitter, as she put it 'looking at your phone instead of being here in the real world with us.' "
Consumers can have their chosen tweet lasered onto either wood or metal at a cost of $20 (£12) or $25 (£15) respectively.
For those people who order copies of tweets that they have not authored themselves, Mr Thompson said he will give two-thirds of the purchase price to the original tweeter.
On Twitter users expressed mixed reactions. Responding positively, @Bee_Rigid said: I like the idea that my thoughts are important enough to be etched in metal."
And @marshallwright tweeted: "Love this! Turn your best tweet into the work of art it truly is."
But others were more sceptical. @LizzVJLG simply asked: "Why." And @AlleyCat_37 said: Is this #PermanentRetweet real.... what is life."
Join our commenting forum
Join thought-provoking conversations, follow other Independent readers and see their replies