Rescued calf Hero is fitted with £24,000 prosthetic legs after suffering frost bite
Surgeons at Texas A&M University have spent a year developing prosthetics
Heather Saul Comments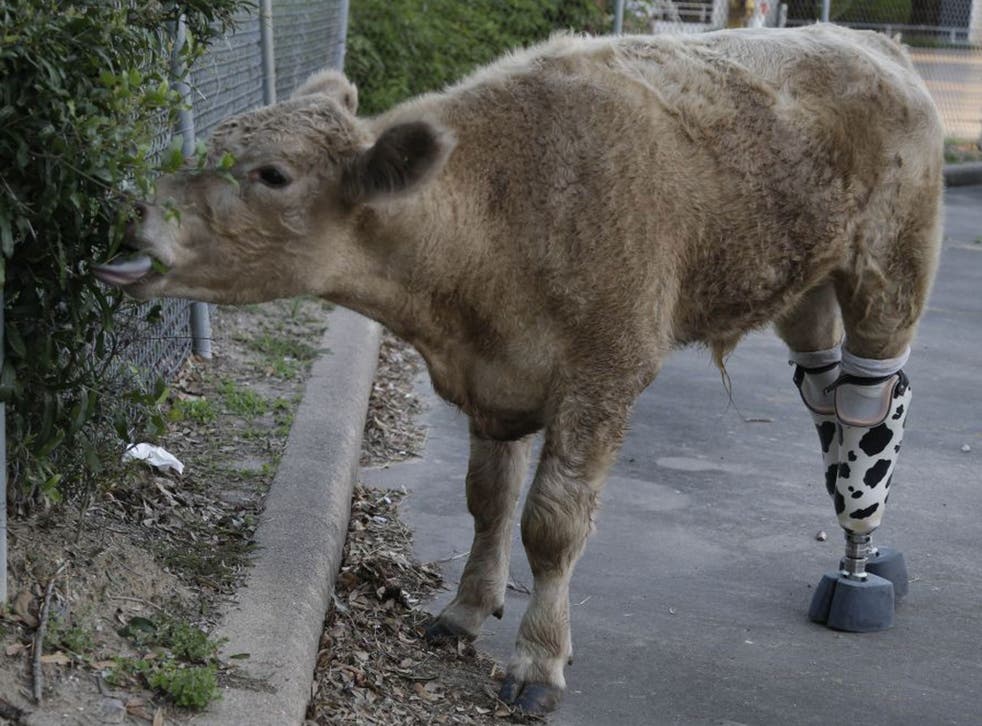 An abandoned double amputee calf has been fitted with high tech £24,000 prosthetic limbs after being rescued from a farm in Virginia and brought to Texas.
Surgeons at Texas A&M University have spent a year developing prosthetics for Hero, a 15-month-old calf who suffered from frostbite that claimed its hooves.
Kitty Martin, Hero's caretaker, had appealed to surgeons for help after he grew out of the initial prosthetics they had provided for him.
After accepting Ms Martin's pleas for help, the team removed about two inches of bone to enable them to create a pad of tissue that would allow for prosthetics.
"This is our first cow," said Erin O'Brien, an orthotist and prosthetist for an Austin-based national firm that makes prosthetic limbs. She was among a team of eight working on the project.
"We did a lot of study of photos and video of cows just walking to see what it looks like and see if we can mimic that biomechanically," O'Brien said. "It's unusual, yes, but an opportunity."
Hero's hooves are made using urethane and titanium, while the connecting components are titanium and carbon fiber and the sockets that attach to his legs are carbon fiber and acrylic resin.
"Until I worked on him, I hadn't ever done it before. And I'd not heard of [prosthetics] before in a bovine," said Ashlee Watts, an equine orthopedic surgeon at the school.
Ms Martin has spent nearly $40,000 (£24,000) to save the calf.
"I don't know how to explain it," she said. "I'm an animal rescuer. And he had everything against him - it makes my day. He's got a very bright future right now."
Register for free to continue reading
Registration is a free and easy way to support our truly independent journalism
By registering, you will also enjoy limited access to Premium articles, exclusive newsletters, commenting, and virtual events with our leading journalists
Already have an account? sign in
Join our new commenting forum
Join thought-provoking conversations, follow other Independent readers and see their replies