This student's answer to an algebra problem shows they need to be a programmer
'His answer is not just correct. It is the best answer possible'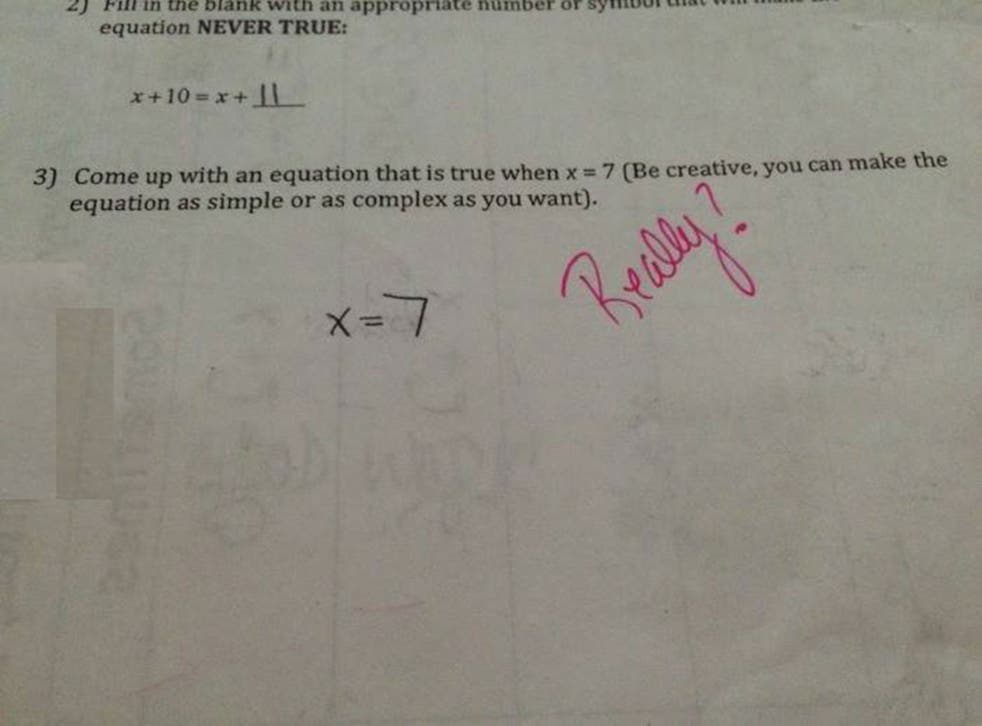 Sometimes the simplest answer is the best.
Reddit user Nhjufy posted a photo of a student's clever answer to an algebra problem which has been celebrated for its simplicity.
When asked to "come up with an equation that is true when x = 7," they gave the cheeky answer "x =7".
"His answer is not just correct," one Reddit user said. "It is the best answer possible."
"Really?" the teacher wrote on the paper.
Arguably they brought it on themselves by telling students "you can make the equation as simple or as complex as you want".
Other Reddit users celebrated the answer. The image has been viewed over 2,300,000 times on Imgur.
One Reddit user pointed out an even simpler equation would have been "X = X" or "0 = 0".
"You want better answers? Write better questions," one user wrote on Imgur.
Previously, a six-year-old took a request to "show your thinking" on a question extremely literally, drawing a picture of himself with a thought bubble coming out of his head.
His teacher was so impressed she awarded him 100 per cent on the test.
Register for free to continue reading
Registration is a free and easy way to support our truly independent journalism
By registering, you will also enjoy limited access to Premium articles, exclusive newsletters, commenting, and virtual events with our leading journalists
Already have an account? sign in
Register for free to continue reading
Registration is a free and easy way to support our truly independent journalism
By registering, you will also enjoy limited access to Premium articles, exclusive newsletters, commenting, and virtual events with our leading journalists
Already have an account? sign in
Join our new commenting forum
Join thought-provoking conversations, follow other Independent readers and see their replies