'Unique' twigs go on eBay - and attract bids
Twigs not really your thing? How about some handwritten Fresh Prince of Bel Air lyrics, or a voucher with nothing specified on it but a 'five-year guarantee'?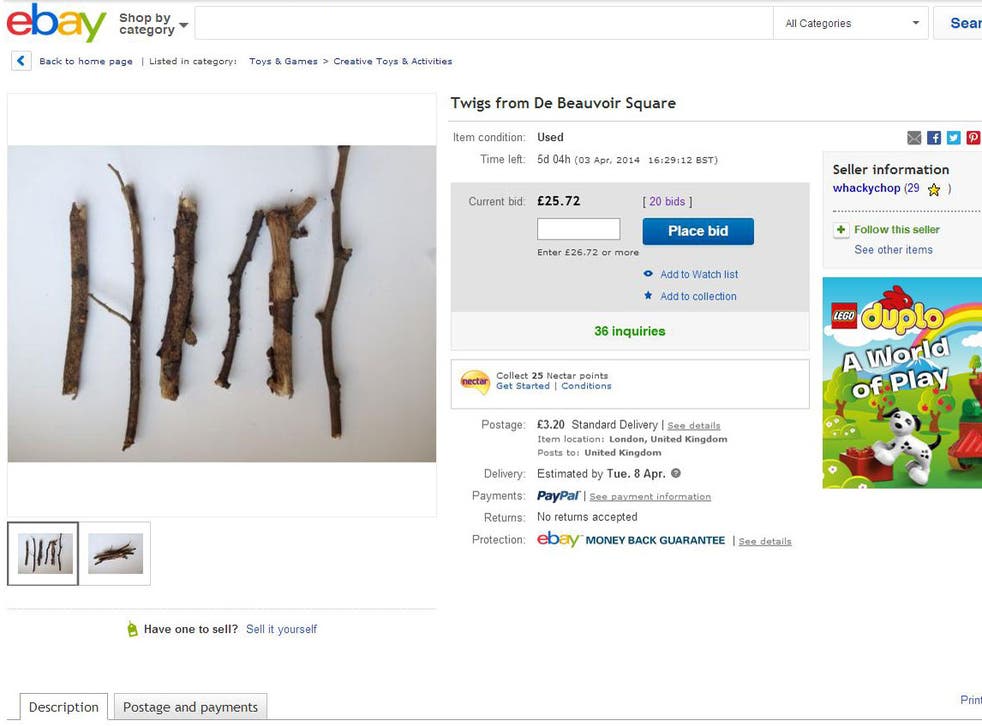 Apparently you literally can sell anything on eBay, if the six twigs currently up for auction are anything to go by.
Ebay user Wackychop's listing offers six twigs, all with a "unique personality", from De Beauvoir Square in London, with a starting price of 99p.
The twigs appear to be in high demand with bids currently at over £25 and rising. Wackychop is also charging the winning bidder £3.20 for postage and packaging.
Hackney-based seller Babak Ganjei also has some other tongue-in-cheek listings, offering Fresh Prince of Bel Air lyrics (bids currently at £10.70), handwritten by him, and a voucher for a "a five year guarantee" (also handwritten).
The listing explains: "Well on offer for you I have a set of six travel size twigs, each with a unique personality so you never have to come unstuck.
"It should be noted these twigs come from De Beauvoir Square, a part of London where a room in a shared house costs a minimum of £600 a month excluding bills, and a sandwich starts at £4.20, thus making these premium twigs and not everyday rubbish."
The auction ends on 3 April for anyone desperate to get their hands on "travel size" twigs from an upmarket area of London.
Register for free to continue reading
Registration is a free and easy way to support our truly independent journalism
By registering, you will also enjoy limited access to Premium articles, exclusive newsletters, commenting, and virtual events with our leading journalists
Already have an account? sign in
Register for free to continue reading
Registration is a free and easy way to support our truly independent journalism
By registering, you will also enjoy limited access to Premium articles, exclusive newsletters, commenting, and virtual events with our leading journalists
Already have an account? sign in
Join our new commenting forum
Join thought-provoking conversations, follow other Independent readers and see their replies