Watch a man surf a wave on a motorbike
Stuntman strapped skis to his bike
Christopher Hooton
Monday 03 August 2015 11:04 Comments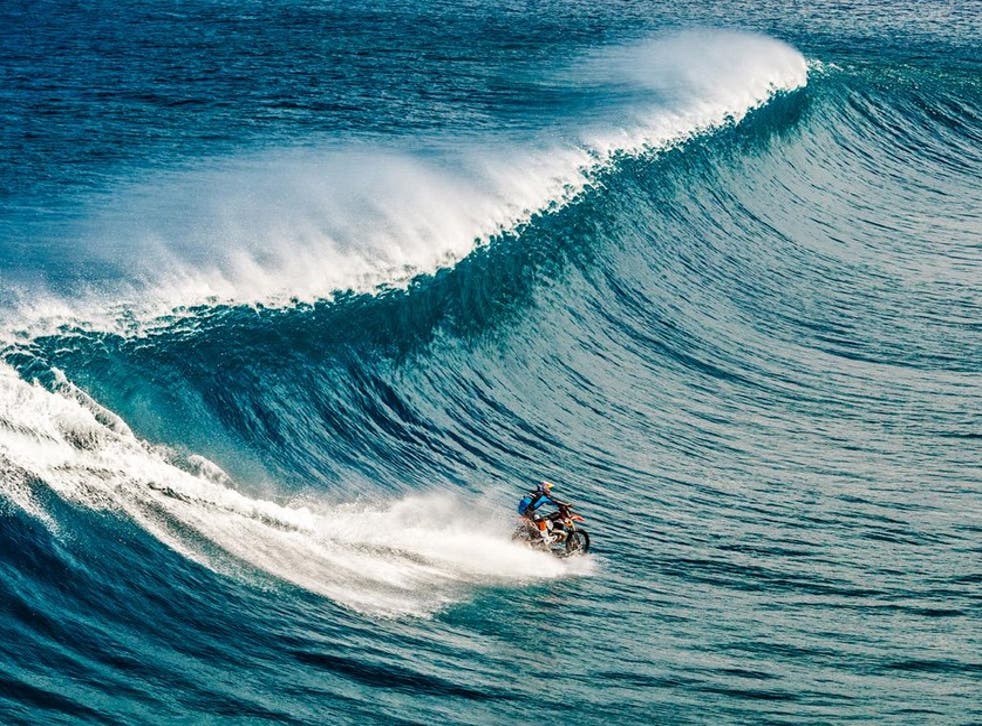 Stuntman Robbie Madison has discovered that, with a little modification, a motorbike can be made to traverse water.
The Australian, who doubled for Daniel Craig as James Bond in Skyfall, headed to Tahiti with his purpose-built bike, zipping across the water before riding down a cresting wave.
While he makes cycle-surfing look easy, he said he feared for his life at one point during the stunt.
"The thing that sticks with me the most after that whole experience was how physically demanding it was," he told Surfer Magazine.
"I don't think the photos or video show how physical it was. You can't see that when the wave broke right behind me, I honestly thought that might be the end of my life. I've never felt like I was in the wrong place at the wrong time more than I did right there."
His ride was filmed by DC for a short called Pipe Dream, so named after Madison's crackpot idea to put a propeller tyre on the back of his bike and a ski on the front.
"Something clicked in my head. I fantasised putting skis on a bike and riding on water," he explained.
"It was a stupid vision at the time, but I kept toying with it, playing with designs and concepts, and eventually it became a reality."
Register for free to continue reading
Registration is a free and easy way to support our truly independent journalism
By registering, you will also enjoy limited access to Premium articles, exclusive newsletters, commenting, and virtual events with our leading journalists
Already have an account? sign in
Join our new commenting forum
Join thought-provoking conversations, follow other Independent readers and see their replies