What it's like to be a Republican, as the Queen celebrates turning 90
Party pooper or man of principle? While the monarchy celebrates yet another milestone, Adam Lusher meets one man who'd end her long reign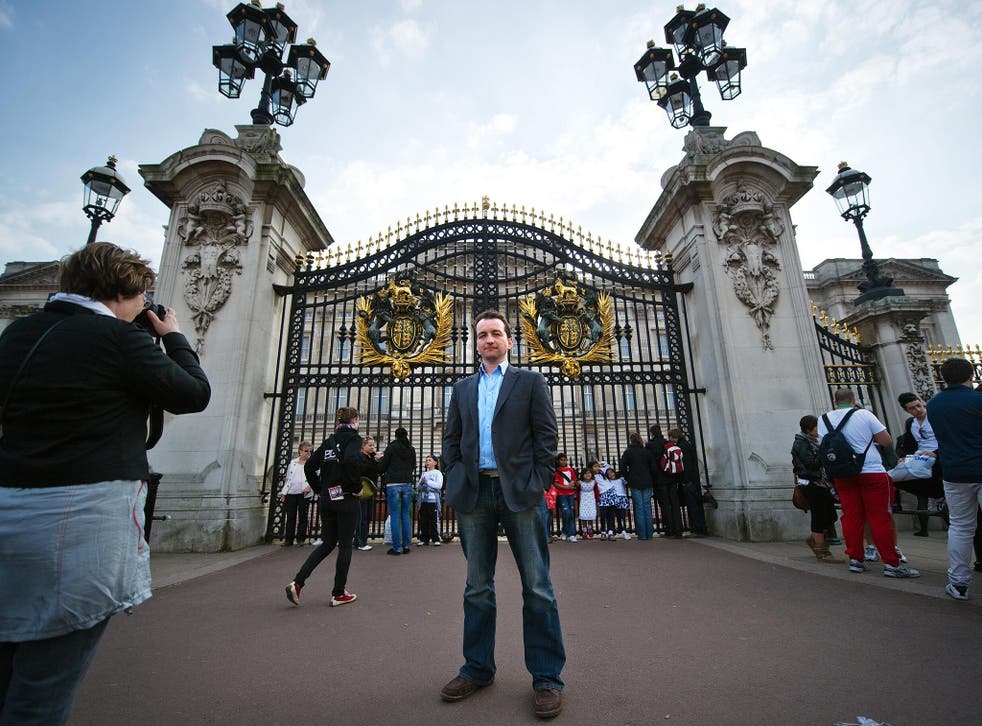 It'll reach its peak this weekend, with the official celebration of the Queen's fourscore and ten. But ever since 21 April, the world has been aflutter at Her Majesty reaching 90. The obsession has even gone beyond humanity and this planet – loyal astronaut Tim Peake has been displaying a birthday card in the International Space Station and Palmerston the Foreign Office cat has tweeted his congratulations.
But of course. Who could fail to be swayed by such arguments as David Cameron's; that the Queen is "a golden thread" running through the generations? What flinty-hearted curmudgeon could fail to join the mood of national rejoicing?
Reader, I have found him.
Outside Graham Smith's otherwise normal terrace house in an otherwise normal street in St Albans, Hertfordshire, there is no bunting, no photo of Lillibet in the window. And inside there are no signs at all that Smith, 42 has even thought about baking a cake. The house is unostentatious, even smallish, the furniture modern, unextravagant. The delivery is soft, self-assured without being strident, polished but not to the point where everything sounds like the pre-packaged sound bite of a media-trained politician. You could be forgiven for thinking you were having a relaxed conversation with an everyday kind of guy. Except that this one really, really cares about our constitution.
Smith, the chief executive of the campaign group Republic, wants the Queen turfed off her throne, and Britain to become a republic with an elected head of state, "someone who represents the people".
Now, you might have thought that the people seemed pretty happy with the current arrangements, to judge from the flag-waving masses singing "Happy Birthday" on 21 April, to the accompaniment of a 62-gun salute. You might have confirmed that opinion in May, which brought a right Royal pageant to Windsor Castle, featuring 900 horses, 1,500 performers and James Blunt. It was presented by Ant and Dec.
And after yesterday's thanksgiving service at St Paul's, today's Trooping the Colour and tomorrow's procession down the Mall – which will be cheered by an estimated 10,000 – you might be inclined to a bout of silent contemplation. But not Graham Smith. "It is completely inappropriate," he says, from the comfort of his armchair, "to make such a big fuss over a head of state's birthday. They should be treated in the same manner as the head of government, and we certainly wouldn't tolerate this kind of fuss for David Cameron's birthday."
But we like it, I counter, showing him my parish magazine. Would he like to live in a Britain that didn't have room for our local church's "Choral Evensong in Celebration of the Queen's 90th Birthday?"
"What an interesting insight," he says, in tones that suggest he will not be coming. "People say the monarchy represents the nation and unites us. But as this shows, it is absolutely a product of upper-middle-class home counties English culture, a white Anglican institution."
I suppose monarchists can at least take consolation in knowing that this weekend, Mr Smith will be the grumpiest man in Britain. Except that now he starts smiling. A broad, some might say treacherous grin spreads across his face.
"Royal pageantry, royal weddings, royal birthdays," he says, "are the best recruiting sergeants to the republican cause. All this deference and sycophancy winds up people who would otherwise be quite passive. The monarchy has sustained itself on fairly widespread indifference, with people being happy for them to carry on in the background. So the more the monarchy promotes itself with weddings and birthdays, the more it turns itself into a contested institution. And the monarchy makes sense, until you think about it."
That's why, this weekend Smith, will be mingling with unsuspecting crowds near London's royal palaces, getting his point across to television news crews, and, no doubt, handing out seditious literature like 60 Inglorious Years, the pamphlet Republic produced for the Queen's Diamond Jubilee in 2012.
"We are excited and optimistic," he says, "These are good weekends for us. You see, the last five years have been lucky for the royal family: two babies, a wedding, a jubilee and a 90th birthday. But they have been lucky years for us, too. We picked up hundreds of members on each occasion, and we are picking up hundreds more now."
If it weren't for a grovelling media, he says, we would realise that "the people who really go to town celebrating royal occasions are a minority". And that, "If you stand up to the hype and hysteria, you start to make progress". Look, for example, at what happened with Smith. The former IT worker says he started attending Republic meetings after all the drum-beating for 2002's Golden Jubilee "fired up my interest". Three years later, he became Republic's chief executive – and though the group only had a couple of hundred members back then, it was a dark day for the House of Windsor.
"We were nowhere," says Smith, "Republicans had not taken up the challenge. They would keep their heads down while the so-called 'rest of the country' celebrated. They assumed the worst." But under his leadership, "We came out and proved the opposite." Republic now has 5,500 fully paid-up members, and "about 35,000 registering their support online." The last five years, he says, "have really galvanised our supporters."
There was nothing in his background, he thinks, to make him like this. He was "very happy." Growing up in Bristol – mum a nurse, dad a middle manager – with two sisters and a twin brother. Maybe he fell to musing on heredity. But however he got this way, there's no stopping him now. "A head of state," he says, "should be able to contribute to public life by speaking intelligently about issues. I can't remember a single thing of interest the Queen has said. If you are going to have such a completely silent figurehead, why not just have the inanimate object, the throne?"
Or take the Queen's Jubilee in 2012. "There was a big celebration," he says. "But we are supposed to be democratic. If you look around the world, having a head of state in office for 60 years is usually a sign something is wrong." The royals aren't a bargain for the country, he insists. The Queen doesn't cost just 56p per person as royalists claim. The true cost is £334 million a year (nearer a fiver). Factor in security (even on holiday), helicopters and the like, and Smith reckons each royal family member costs an annual £19 million a year. "There is a perception the monarchy is benign, fluffy, a bit of fun." He says. "We want to strip away the fluff and show that actually it's fairly grubby institution, steeped in power and self-interest."
But can he really see the British public ever voting to get rid of the royal family – in the teeth of 62-gun salutes and Ant and Dec? "A lot of that stuff is incredibly flaky," he says. "It won't take much for it to evaporate. I am very confident."
As I retrieve my parish magazine, Smith hands me some inflammatory pamphlets. Stepping into the Queen's good air, I ask: "So, Mr Smith, how did you celebrate your birthday?"
"I can't remember," he says. "I don't really do big birthdays."
Join our new commenting forum
Join thought-provoking conversations, follow other Independent readers and see their replies