The world this week: Vrancea earthquake strikes and Stalin's daughter defects to the west
Libby Stanford trawls the archives for the key events and notable deaths from this week in history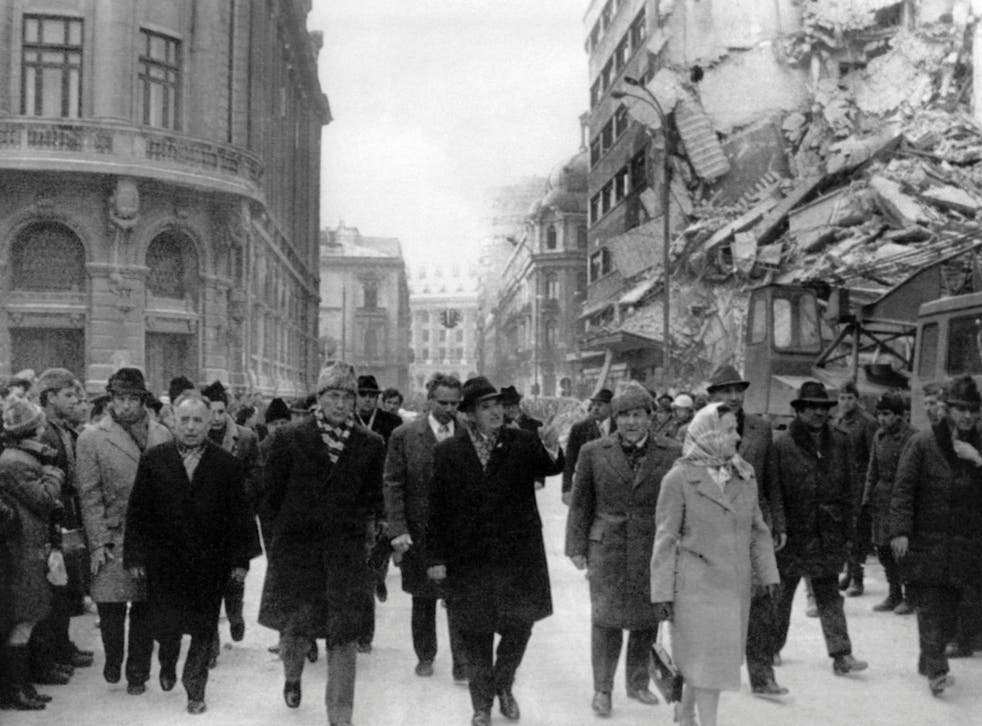 The world this week...
4 March
The US government began operating under the US constitution in 1789. The document is one of the world's oldest constitutions still in use.
The Vrancea earthquake killed more than 1,500 people in 1977. Most of the victims lived in Bucharest, Romania.
In 1980, Robert Mugabe became Zimbabwe's first black prime minister. He had spent 10 years in exile and arrived in the country only six weeks before the election.
Estonia, in 2007, became the first country to hold a national election in which citizens could vote via the internet.
Deaths: Mariano Moreno, 1811, Argentinian lawyer, journalist and politician; Nikolai Gogol, 1852, Ukrainian-Russian author and playwright; Amos Bronson Alcott, 1888, American educator and philosopher; Anatol E Baconsky, 1977, Romanian poet, author and critic; Gary Gygax, 2008, American game designer and co-creator of Dungeons & Dragons.
5 March
The Catholic Church banned Nicolaus Copernicus's book On the Revolutions of the Heavenly Spheres​ in 1616. The book stated that the Earth revolves around the sun.
George Westinghouse patented the air brake in 1872. The design is used in railway braking.
In 1960, Alberto Korda took an iconic picture of revolutionary Che Guevara. The photograph was called Guerrillero Heroico and was taken at a memorial service for victims of the La Coubre explosion.
The Treaty on the Non-Proliferation of Nuclear Weapons came into effect in 1970.
Deaths: Nikolai Leskov, 1895, Russian author, playwright and journalist; Joseph Stalin, 1953, Soviet dictator; Sergei Prokofiev, 1953, Russian pianist, composer and conductor; Patsy Cline, 1963, American singer-songwriter; Hugo Chavez, 2013, president of Venezuela.
6 March
Dmitri Mendeleev presented the first periodic table to the Russian Chemical Society in 1869.
Aspirin was registered as a trademark in 1899.
In 1957, Ghana declared its independence from the UK.
British ferry MS Herald of Free Enterprise capsized in 1987, killing 193 people.
Deaths: Constanze Mozart, 1842, singer and wife of Wolfgang Amadeus Mozart; Gottlieb Daimler, 1900, German engineer, businessman and co-founder of Daimler-Motoren-Gesellschaft; Ayn Rand, 1982, Russian-American author and philosopher; Georgia O'Keeffe, 1986, American painter; Jean Baudrillard, 2007, French philosopher.
7 March
Police in Selma, Alabama, attacked civil rights activists in 1965. About 200 police officers assaulted the group of 500 demonstrators with teargas, whips and sticks.
In 1969, Israel elected its first female prime minister. At 70 years old, Golda Meir won the election for the Labour Party.
Bangladesh elected its first democratic leader. Sheikh Mujibur Rahman, the leader of the Bangladeshi independence movement, won a landslide victory in the country's first general election.
Kathryn Bigelow became the first female director to win an Oscar in 2010. She won the Academy Award for Best Director for her movie The Hurt Locker.
Deaths: Saint Thomas Aquinas, 1274, Italian priest and philosopher; Paramahansa Yogananda, 1952, Indian guru; Mikhail Bakhtin, 1975, Russian philosopher; Stanley Kubrick, 1999, American director; Ali Farka Toure, 2006, Malian singer.
8 March
In 1817 the New York Stock Exchange was formally constituted.
Raymonde de Laroche became the first woman to receive a pilot's licence in 1910.
In 1971 Muhammad Ali lost his heavyweight championship title to Joe Frazier. The fight was billed as the "Fight of the Century".
The first episode of The Hitchhiker's Guide to the Galaxy radio show aired in 1978.
Deaths: Hector Berlioz, 1869, French composer; Ferdinand von Zeppelin, 1917, German general and businessman; William Howard Taft, 1930, president of the United States; Jose Raul Capablanca, 1942, Cuban chess player; Joe Dimaggio, 1999, American baseball player.
9 March
In 1959 Barbie made her debut. The first doll went on display at the American International Toy Fair in New York.
Svetlana Alliluyeva, the daughter of Soviet dictator Joseph Stalin, defected to the west in 1967. Alliluyeva requested asylum in the US and arrived in New York to denounce her father's regime.
In 1976, 43 people died in a cable car accident in northern Italy. The steel line supporting the cable car snapped and four lift officials were jailed because of poor maintenance that led to the accident.
Christopher Wallace, otherwise known as the Notorious B.I.G., was shot and killed in Los Angeles in 1997. His murder remains unsolved to this day.
Deaths: Anna Laetitia Barbauld, 1825, English poet, author and critic; Menachem Begin, 1992, prime minister of Israel; Charles Bukowski, 1994, American poet; George Burns, 1996, American actor.
10 March
Alexander Graham Bell made the first telephone call in 1876. "Mr Watson – come here – I want to see you," he said to his assistant, Thomas Watson, in the other room.
Fulgencio Batista is restored to power as president of Cuba in 1952.
Tibetans banded together in revolt in 1959. They surrounded the summer palace of the Dalai Lama in defiance of Chinese occupation.
In 1969, Martin Luther King's killer, James Earl Ray, pleaded guilty to the assassination. He made the plea in an attempt to avoid the death sentence.
Deaths: Harriet Tubman, 1913, American nurse and abolitionist; Zelda Fitzgerald, 1948, American author and socialite; Andy Gibb, 1988, English-Australian singer; Giorgos Zampetas, 1992, Greek bouzouki player and songwriter; Jean Giraud, 2012, French author and illustrator
Join our new commenting forum
Join thought-provoking conversations, follow other Independent readers and see their replies