Abu Hamza gets life and is linked to French killers
Preacher was convicted of trying to set up al-Qaeda training camp
Andrew Buncombe
Friday 09 January 2015 19:11 Comments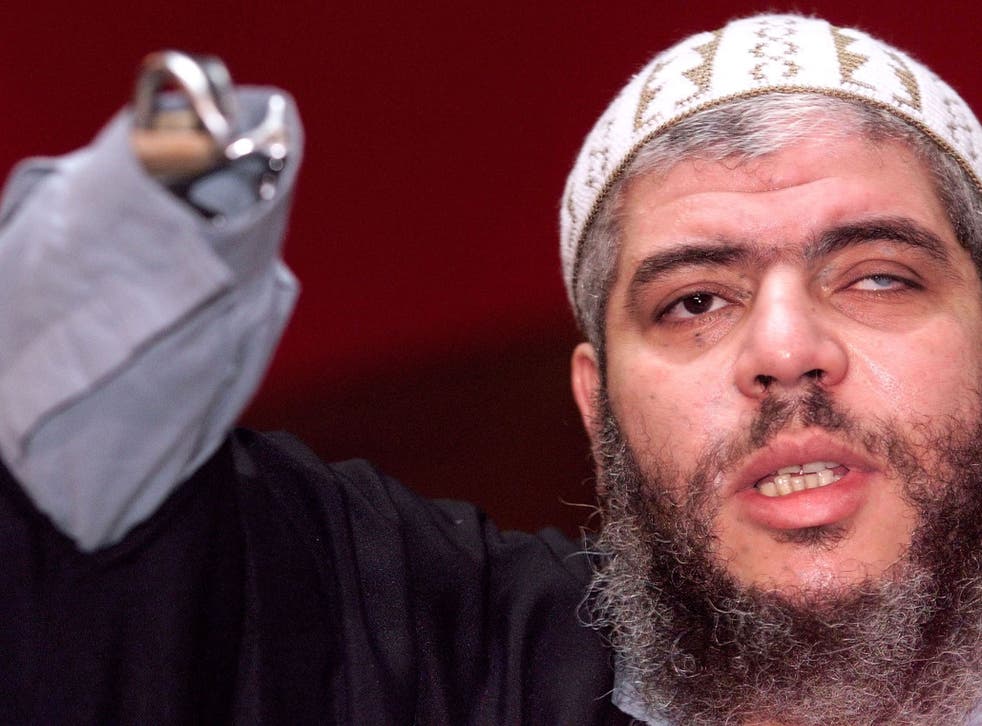 The radical preacher Abu Hamza – a man who told his followers that they had to train in order to "bleed the enemy" – has been jailed for life amid reports one of his senior aides had links to a suspect in the Charlie Hebdo attacks.
The Egyptian-born Abu Hamza, who once headed London's Finsbury Park mosque, was sentenced by District Judge Katherine Forrest in New York, having been convicted last May of a total of 11 terror-related charges. Federal sentencing guidelines called for a life sentence.
"You have not expressed sympathy or remorse," she told the one-eyed, handless Abu Hamza. She said only a life sentence could ensure he would never again incite violence against innocent people.
She added: "The sheer point of your crimes is the killing of others and the destruction of a way of life, our way of life. This is unacceptable in a civilised society."
The Finsbury Park mosque was long known to have served as a clearing house for radical Muslims after Hamza arrived as its chief imam in 1997. His sermons reportedly inspired people such as Richard Reid, the failed "shoe bomber", Zacarias Moussaoui, one of the 9/11 plotters, and Mohammad Sidique Khan, one of the four suicide bombers who blew themselves up on public transport in London on 7 July 2005.
Reports say that British security services are looking at possible British links to the Charlie Hebdo attack after it emerged one of the suspects was mentored by a senior aide to Hamza. Chérif Kouachi, 32, is said to be a follower of the alleged al-Qaeda organiser Djamel Beghal, who was a regular presence at the London mosque in the late 1990s.
Lawyers for Abu Hamza, who lost both hands in an explosion, have said he should serve his time in a prison medical facility. They said housing him at Colorado's Supermax federal prison, sometimes referred to as the Alcatraz of the Rockies, would ignore assurances given by the US to judges in the UK to secure his 2012 extradition to America.
As it was, the judge said she would allow the jail authorities to decide where he should serve the sentence.
Abu Hamza, who became a British citizen when he married an Englishwoman, Valerie Fleming, was convicted in May of aiding terrorists who kidnapped tourists in Yemen in 1998 and others who plotted to open a militant training camp in Oregon.
Abu Hamza testified in his defence at trial. He denied he sent anyone to Oregon or Afghanistan, and claimed he acted as an intermediary during the Yemen kidnapping in search of a peaceful resolution. Prior to being sentenced, he told the judge: "I still maintain my innocence."
He also talked of how he had lost his hands during an accidental explosion in Pakistan while working as an engineer. This contradicted reports that he had lost his limbs while fighting the Soviets in Afghanistan in the 1980s.
During his trial, prosecutors cited some of the incendiary speeches had made, when he had justified the killing of non-Mulims and celebrated the 9/11 attacks on New York and Washington that left more than 3,000 people dead.
In court papers filed last month, Abu Hamza's attorneys said he would face cruel and unusual punishment if his amputated forearms, psoriasis, diabetes and high blood pressure were not taken into account at his sentencing.
Abu Hamza's lawyer, Sam Schmidt, said his client would appeal against the life sentence.
Register for free to continue reading
Registration is a free and easy way to support our truly independent journalism
By registering, you will also enjoy limited access to Premium articles, exclusive newsletters, commenting, and virtual events with our leading journalists
Already have an account? sign in
Join our new commenting forum
Join thought-provoking conversations, follow other Independent readers and see their replies