3,000 dead from cholera in Zimbabwe
Robert Mugabe is trying to hide the scale of the deadly epidemic sweeping the country. But its impact can today be revealed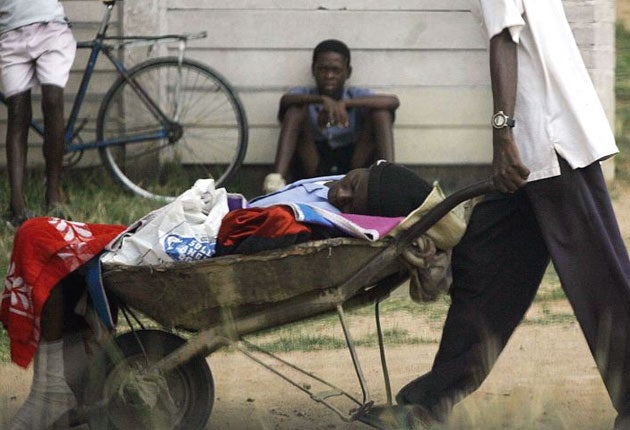 Robert Mugabe, Zimbabwe's President, is trying to hide the real extent of the cholera epidemic sweeping across his nation by silencing health workers and restricting access to the huge number of death certificates that give the same cause of death.
A senior official in the health ministry told The Independent yesterday that more than 3,000 people have died from the water-borne disease in the past two weeks, 10 times the widely-reported death toll of just over 300. "But even this higher figure is still an understatement because very few bother to register the deaths of their relatives these days," said the official, who requested anonymity.
He said the health ministry, which once presided over a medical system that was the envy of Africa, had been banned from issuing accurate statistics about the deaths, and that certificates for the fraction of deaths that had been registered were being closely guarded by the home affairs ministry.
Yet the evidence of how this plague is hurting the people of Zimbabwe is there for all to see at the burial grounds in this collapsing country. "When you encounter such long queues in other countries, they are of people going to the cinema or a football match; certainly not into cemeteries to bury loved ones as we have here," said Munyaradzi Mudzingwa, who lives in Chitungwiza, a town just outside Harare, where the epidemic is believed to have started.
When Mr Mudzingwa buried his 27-year-old brother, who succumbed to cholera last week, he said he had counted at least 40 other families lining up to bury loved ones. He said: "That's sadly the depth of the misery into which Mugabe has sunk us."
Unit O, his suburb, has been without running water for 13 months. The only borehole in the area, built with the help of aid agencies, attracted so many people day and night that it was rarely possible to access its water. Residents were forced to dig their own wells, which became contaminated with sewage. The water residents haul up is a breeding ground for all sorts of bacteria, including Vibrio cholerae, which causes severe vomiting and diarrohea and can kill within hours if not treated.
The way to prevent death is, for the Zimbabwean people, agonisingly simple: antibiotics and rehydration. But this is a country with a broken sewerage system and soap is hard to come by. Harare's Central Hospital officially closed last week, doctors and nurses are scarce and even those clinics offering a semblance of service do not have access to safe, clean drinking water and ask patients to bring their own.
As the ordinary people suffer Mr Mugabe is locked in a bitter power struggle with the opposition leader Morgan Tsvangirai over who should control which ministries in a unity government. The President has threatened to name a cabinet without the approval of the Movement for Democratic Change, which could see the whole peace deal unravel.
Talks were continuing between the two parties in Johannesburg yesterday with little sign of a breakthrough, but pressure is growing from around the region and beyond to strike a deal as the humanitarian crisis deepens. Hundreds of Zimbabweans have streamed into South Africa, desperate for medical care. Officials in the South African border town of Musina say their local hospital has treated more than 150 cholera patients so far. "[The outbreak] is a clear indication that ordinary Zimbabweans are the true victims of their leaders' lack of political will," the South African government's chief spokesman Themba Maseko said.
Yesterday Oxfam warned that a million of Zimbabwe's 13 million population were at risk from the cholera epidemic, and predicted that the crisis would worsen significantly in December, when heavy rains start. "The government of Zimbabwe must acknowledge the extent of the crisis and take immediate steps to mobilise all available resources," said Charles Abani, the head of the agency's southern Africa team. "Delay is not an option."
The Zimbabwean Association of Doctors for Human Rights has accused the government of dramatically under- reporting the spread of the disease. Doctors and nurses – whose salaries can just buy a loaf of bread thanks to hyperinflation – tried to protest last week against the health crisis, but riot police moved in swiftly.
It is not just cholera victims who are suffering. Willard Mangaira, also from Chitungwiza, described how his 18-year-old pregnant sister died at home after being turned away at the main hospital because there were no staff and no equipment to perform the emergency Caesarean operation she needed. Yet he added that if the situation in Chitungwiza was deplorable, what he had left behind in his village of Chivhu, 100 miles away, was beyond description. Adults and children alike were now living off a wild fruit, hacha, and livestock owners are barred from letting their animals into the bush to graze until the people have fed first.
Bought foodstuffs are beyond reach. The official inflation figure is 231 million per cent and the real level is higher: some estimates say basic goods double in price every day. Few can afford to give their deceased relatives a proper funeral. Death used to be a sacred time, with families taking a week to celebrate the life of the deceased before burial. Now the dead are buried instantly.
Lovemore Churi buried his father within an hour of his being confirmed dead. "I did not have the money to let mourners assemble and then start to feed them," he said. "If mourners hear that someone is already buried, they don't bother coming and one does not have to worry about how to feed them. That is the way we now live."
The disease: Deadly, but preventable
* Cholera is caused when a toxin-producing bacterium, Vibrio Cholerae, infects the gut. It is carried in water containing human faeces.
* In its most severe form, and without treatment of antibiotics and rehydration, it causes acute diarrhoea and dehydration, and can kill within hours of symptoms showing.
* John Snow, a doctor in 19th-century London, was the first to link it with contaminated water when he studied an outbreak in Soho in 1854, which had killed more than 600 in a few weeks.
* Until then, it was thought to be spread by a mysterious "miasma" in the atmosphere. Snow showed the outbreak came from a single contaminated well in Broad Street. He had the handle of the well removed, and the epidemic stopped almost overnight.
* Preventing cholera relies on proper sewage treatment, sanitation and water purification.
Join our commenting forum
Join thought-provoking conversations, follow other Independent readers and see their replies