A joke too far - top satirist Bassem Youssef arrested over insults to President Morsi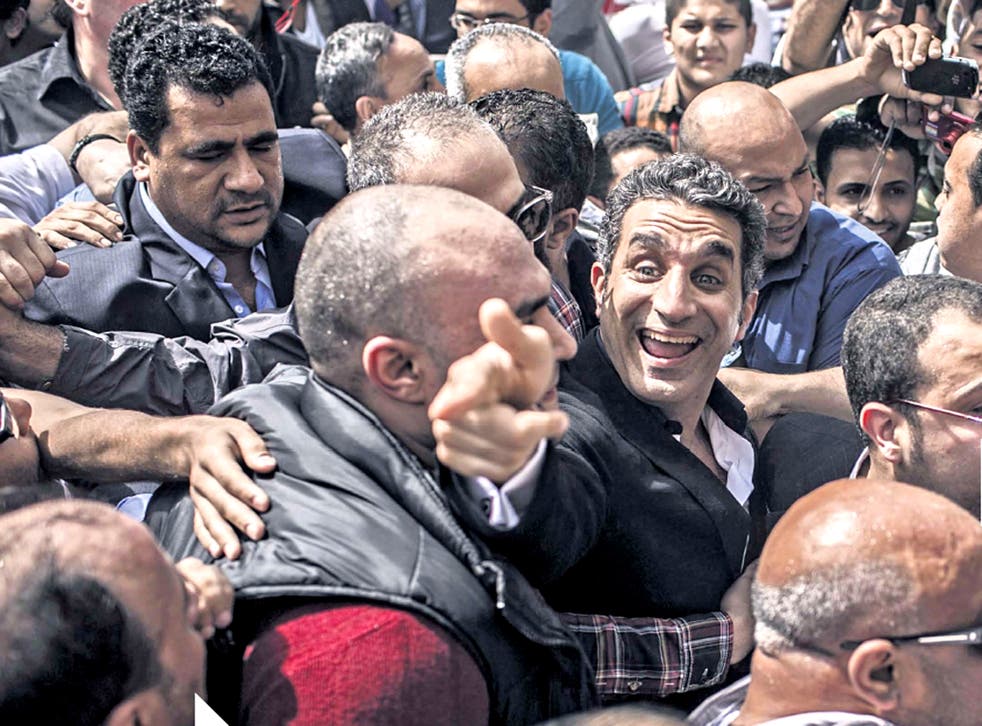 He is one of Egypt's most famous television stars – a wildly popular satirist whose Friday night shows are eagerly awaited by tens of millions of viewers.
But tonight, the Egyptian authorities were facing accusations of conducting a political witch-hunt after Bassem Youssef – whose weekly programme regularly lampoons the President, Mohamed Morsi, and his Islamist allies – was arrested over allegations that he insulted Mr Morsi and the Islamic faith.
Youssef answered his summons to the general prosecutor's office in Cairo today in typically irreverent fashion. Mobbed by cameramen and a few dozen supporters, he arrived wearing an absurdly oversized graduation hat – the kind donned by President Morsi when he was awarded an honorary degree in Pakistan last month.
"Police officers and lawyers at the prosecutor-general's office want to be photographed with me," he said via his Twitter account after entering the building. "Maybe this is why they ordered my arrest?"
After being interrogated, Youssef was released on a bail of E£15,000 (£1,450). Campaigners have warned the arrest represents a dangerous development.
Last week, following a series of clashes between anti-government protesters and supporters of the Muslim Brotherhood, Egypt's general prosecutor issued arrest warrants for five prominent opponents of Mr Morsi's. They included the high-profile blogger Alaa Abdel-Fattah, who was arrested in 2011 and also back in 2006 during the time of Hosni Mubarak.
On Friday, following another eruption of violence in Alexandria, 13 more people – among them liberal activists and four lawyers – were arrested, further stoking allegations of a political crackdown against the Muslim Brotherhood's opponents.
"It's obvious that Mohamed Morsi is using the general prosecutor to serve his interests," said Nihad Aboud, from the Cairo-based Association for Freedom of Thought and Expression. "They can see the threat from someone like Bassem Youssef, a man who has more than one million followers on Twitter and whose show is one of the most famous in Egypt."
The current general prosecutor, Talaat Ibrahim, was appointed by Mr Morsi last November under controversial circumstances. His elevation to the job came after the President, a lifelong member of the Muslim Brotherhood, selected him via a highly divisive constitutional decree. It led to suspicions among some of the Muslim Brotherhood's opponents that the office would become politicised and used as a tool to browbeat Egypt's liberal and leftist opposition groups.
Youssef, a heart surgeon, found fame after uploading a series of skits on to YouTube following the downfall of Hosni Mubarak in February 2011.
The clips, which featured Youssef skewering a variety of politicians and public figures, were watched by tens of millions of people and secured him his own television show. But the programme has often earned the ire of fundamentalist sheikhs, some of whom have angrily denounced the comedian.
Register for free to continue reading
Registration is a free and easy way to support our truly independent journalism
By registering, you will also enjoy limited access to Premium articles, exclusive newsletters, commenting, and virtual events with our leading journalists
Already have an account? sign in
Register for free to continue reading
Registration is a free and easy way to support our truly independent journalism
By registering, you will also enjoy limited access to Premium articles, exclusive newsletters, commenting, and virtual events with our leading journalists
Already have an account? sign in
Join our new commenting forum
Join thought-provoking conversations, follow other Independent readers and see their replies