Africa 'subsidises' the rest of the world by £32bn a year, campaigners say
'There's such a powerful narrative in Western societies that Africa is poor ... what African countries really need is for the rest of the world to stop systematically looting them'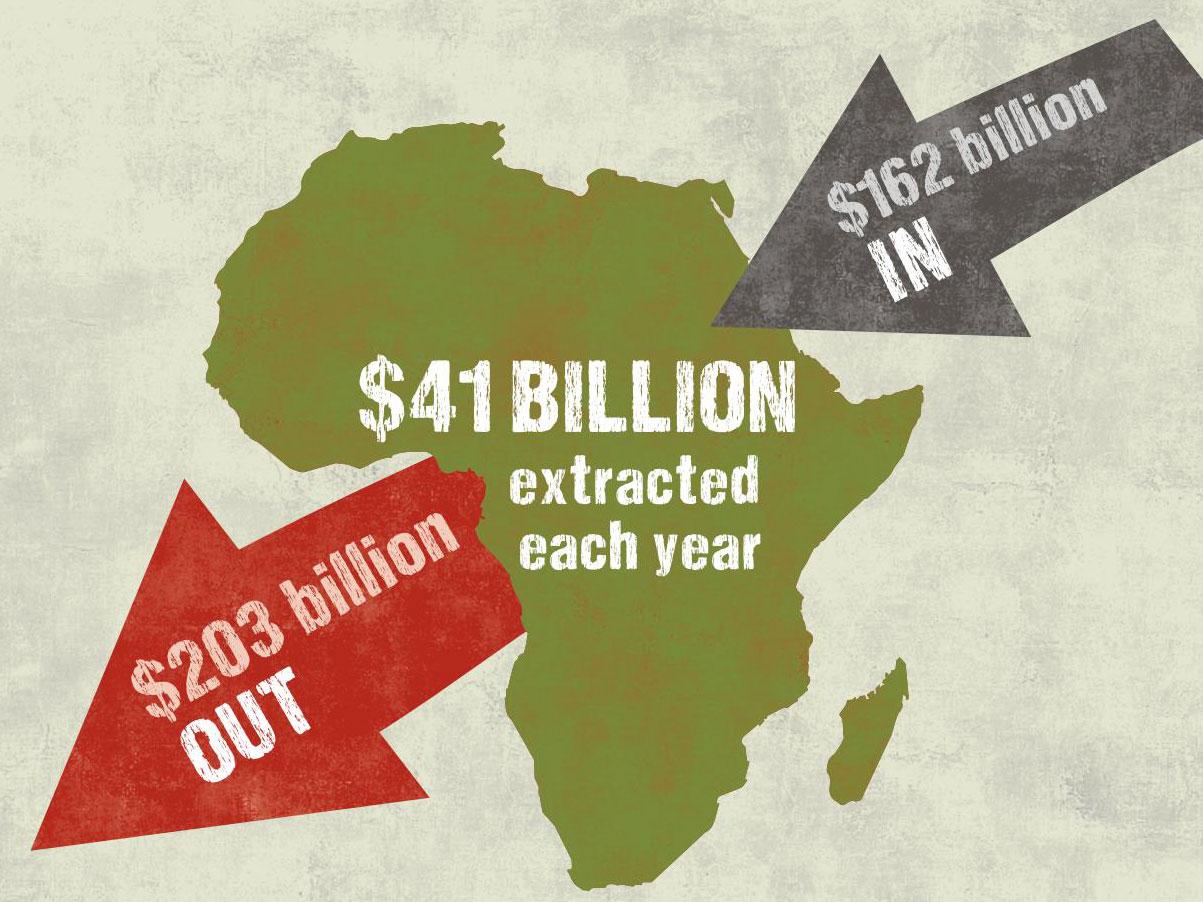 Africa 'subsidises' the rest of the world to the tune of $41bn (£32bn) a year, according to a new analysis of the amount of money flowing in and out of the continent.
The Honest Accounts 2017 report by Global Justice Now, the Jubilee Debt Campaign and other groups estimated the total amount going into sub-Saharan Africa at $161.6bn, while the total amount going out was put at $202.9bn.
The outflows included debt repayments by governments and the private sector, multinational company profits, the 'brain drain' effect, illegal logging, fishing and poaching, and costs associated with climate change, a problem largely caused by Europe, America and other developed countries.
"Africa is rich – in potential mineral wealth, skilled workers, booming new businesses and biodiversity. Its people should thrive, its economies prosper," the report said.
"Yet many people living in Africa's 47 countries remain trapped in poverty, while much of the continent's wealth is being extracted by those outside it.
"Research for this report calculates the movement of financial resources into and out of Africa and some key costs imposed on Africa by the rest of the world. We find that the countries of Africa are collectively net creditors to the rest of the world, to the tune of $41.3bn in 2015.
"Thus much more wealth is leaving the world's most impoverished continent than is entering it."
The sub-Saharan countries in Africa received a total of $19.7bn in aid, but paid back $18bn in debt repayments, the report said.
Africans sent about $32bn in personal remittances from overseas, but multinational companies took $32.4bn in profits and "illicit financial outflows" – linked to misreporting the value of imports and exports – totalled some $67.6bn.
An estimated $29bn was stolen by pirate fishing fleets and as a result of illegal logging and the trade in endangered animals and plants.
Aisha Dodwell, a campaigner with Global Justice Now, said: "There's such a powerful narrative in Western societies that Africa is poor and that it needs our help.
"This research shows that what African countries really need is for the rest of the world to stop systematically looting them.
"While the form of colonial plunder may have changed over time, its basic nature remains unchanged."
Martin Drewry, director of Health Poverty Action, which also helped produce the report, said: "To end poverty we need to focus our efforts on preventing the policies and practices that are causing it.
"That means we need to stop our tax havens facilitating the theft of billions, clamp down on illegal activities and compensate African countries for the impact of climate change that they did not cause. "
Bernard Adaba, a policy analyst Integrated Social Development Centre, a policy research and advocacy group in Ghana, said the idea of economic development was "a lost cause in Africa while we are haemorrhaging billions every year to extractive industries, western tax havens and illegal logging and fishing".
"Some serious structural changes need to be made to promote economic policies that enable African countries to best serve the needs of their people rather than simply being cash cows for Western corporations and governments. The bleeding of Africa must stop!" he added in a statement.
Africa Rising - in pictures
Show all 12
Commenting on the report, Professor John Weeks, who has studied this issue for 20 years, said it confirmed "long-standing evidence" that wealth was flowing out of Africa.
"The greater part is legal, allowable as the result of deregulation of foreign exchange markets and weak central bank oversight and monitoring, all strongly encouraged by International Monetary Fund and World Bank lending policies," he wrote in an email to The Independent.
"So-called capital flight occurs in two major ways. First, as a result of deregulation, people and corporations can convert domestic currency into foreign currency and send it abroad, usually into accounts in Western Europe or North America.
"Second, combining the legal with the illegal, corporations – especially those involved in resource extraction – misrepresent their production and profits (illegal) when remitting their declared earnings (legal).
"To take but one example, copper production and trading companies in Zambia massively understate their exports by formally contracting exchanges through the Zurich metals market.
"This ruse makes Switzerland appear one of the world's largest importers of copper ore. In fact almost all goes to China and not a kilogram to Switzerland."
Professor Weeks, of SOAS University of London, added that the outflow of foreign currency reduced countries' abilities to buy imports, undermining growth and employment.
"The essential cause is not criminality or political corruption. Rather, it is an ideological policy framework that blocks effective public policy measures," he wrote.

Join our commenting forum
Join thought-provoking conversations, follow other Independent readers and see their replies