Al Jazeera journalist Baher Mohamed tweets 'I am free' after Egyptian court orders his release on bail with Mohamed Fahmy
The journalists were imprisoned in June along with their Australian colleague, Peter Greste
Victoria Richards
Thursday 12 February 2015 13:30 Comments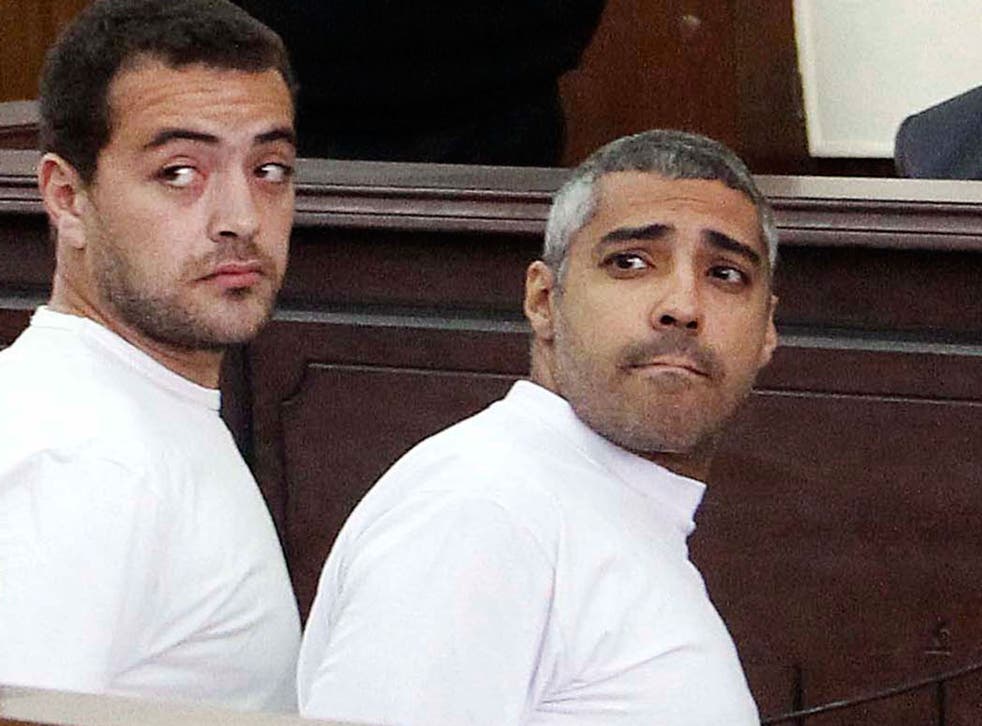 An Egyptian journalist has tweeted "I am free" after a judge ordered the release of two men who spent 411 days behind bars for "spreading lies to help a terrorist group".
Baher Mohamed tweeted his joy shortly after the judge's decision along with that of Canadian journalist Mohamed Fahmy, who was told he must pay a $33,000 bail bond.
The pair were imprisoned in June along with Greste, who was freed on 1 February under a new law that allows the Egyptian President, Abdel Fattah el-Sissi, to deport foreigners at any time during their prosecution.
Mr Fahmy gave up his Egyptian citizenship to qualify for deportation to Canada, but Mr Mohamed does not have a foreign passport.
Police arrested the three journalists in December 2013 and prosecutors accused them of being involved in terrorism and of spreading false information.
The journalists, who strongly deny collaborating with the Muslim Brotherhood after the overthrow of President Mohammed Morsi in 2013, said they were jailed simply for reporting the news.
Mr Greste and Mr Fahmy received seven-year prison terms, while Mr Mohamed received a longer 10-year sentence because he had been found with a spent bullet casing, before a retrial was ordered.
Egypt's top appeals court overturned their convictions last month.
Additional reporting by AP
Register for free to continue reading
Registration is a free and easy way to support our truly independent journalism
By registering, you will also enjoy limited access to Premium articles, exclusive newsletters, commenting, and virtual events with our leading journalists
Already have an account? sign in
Register for free to continue reading
Registration is a free and easy way to support our truly independent journalism
By registering, you will also enjoy limited access to Premium articles, exclusive newsletters, commenting, and virtual events with our leading journalists
Already have an account? sign in
Join our new commenting forum
Join thought-provoking conversations, follow other Independent readers and see their replies