Al-Jazeera journalists' trial: Three reporters convicted and sentenced to seven years in prison by Egyptian court
The three - including Australian Peter Greste - faced charges of 'helping terrorists'
Adam Withnall
Monday 23 June 2014 16:02 Comments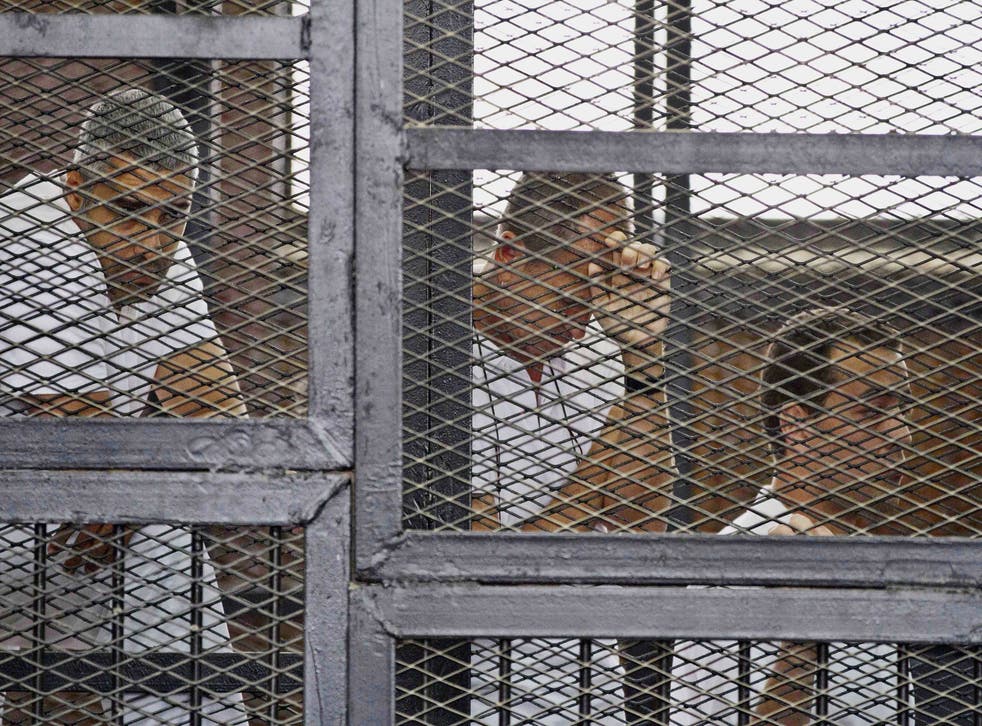 Three journalists for the English-language Al-Jazeera news organisation have been convicted on terror charges in an Egyptian court and each sentenced to seven years in prison.
Australia's Peter Greste, the Canadian-Egyptian acting Cairo bureau chief Mohammed Fahmy and Egyptian producer Baher Mohammed were arrested in December during a crackdown on the Muslim Brotherhood.
The journalists said they were reporting on the situation in Cairo at the time, covering protests held by those still supporting the ousted President Mohammed Morsi.
But prosecutors said they helped the "terrorist organisation" and damaged the national interest by publishing lies and providing equipment and information to 17 Egyptian activists.
The Egyptian court now faces accusations that its decision was politically motivated, after the three defendants arrived confident of their innocence today and left with a decision described as "devastating" by their families.
After Greste and Fahmy had received their sentences - and Mohammed was given an additional three years on a separate charge involving possession of ammunition - 15 of the remaining 17 defendants were convicted of being members of the Brotherhood, and given jail terms ranging from seven to 10 years.
Greste's family had earlier told reporters they were confident that the Australian correspondent would be acquitted of the charges. Throughout the trial the judge was reportedly showed photographs of Greste's family holidays, a Sky Arabia report on animal cruelty and footage of a Nairobi press conference - "evidence" which was described as having nothing to do with the serious charges brought.
In a statement issued by Al-Jazeera, the men's employer said the verdict "defies logic, sense and any semblance of justice".
Giving their reaction to the verdicts on a Facebook page campaigning for Greste's release, his family said: "We are so devastated!!!! Peter has received 7 years. This is not the end. Please make noise, this is unjust and a slap in the face for freedom of speech and media."
The trial has been roundly criticised by a host of world powers, and today Britain's ambassador to Egypt, Hames Watt, said: "This is a deeply disappointing result. The Egyptian people have expressed over the past three years their wish for Egypt to be a democracy. Without freedom of the press there is no foundation for democracy."
Australia's ambassador Ralph King also said his president and prime minister would make their disappointment clear, after Tony Abbott earlier said he had issued a last-ditch plea to Egyptian President Abdel Fatah al-Sisi that his Greste was innocent of the charges.
Then, Abbott said: "I did my best to put it to the president that as an Australian journalist, Peter Greste would not have been taking sides. He would have simply been reporting on the events that he saw before him. He certainly would have had no interest in promoting the Muslim Brotherhood."
International observers have accused the Egyptian government of allowing the journalists to get caught up in the political row between it and Qatar, which funds Al-Jazeera.
Relations between the two countries have been extremely strained since Sisi's military ousted the Muslim leader Morsi last year. Al-Jazeera's Cairo bureau has been closed since they were raided by security forces at the time.
One of the defence lawyers, Shaaban Saeed, said there had been no respect for due process during the trial.
"We were expecting innocence but there is no justice in this country. Politics is what judges," Saeed said.
Greste and his colleagues had pleaded not guilty to the charges, and are expected to appeal today's verdicts.
Register for free to continue reading
Registration is a free and easy way to support our truly independent journalism
By registering, you will also enjoy limited access to Premium articles, exclusive newsletters, commenting, and virtual events with our leading journalists
Already have an account? sign in
Join our new commenting forum
Join thought-provoking conversations, follow other Independent readers and see their replies