Al-Shabaab claims responsibility for Kenyan bus attack that leaves seven dead
The attack happened in Witu in Kenya's Lamu County, an area that has seen 87 people killed in similar attacks over the last few months
Jack Simpson
Saturday 19 July 2014 13:39 Comments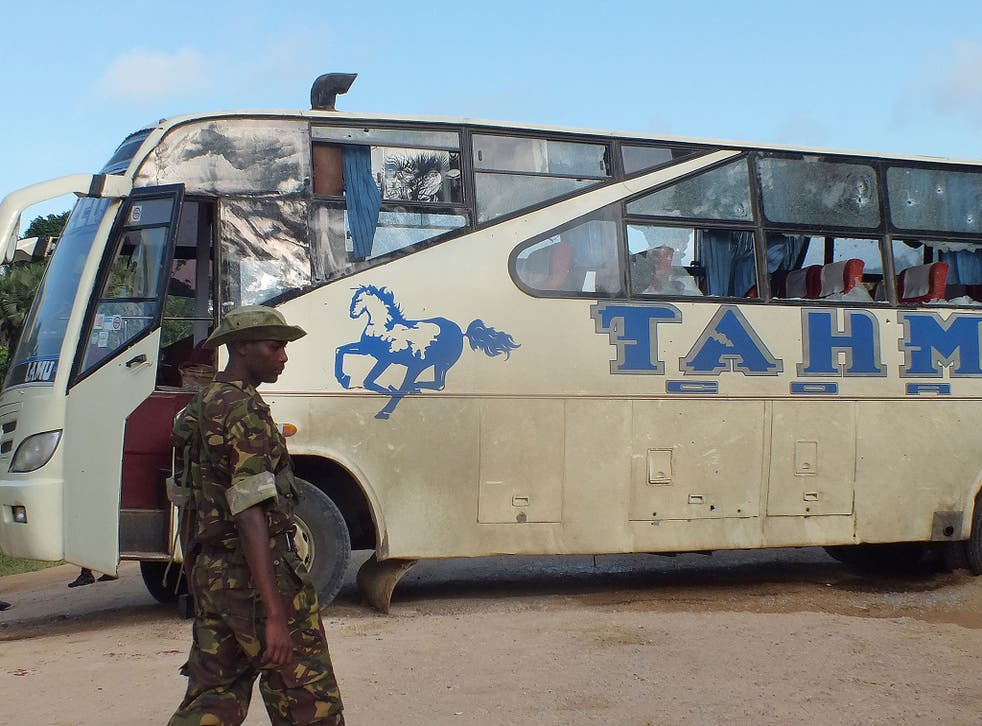 At least seven people were killed when gunmen attacked a packed bus in an area of Kenya that has seen 87 people killed in the last few months.
According to reports from Kenya's Red Cross, the 52-seater bus was attacked by armed gunmen on Friday, at Corner Mbaya, three miles away from the coastal town of Witu in Kenya's Lamu County.
Of the seven to be killed, police said two were security officials, while the other five were civilians.
Miiri Njenga, Lamu County commissioner, told Reuters: "Eight people are receiving treatment at the Mpeketoni hospital and most of them have bullet wounds."
He added that there were unconfirmed reports that two more of the passengers on the bus had died.
It is believed that many of the survivors had found safety in the surrounding forests when the gunmen opened fire on the bus.
The al-Qa'ida-linked al-Shabaab, the group that has carried out a number of similar attacks recently, has already claimed responsibility for the attack.
An Al-Shabaab spokesperson told Reuters: "The attack was carried out in response to the Kenyan government's claim that all the areas that have recently been subject for attacks were secured after having deployed troops."
They also warned the Kenyan government that the attackers were sending a message to Kenya that they cannot stop the group's operations in coastal areas.
On 5 July, gunmen killed 29 people in the town Hindi, in the Gamba area of the Tana River County, the county which borders Lamu.
On the 16 June, another suspected al-Shabab raid saw 48 killed in Mpeketoni near Lamu.
Last year, al-Shabaab gunmen killed 67, including six Britons, in an attack on the Westgate shopping mall in the country's capital Nairobi.
Al-Shabaab has often stated that the reasons behind its attacks are due to the continued presence of Kenyan troops in Somalia.
In 2011, Kenya sent troops into Somalia to help the UN-backed government defeat Somalian Islamist militants, including al-Shabaab.
In retaliation the terrorist group has carried out a number of attacks on Kenyan soil, with these intensifying of late, particularly in the areas surrounding the coastal county of Lamu.
To combat the terrorist threat there has been a heavy deployment of Kenyan military forces along the coast.
Nevertheless, these have so far been unsuccessful with the attacks continuing with regular frequency.
Despite government assurances that the attacks would soon stop, a number of families have already fled the area and the threat of attacks has also harmed the area's tourism industry.
Additional Reporting by PA
Register for free to continue reading
Registration is a free and easy way to support our truly independent journalism
By registering, you will also enjoy limited access to Premium articles, exclusive newsletters, commenting, and virtual events with our leading journalists
Already have an account? sign in
Join our new commenting forum
Join thought-provoking conversations, follow other Independent readers and see their replies