'Appalling' Foreign Secretary Boris Johnson urged to change stance on death row Briton
Exclusive: In an open letter, rights groups say Mr Johnson's stubborn failure to act is keeping British father-of-three Andy Tsege on death row in Ethiopia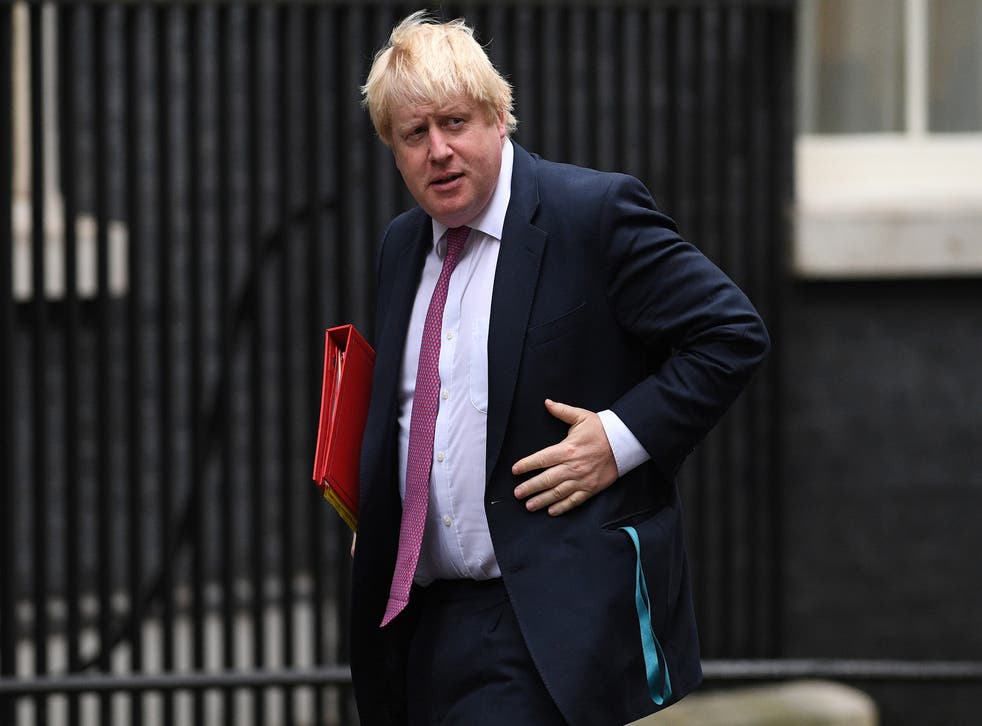 Boris Johnson has been accused of prolonging the suffering of a British citizen who was kidnapped, illegally rendered and sentenced to death by the Ethiopian authorities.
The Foreign Secretary brushed off the concerns of fellow MPs and actually appeared to be unaware of the latest developments in the case of father-of-three Andy Tsege during a session in the Commons this week.
Now, The Independent can reveal, even Ethiopian rights groups are aghast at the lack of action from the British government to support its own citizen, and in a joint letter with international organisations have called on Mr Johnson to do more.
The groups said the minister's failure to call for the release of Mr Tsege, and his "appalling" refusal to answer questions on the case from MPs, was condemning the Londoner to remain on death row.
Mr Tsege's case is particularly urgent now as the Ethiopian authorities have declared a "state of emergency", dispensing of the rights of expression and assembly for political opponents and restricting the movement of foreign diplomats.
A vocal critic of the regime, Mr Tsege fled Ethiopia in 1979 and was granted asylum and British citizenship. He had been living in the UK with his wife and three children ever since.
He continued to advocate for democratic reforms in his home country, however, and was seized by the Ethiopian authorities while travelling through an airport in Yemen in 2014.
Mr Tsege was illegally sentenced to death in absentia in 2009, and has now spent two years in a jail known as "Ethiopia's gulag" without being granted the right to a fair trial.
Yet he has been all but abandoned by the British government, which sees Ethiopia as a vital strategic ally in fighting Islamist extremist groups in the Horn of Africa.
In their open letter, groups including Reprieve, Free Trials International and the Ethiopia Human Rights Project urged Mr Johnson to go further than his current insistence that the UK is trying to secure Mr Tsege access to a lawyer.
Not only have previous promises to that effect failed to materialise, but the Ethiopia has repeatedly said Mr Tsege has "no appeal process" available to him – in other words, access to a lawyer will do him little good.
Mr Johnson has repeatedly said "Britain does not interfere with the legal systems of other countries". Yet the rights groups pointed to two recent cases involving British citizens – Lee Po in China and Karl Andree in Saudi Arabia – where the Government successfully did just that.
"By focusing solely on the request that Mr Tsege be granted a lawyer, the FCO is neglecting to address Mr Tsege's illegal kidnap, illegal transfer to Ethiopia, and illegal in absentia death sentence," the letter read, describing each as a "grave abuse" in its own right.
"Worse still, the approach risks lending credibility to a sham legal process that will only prolong Mr Tsege's ordeal," the groups added.
Conservative ministers repeatedly brushed off questions about Mr Tsege on Tuesday, when Birmingham MP Steve McCabe asked "what impact the continued detention of British citizen Andy Tsege is having on our relations with the Ethiopian regime".
Foreign Office minister Tobias Ellwood refused to comment on the "consular case" in question, but added: "I would pass congratulations to the country of Ethiopia… [as well as] Kenya, Uganda and other countries, that are providing important contributing forces to the support and stability of Somalia."
The Labour MP Stephen Timms later raised the case again, saying that even the British government's minor boasts of securing Mr Tsege access to a lawyer had not materialised, and Mr Johnson was asked if he would "now formally request [his] release".
World news in pictures

Show all 50
The Foreign Secretary replied: "I have set out our position on Mr Tsege in an open letter on gov.uk."
"I'm afraid comment further because our handling of this case is the subject of ongoing legal proceedings."
Mr Johnson appears to be referring to a case brought against the Government over its inaction by Mr Tsege's nine-year-old daughter. The High Court has ruled in the Government's favour in that case, and no appeal is planned. Ethiopia is clear that it sees the case as closed, meaning there are in fact no ongoing legal proceedings at all.
Maya Foa, a director at Reprieve, said the state kidnap of a British citizen and the Government's subsequent lack of response was nothing short of "an outrage".
"His family in London are desperately worried about him, and MPs are rightly asking why Boris Johnson won't request his return," she said. "It's appalling that the Foreign Secretary is unwilling to explain himself to Parliament.
"As we've written to Mr Johnson, the Ethiopian government has shown zero interest in delivering on its weak promises on Andy's case – and the current crackdown is yet more evidence that Ethiopia's ruling party has little mercy for its critics.
"Boris Johnson must start listening to our concerns, and urgently request Andy's return to Britain."
A spokesman for the Foreign Office told The Independent the Government "has provided significant support to Mr Tsege and his family, and to suggest otherwise is simply incorrect".
"We lobbied for many months to secure a move from solitary confinement to a federal prison, and this was achieved in July 2015," he said.
"From the moment we heard about his detention we pressed for consular access and have now been able to visit Mr Tsege 11 times.
"The Foreign Secretary has now made it clear to Foreign Minister Tedros that Mr Tsege must be given access to legal representation, as agreed by Prime Minister Hailemariam in June. And we will press the Ethiopians on this matter until they follow through on this commitment.
"There has been an extremely high level of engagement with Mr Tsege's family in the UK throughout this case, and we will continue to support them."
Register for free to continue reading
Registration is a free and easy way to support our truly independent journalism
By registering, you will also enjoy limited access to Premium articles, exclusive newsletters, commenting, and virtual events with our leading journalists
Already have an account? sign in
Register for free to continue reading
Registration is a free and easy way to support our truly independent journalism
By registering, you will also enjoy limited access to Premium articles, exclusive newsletters, commenting, and virtual events with our leading journalists
Already have an account? sign in
Join our new commenting forum
Join thought-provoking conversations, follow other Independent readers and see their replies