Angela Merkel tells African Union it must do more to stop migration to Europe
German chancellor calls on AU to start by 'bringing its influence to bear' on Libya crisis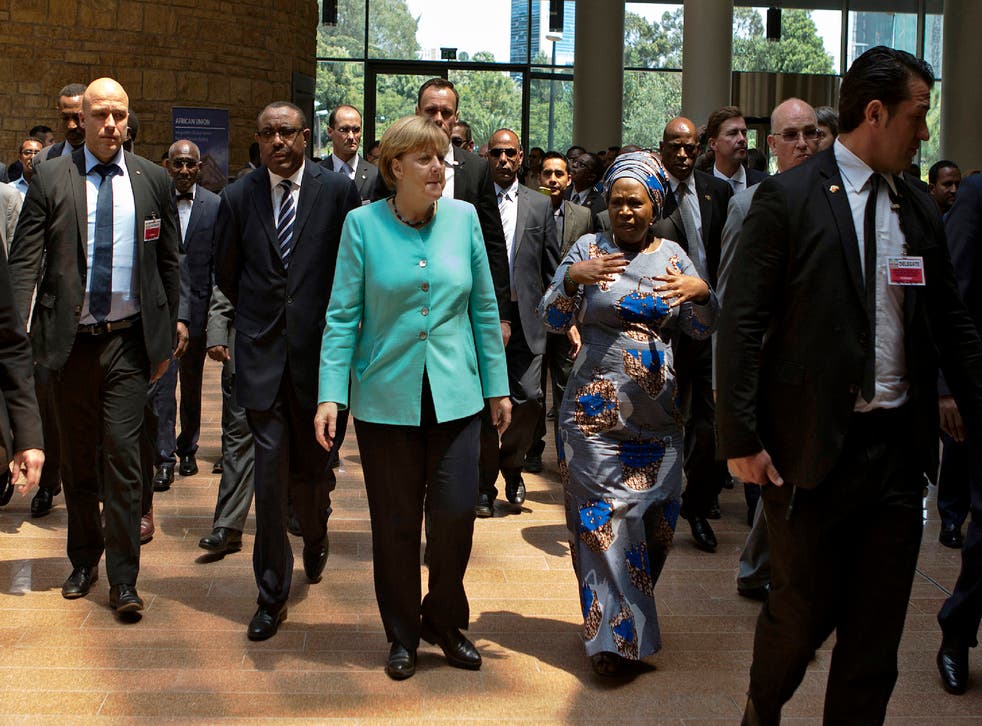 The German chancellor has called on African states to do more to stem migration to Europe and address the rise in Islamic extremism.
In a speech to the African Union (AU) at the culmination of a three-day tour of the continent, Angela Merkel proposed Libya as a "sad example" where state structures had collapsed and the assembly of nations could do more.
"I am expressly in favour of the African Union bringing its influence to bear to help solve the conflict," she said.
Speaking in Ethiopia after earlier visits to Mali and Niger, Ms Merkel vowed to make Africa a priority for Germany's G20 presidency in 2017.
But in return, she has asked that the African countries do more to stop the growing culture of young people leaving to seek a better life in Europe.
In Mali, she described the migrant exodus as a "brain drain" of skilled young workers, and said more coherent development policies were needed.
"It is important that Africa does not lose its best minds," she said.
Migration was among the key topics discussed on Tuesday in Addis Ababa in a meeting with Ms Merkel's counterpart, Prime Minister Hailemariam Desalegn.
For his part, Mr Hailemariam said Germany could help with Ethiopia's own influx of refugees. The country is one of the world's largest hosts of refugees, with hundreds of thousands arriving from nearby Somalia, South Sudan and elsewhere.
"Ethiopia is one of the global hosts of refugees... the first in Africa, with 780,000 refugees here. I think Germany can support us on this," Hailemariam said.
During her visit, Ms Merkel also raised the issue of Ethiopia's newly-declared state of emergency, its first for 25 years, called in response to growing protests by the Oromo and Amhara ethnic groups.
Leading opposition figures had asked the German chancellor to call for the opening up of political dialogue in Ethiopia and the release of political prisoners.
Ms Merkel signalled support for protesters, saying "a vibrant civil society is part and parcel of a developing country", and said Germany has offered to train Ethiopian police to deal with the demonstrations in Oromia and Amhara in a peaceful way.
Human Rights Watch says more than 500 protesters have been killed in a police crackdown, and the US – Ethiopia's most important international ally – has expressed concerns.
Stability in Ethiopia is important not just for its strategic allegiances with Western partners. It is also home to the African Union, and on her visit Ms Merkel officially opened a new AU facility partially funded by the German government.
"We are already working in Oromia to de-escalate the situation there by offering mediation between groups," Ms Merkel said.
"I would always argue for allowing people of a different political opinion ... to engage with them and allow them to express their views because, after all, a democratic experience shows that out of these discussions good solutions usually come," she added.
Ethiopia's president has tried to temper concerns over its six-month state of emergency, announcing in parliament on Monday that the country's election law would be amended to accommodate more political parties and opposing views.
But the country's internet service continues to be largely blacked out after last week's unrest, which included the targeting and burning of both foreign and local businesses over suspected ties to the government.
The tensions culminated in the deaths of scores of protesters during a stampede to flee police vehicles and tear gas at a religious event in Bishoftu at the start of the month. The UN human rights office has asked for access to allow independent observers into the most troubled Oromia region.
Join our new commenting forum
Join thought-provoking conversations, follow other Independent readers and see their replies