Aston Martin Vanquish for sale... one former (megalomaniac dictator) owner
Diamond pen and 39 cars among thousands of luxury items from deposed Tunisian president at auction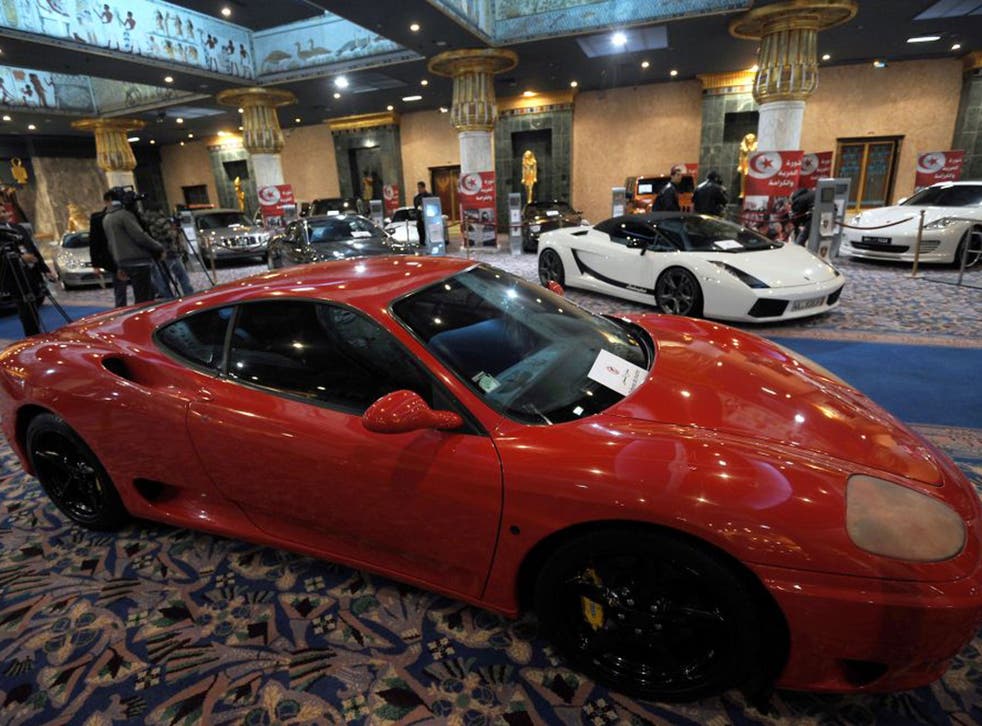 Looking for a last minute Christmas gift? What about a diamond-encrusted pen belonging to a former dictator?
Members of the public were today offered the chance to buy some of the abandoned trappings of former Tunisian president Zine El Aidine Ben Ali – the first leader to be toppled during mass protests of the Arab Spring.
A total of 10,000 items are included in the month-long sale at the luxurious Cleopatra Hotel in Tunis, in a bid to inject much-needed cash in government coffers.
The hoard at what is likely to be one of the most extravagant house sales ever seen includes 39 luxury cars, a cache of jewellery belonging to Ben Ali's wife Leila Trabelsi, works of art, furniture and thousands of items of clothing. The cars on sale include an Aston Martin Vanquish, hand-built in England by Ben Ali's son-in-law, and two Lamborg-hini Gallardos.
Those looking for smaller, ill-gotten knick-knacks can pick up a gilded falcon or a pair of gold sphinxes, while a pair of shoes could be yours for around £100. Items valued at less than 10,000 dinars (£4,000) will sell for a fixed price, while those worth more will be auctioned.
It was just over two years ago that Tunisian street-vendor Mohammed Bouazizi – whose livelihood was being threatened by bureaucracy – set himself on fire and later died from his wounds. His death is credited with being the catalyst for the Tunisian revolution and wider Arab Spring.
Amid growing resentment over rising unemployment and poverty, the showy lifestyles of the Ben Ali and Trabelsi families – which were estimated to control around 30-40 per cent of the Tunisian economy – created surging public anger. The mass protests that followed sent Ben Ali and his family fleeing to Saudi Arabia, leaving many of their possessions behind.
Most of the items on sale were collected from the Sidi Dhrif palace, one of Ben Ali's sumptuous palaces on the Tunisia's Mediterranean coast, which is also currently being sold off.
Tunisia's Youth and Sport Minister, Tarek Dhyab, said the items on sale constituted only a third of Ben Ali's possessions. "I say poor Tunisia: it was controlled by a gang leader – not someone fit to lead a country," he said.
Entry to the event is 30 dinars (£12), excluding most Tunisians, in a country where the minimum wage is just 320 dinars a month. The Tunisian government hopes to raise at least £8m from the sale. It has pledged to use the money on social projects, but that is unlikely to do much to quell rising anger with the government over the country's economic situation – one of the main grievances that fuelled the revolution.
With 18 per cent unemployment – a figure much higher among the youth – some are now calling for a new uprising.
The anniversary of Mr Bouazizi's death last week saw Tunisians take to the streets once more. The country's new president, Moncef Marzouki, was pelted with stones and tomatoes by protesters, shouting: "The people want the fall of the government."
Register for free to continue reading
Registration is a free and easy way to support our truly independent journalism
By registering, you will also enjoy limited access to Premium articles, exclusive newsletters, commenting, and virtual events with our leading journalists
Already have an account? sign in
Register for free to continue reading
Registration is a free and easy way to support our truly independent journalism
By registering, you will also enjoy limited access to Premium articles, exclusive newsletters, commenting, and virtual events with our leading journalists
Already have an account? sign in
Join our new commenting forum
Join thought-provoking conversations, follow other Independent readers and see their replies