'Beloved' mountain gorilla who starred in viral selfie dies in caretaker's arms aged 14
Ndakasi 'embodied the spirit of' Africa's oldest national park, conservationists say
Andy Gregory
Thursday 07 October 2021 23:47 Comments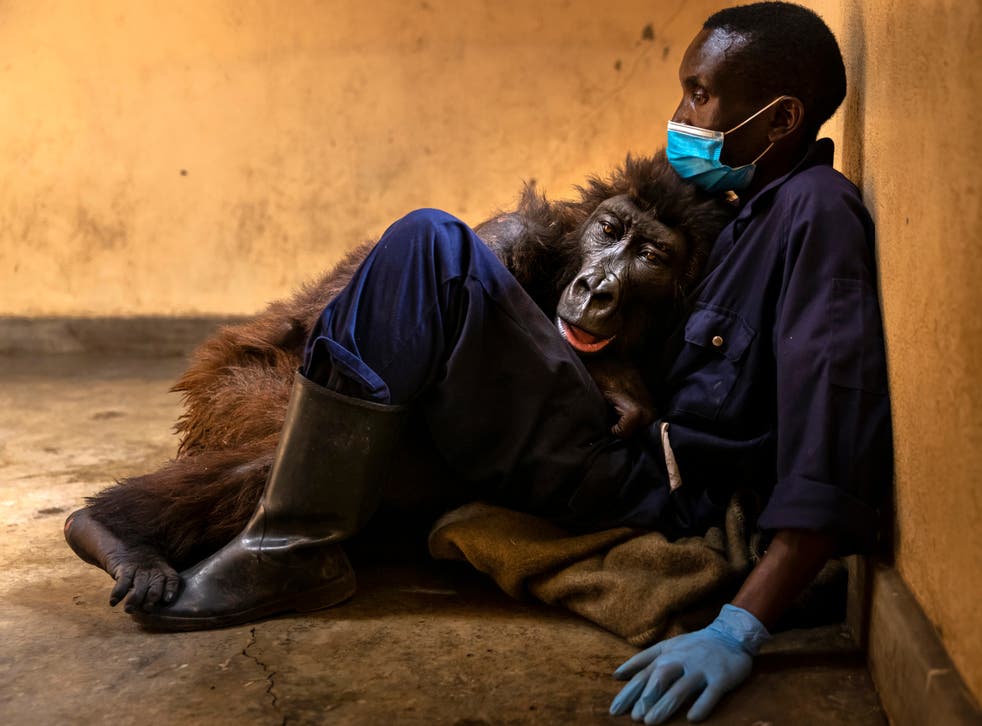 Leer en Español
A mountain gorilla who found viral fame by appearing to pose for a "cheeky" selfie photograph has died in the arms of the park ranger who "loved her like a child".
The "beloved" 14-year-old gorilla, named Ndakasi, died on 26 September "following a prolonged illness in which her condition rapidly deteriorated", a statement from Virunga National Park said.
Ndakasi was born into one of just eight families of mountain gorillas living in Africa's oldest and most biodiverse national park in the Democratic Republic of Congo.
In 2007, aged just two months old, she was discovered clinging to her dead mother, who had been gunned down at close range in an attack rangers described as an "execution," in which a number of her family members were also killed.
Their slaughter was thought to have been motivated by the lucrative illegal charcoal trade, to which the endangered gorillas and protected status of the vast, mineral-rich park park they inhabited were seen as a "hindrance".
With Ndakasi left "orphaned", she was brought her to a rescue centre in Goma, where she met Andre Bauma. "All night long, Andre held the baby close to him, keeping her tiny body tightly against his bare chest for warmth and comfort," the park said in a statement.
"She survived; however, the trauma of losing her family coupled with a long period of rehabilitation meant that Ndakasi was too vulnerable to return to the wild."
Ndakasi was transferred to the Senkwekwe Centre for orphaned gorillas shortly after its creation in 2009, where Mr Bauma became the manager and where Ndakasi stayed for more than 11 years.
The gorilla would later appear in the 2014 documentary, Virunga, which shone a light on the efforts of Mr Bauma and others to protect the park from the many threats it faces – from poaching and violent conflict, to the illegal exploitation of it's natural resources.
Speaking to the BBC at the time of the film's release, Mr Bauma said of Ndakasi: "We shared the same bed, I played with her, I fed her … I can say I am her mother."
However, it was in a selfie taken in 2019 by Senkwekwe ranger Mathieu Shamavu in which Ndakasi and her "partner-in-crime" Ndeze stole the show – with the pair's characterful two-legged stances causing the image to go viral on the internet.
"Their playful nature was a reminder to the world of how much we see ourselves in these animals and it's one of the reasons Andre Bauma will miss her so dearly," the park's statement said.
It added: "Ndakasi embodied the spirit of Virunga and her story of survival is interwoven with that of the park's.
"The massacres of her family and other gorillas in 2007 led Congolese authorities to undertake extensive institutional and security reform within the park. This significantly strengthened the protection of Virunga's mountain gorillas and enabled the conditions that have contributed to the on-going recovery of the species today."
Over the course of Ndakasi's life, the global mountain gorilla population – situated mostly in the DRC, Uganda and Rwanda – has grown by 47 per cent, from 720 individuals in 2007 to an estimated 1,063 in 2021, the park said.
However the rangers who seek to protect them at Virunga – where a vast proportion of the world's mountain gorillas reside – continue to face deadly violence in their efforts, with six rangers killed in an armed ambush in January this year.
World news in pictures

Show all 50
In 2018, in the wake of a gun attack that killed five rangers and a driver, the park's director said Virunga had experienced the worst levels of violence in a decade, and it was reported that more than 170 rangers had died protecting animals in the 20 years prior.
In a statement issued after Ndakasi's death, Mr Bauma described it as "a privilege to support and care for such a loving creature".
"One could say that she took after her mother, Nyiransekuye, whose name means 'someone happy to welcome others'," he said.
"It was Ndakasi's sweet nature and intelligence that helped me to understand the connection between humans and Great Apes and why we should do everything in our power to protect them. I am proud to have called Ndakasi my friend.
"I loved her like a child and her cheerful personality brought a smile to my face every time I interacted with her. She will be missed by all of us at Virunga but we are forever grateful for the richness Ndakasi brought to our lives during her time at Senkwekwe."
Register for free to continue reading
Registration is a free and easy way to support our truly independent journalism
By registering, you will also enjoy limited access to Premium articles, exclusive newsletters, commenting, and virtual events with our leading journalists
Already have an account? sign in
Join our new commenting forum
Join thought-provoking conversations, follow other Independent readers and see their replies