Boko Haram: An open letter to the UN and the global community
The letter in full, with its signatories
Monday 13 October 2014 19:20 BST
Comments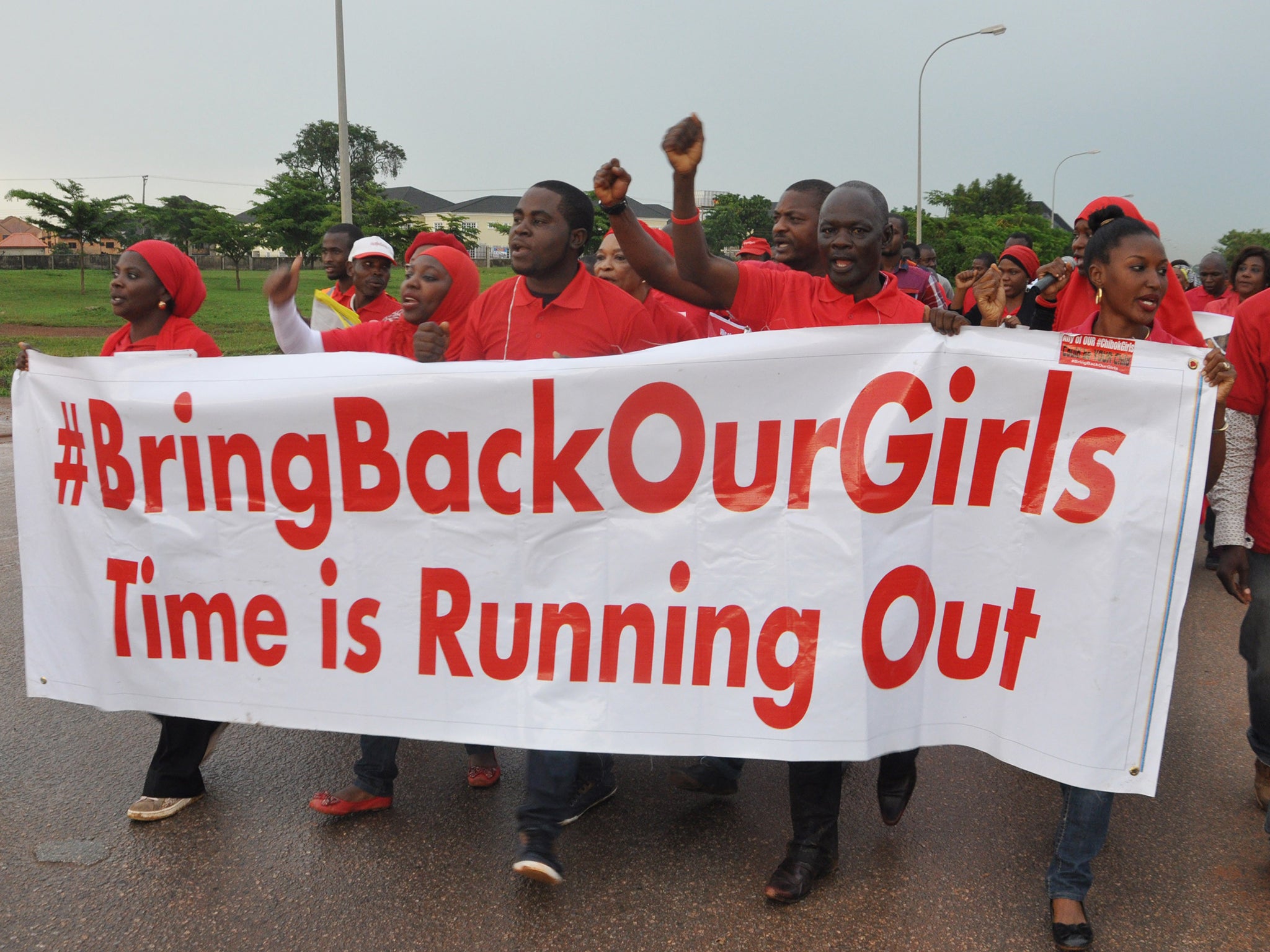 Today, more than 200 teenage girls will spend their sixth month in captivity, somewhere near the border between Nigeria and Cameroon, scared, hurt and alone.
Luguina Samuel, Kauna Lalai, Hannatu Ishaku – these are just some of the names of those girls held captive by Boko Haram, the Islamic terror group, who will spend another night away from their families and loved ones. Many have been tortured, raped and forced to marry their own captors.
Some aspired to be teachers, doctors and nurses. Others engineers, pilots and scientists. They represented Nigeria's future. That is why their plight is so important and significant.
The days have turned into weeks and the weeks into months. The world was too slow to act when on the night of 14 April 2014 evil descended on a secondary school in the town of Chibok in Borno State, Nigeria. Boko Haram terrorists, disguised as soldiers, kidnapped 276 female students from their beds at gunpoint. We stand here together, united with our Commonwealth partners, the Nigerian government and the international community to do all we can to help bring them back to their families.
Boko Haram is waging its evil war designed to divide and conquer parts of West Africa, threatening to plunge the region into chaos. Nigeria, Cameroon, Niger and Chad have all suffered at the hands of their brutality and violence. Their impact thus far is just a small taste of the turmoil that will ensue if the group realises its goal of securing an African caliphate in the west of the continent. According to intelligence agencies, Abubakar Shekau, the group's leader, has already secured the backing of Isis who are sharing intelligence and giving strategic advice and guidance. Emboldened by the success of Isis and equipped with modern small arms, heavy artillery and armoured vehicles, Boko Haram now operates like a conventional army, occupying towns and villages across the Northeast of Nigeria.
Boko Haram and Isis form a key part of a growing, well organised international terror network that poses a direct threat to UK national security. They must be stopped.
We, the undersigned, call on the UN and international community to support:
International inquiry into the role, impact and financial networks supporting Boko Haram;
Co-ordinated Commonwealth-led military assistance for the Nigerian security forces in their campaign against Boko Haram;
Increased international intelligence support and training for the Nigerian government and military;
Better co-ordination and focus at an EU level of foreign, defence and aid policy towards West Africa to help combat terrorism and extremism and supporting the Safe Schools Initiative in Nigeria;
Following the successful Paris and London summits with Nigeria, Cameroon, Niger and Chad, closer liaison between France and the UK with regards to a more  co-ordinated strategy to assist in the fight against terrorism in West Africa.
Signed:
General Sir David Richards, former Chief of the Defence Staff
Colonel Tim Collins, former UK military commander
Admiral Lord Alan West, former Minister for Security and Counter-Terrorism
Lord Ashdown, former leader of the Liberal Democrats
Sir Malcolm Rifkind MP, former Foreign Secretary
Rt Hon Bob Ainsworth MP, former Defence Secretary
Mark Simmonds MP, former UK Africa Minister
Henry Bellingham MP, former UK Africa Minister
Lord Alton
Andrew Rosindell MP. member of the Foreign Affairs Select Committee
Laurence Robertson MP, member of Foreign Affairs Select Committee
David Davies MP, member of the All Party Nigeria Group
Jacob Zenn, associate fellow, Henry Jackson Society (signing in a personal capacity)
Join our commenting forum
Join thought-provoking conversations, follow other Independent readers and see their replies