Boko Haram forces girls into 'suicide bombings' for refusing to marry fighters
As the second anniversary of the Chibok girls' mass kidnapping approaches, details emerge of the twisted nature of Boko Haram's crimes 
Will Worley
Wednesday 13 April 2016 17:26 Comments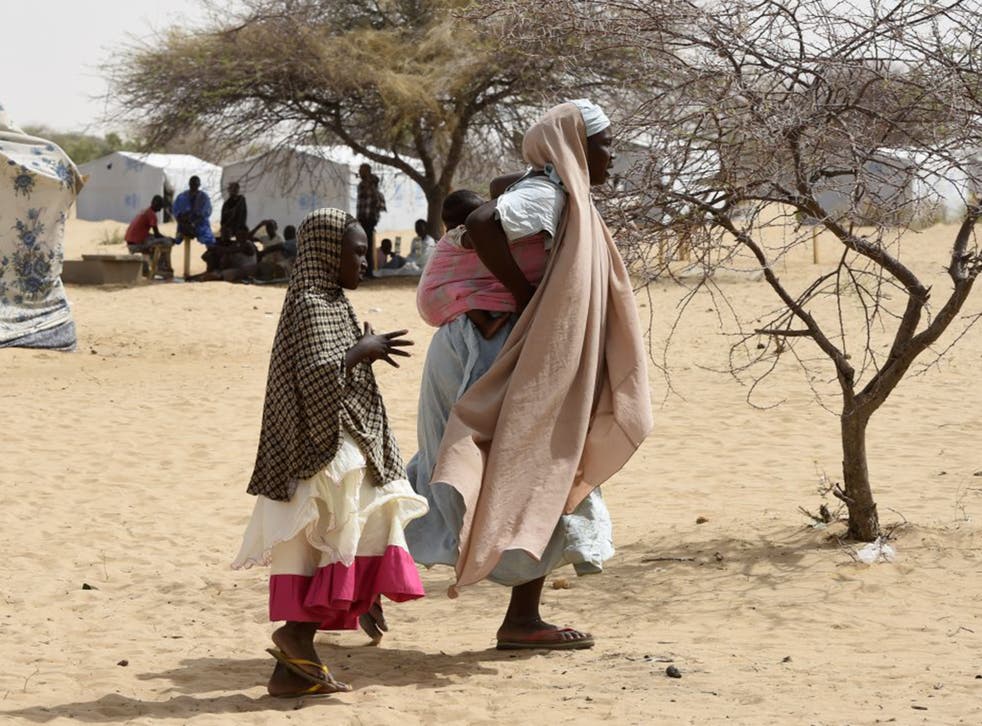 Boko Haram is forcing and duping young women into suicide missions for refusing to 'marry' members of the West African Islamist militant group, according to reports.
The revelation follows a recent report detailing the huge increase in the numbers of children, some as young as eight, being used by Boko Haram as human bombs in Cameroon and Nigeria, a large majority of them female.
The news comes on the eve of the second anniversary of the mass kidnapping of nearly 300 school girls from a school in Chibok, northern Nigeria. Despite causing an international outcry, the majority of the girls remain missing, along with an estimated 2,000 more women and children kidnapped on different occasions.
Aid officials have stressed there are numerous reasons for using children in suicide attacks. However, Doune Porter, of Unicef Nigeria, told The Independent that surviving girls had said that Boko Haram sometimes forced the children into suicide missions for refusing to marry Boko Haram fighters.
Laurent Duvillier, Unicef spokesperson for West and Central Africa, said that a nuanced examination of child suicide bombers was crucial.
The rise of Boko Haram

Show all 20
"There is no single profile. Sometimes it's because of pressure or coercion ... they might not know what they are doing at all," he said.
"But it is never the fault of the child. They do not make decisions; they do not pick targets."
The children are sometimes drugged and carry devices that are detonated remotely. Some are told they are simply messengers. "These children are victims just as much as anyone else in these attacks," Ms Porter said.
And marriage within Boko Haram is sometimes more accurately described as ritualised rape. The sexual abuse experienced in captivity is another reason for using young women as bombs as they have been conditioned to obey orders without question.
The rise in child suicide bomb attacks is partly because children are viewed with less suspicion than adults.
"Who would imagine that an eight-year-old girl was carrying a bomb that could kill you?" Mr Duvillier said.
"Would you worry about an eight-year-old girl that is knocking on your door asking for water? This is a tactic that is being used."
Using children as bombs has ramifications far beyond just the blast as it affects how other captured children are viewed if they are freed.
"When they return to their communities, they are very much viewed with suspicion, mistrust and even outright fear," Ms Porter said. "They are afraid Boko Haram will expand into their community. It's very, very, tragic.
"They have been victims three times. The day they were abducted, during their captivity when they were sexually enslaved, and again on their return home – because they are rejected by their own people."
Children born as a result of rapes by extremist fighters are seen as 'Boko Haram babies' and, along with their mothers, are shunned by the communities when they need their support the most. "A child of a snake is a snake" is a common saying.
Aid workers now fear children freed from captivity with Boko Haram could be completely excluded, denying them access to education and other opportunities, creating a lost generation.
"Unicef knows how to help and protect those girls and their babies," Mr Duvillier said, "but we desperately need funding to do it.
"It is unbelievable that two years after the worldwide solidarity movement for the Chibok girls, Unicef is still struggling to collect less that 12 per cent of the funding we need to provide emergency assistance to 1.3 million children displaced by Boko Haram."
Register for free to continue reading
Registration is a free and easy way to support our truly independent journalism
By registering, you will also enjoy limited access to Premium articles, exclusive newsletters, commenting, and virtual events with our leading journalists
Already have an account? sign in
Join our new commenting forum
Join thought-provoking conversations, follow other Independent readers and see their replies