Boko Haram: Having been driven from their Gwoza HQ by the Nigerian military, the scale of the insurgents brutality is revealed
The liberated city has been left with abandoned weapons, decomposing bodies and horrific stories of life under the group's self-proclaimed 'caliphate'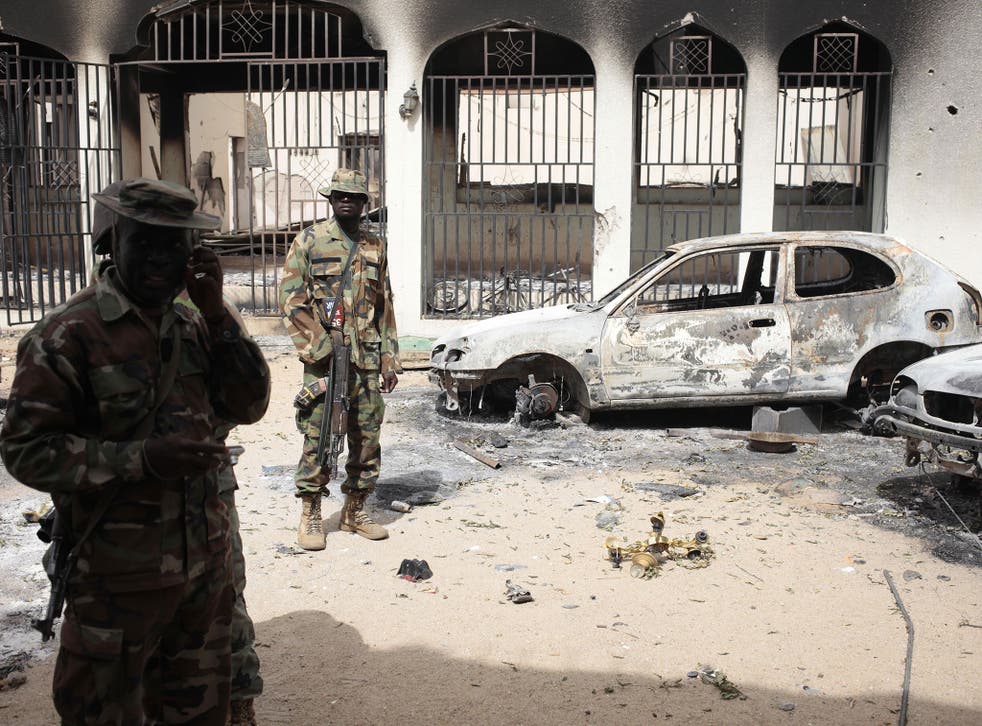 Samuel Ambua puts his finger on his nose. "You can smell it," he says. His truck pulls up next to a pile of bodies, surrounded by bullet casings, shovels and axes on the outskirts of the sprawling city that was Boko Haram's headquarters.
Most victims appeared to have been shot in the back of the head. Some of the remains were just skeletons. In part of the heap, a bone jutted out of a tennis shoe. "There's no one here to bury them," he says. As Boko Haram is forced out of its strongholds in a multinational military operation, the scale of its brutality is being revealed.
Eight months ago, Gwoza became the command centre for that rampage – the capital of the group's self-proclaimed "caliphate". The insurgents were driven out of the city in late March. Last week, the army took a few Nigerian and Western journalists to see what was left of the city – its horrors previously hidden from the world. Schools and homes are littered with abandoned explosives and weapons. A ditch is full of decomposing bodies, the hands of the victims tied behind their backs.
The military has been accused of conducting its own scorched-earth campaigns across Nigeria's north-east in recent years. But most of Gwoza's destruction – charred homes with the owners' names still scrawled on the doors, cars riddled with bullet holes – was carried out by Boko Haram, according to residents. Hassan Usman, a mechanic, holds up his arm, his hand amputated. "How did this happen?" a Nigerian soldier asks. "They accused me of stealing fuel, and they punished me."
The rise of Boko Haram

Show all 20
When the insurgents took over the city last August, some fortunate residents were able to flee. But others were either raped or forcibly recruited by Boko Haram, according to residents and soldiers. At one point last week, as Nigerian troops drove through the city on a blazing afternoon, they pulled over in front of a group of boys and young men. They had been caught fighting with insurgents, the troops said, and were now prisoners. Some were as young as 12.
When Nigerian troops retook Gwoza after a lengthy firefight, they began sifting through what was left of the city, looking for clues that might help them better understand the mysterious insurgent group. They found weapons and tanks that appeared to have been stolen from their own bases. They saw Arabic scrawled on walls and signs, but with misspellings and grammatical errors that indicated the group's Islamic education was limited. "The number of mines was uncountable," said Colonel Oduware Irabor, the brigade commander in Gwoza.
Now, the once-bustling city of 275,000 looks as if it has been racked by a series of natural disasters. Homes have been burned and ransacked. Boko Haram has become known for its indiscriminate campaigns of burning and looting in the towns it seizes. In Gwoza, even the radio tower was somehow destroyed, so it droops downward like a dying plant. Still, days after Boko Haram was vanquished, residents started coming back. Within two weeks, there were hundreds of them, sleeping in makeshift shelters or what was left of their old homes.
Fatmata Samori Bombe, 40, fled Gwoza in November, after the group killed her only son. She remembers about 600 fighters controlling the city. "They murdered the men and had their way with the women," she said. "If they saw anything here that was good, they took it."
When Ms Bombe heard that Nigerian troops had reclaimed Gwoza, she came back. She went to her old home and saw that it had been ransacked. Even the city's mosque had been destroyed, she noticed, in what appeared to be an air strike. The Nigerian military has been launching air attacks against the insurgents in the north-east for two months. But officers say that they were careful about avoiding casualties in Gwoza, where many people suspected the rebels were holding the more than 200 schoolgirls abducted in the town of Chibok last year. "If we see women and children, we don't conduct the strikes," Air Commodore Dayo Amao, the commander of the air force's operation in the north-east, said.

When soldiers drove through Gwoza last week in a convoy of pick-ups, they were met by hundreds of cheering returnees gathered near the centre of the city. But there was no sign of the girls whose kidnapping drew the world's attention to Boko Haram last April. A senior military officer said Boko Haram had probably taken the students with them to the Sambisa Forest, about 15 miles away. But on the first anniversary of the kidnapping, President-elect Muhammadu Buhari said that he could not promise to find the missing girls.

"We do not know if the Chibok girls can be rescued. Their whereabouts remain unknown," he said. "As much as I wish to, I cannot promise that we can find them."
The Nigerian army has been roundly criticised for allowing Boko Haram to gain ground in the first place, and then for biding its time while neighbouring Chad and Niger took on insurgents. The military has also been accused by civilians and watchdog groups of its own human rights abuses, including slaying prisoners suspected of supporting the insurgents. But in Gwoza, residents greeted the troops like liberators.
"Everything you have gone through is very bad, but this is the end," General Chris Olukolade, a military spokesman, said. "As you come back and settle, the government will protect you."
Ms Bombe listened. She knew that other residents remained in camps for displaced people, waiting to see if it was safe to return to Gwoza. One of them was Mary Birrus, who had escaped to Kano, a few hundred miles away, where she still remains, her faith in the government dissipated.
"The Nigerian military cannot protect our village from Boko Haram," she said from the camp. "If they could protect us, they should have right from [Boko Haram's] emergence." Ms Birrus said she had been in Gwoza when Boko Haram fighters arrived in August in a fleet of Toyota pick-up trucks. A fighter forced himself into her home and shot her husband in the head, she said, adding that she was able to escape with a passing lorry driver.
After she left the city, the destruction continued.
Register for free to continue reading
Registration is a free and easy way to support our truly independent journalism
By registering, you will also enjoy limited access to Premium articles, exclusive newsletters, commenting, and virtual events with our leading journalists
Already have an account? sign in
Register for free to continue reading
Registration is a free and easy way to support our truly independent journalism
By registering, you will also enjoy limited access to Premium articles, exclusive newsletters, commenting, and virtual events with our leading journalists
Already have an account? sign in
Join our new commenting forum
Join thought-provoking conversations, follow other Independent readers and see their replies