Boko Haram leader appears in video ridiculing Nigerian government's ceasefire claims
A laughing Abubakar Shekau claims the 200 schoolgirls abducted by the group in April had converted to Islam and been 'married off' long ago
Charlie Cooper
,
Ralph Blackburn
Sunday 02 November 2014 01:00 Comments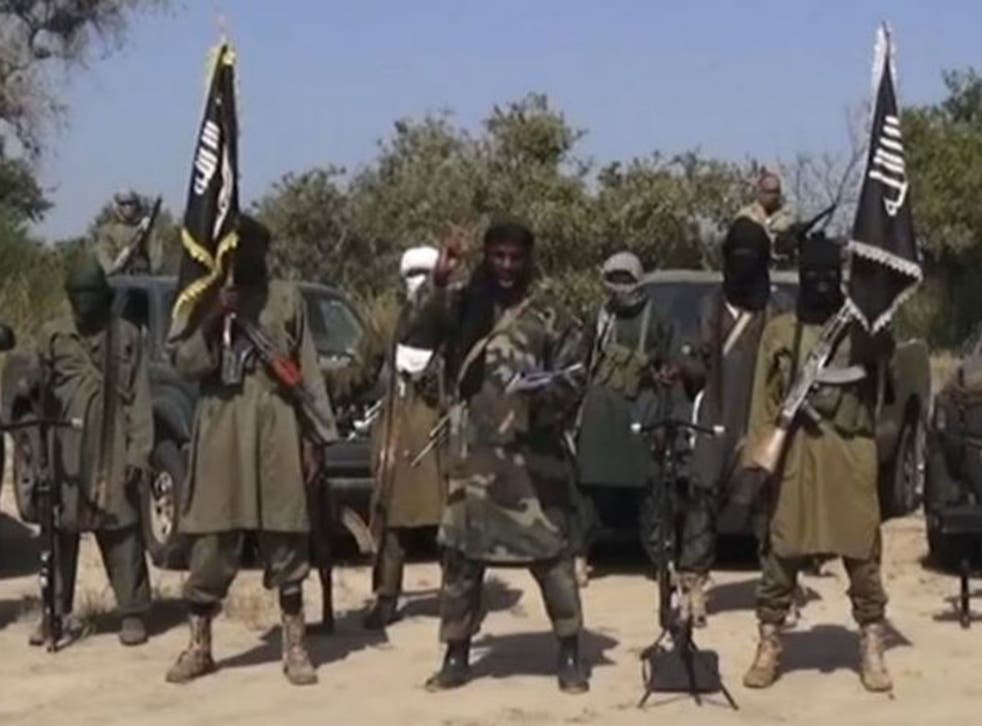 Even at the time, the supposed agreement to end the bloodshed in north-east Nigeria appeared to many to be too good to be true. When Nigeria's government announced a ceasefire with the Islamist militant group Boko Haram, it was supposed to halt a five-year insurgency and pave the way for the safe return of more than 200 schoolgirls abducted by the group in April. Since that day two weeks ago, the fighting has barely stopped.
Now, it seems, the group's leader, Abubakar Shekau, has appeared in a video declaring that no ceasefire had been agreed; laughing, he claims that the girls had converted to Islam and been "married off" long ago.
Boko Haram, which has announced its intention to establish an extremist caliphate modelled on Islamic State's domain in Syria and Iraq, has made gains in the country's north-east, seizing towns and forcing thousands to flee.
The video poses difficult questions for President Goodluck Jonathan's government, which had been criticised for failing to bring home the schoolgirls who are still missing after being abducted from the north-eastern town of Chibok six months ago.
Appearing alongside masked and armed fighters, against a backdrop of armoured cars mounted with anti-aircraft guns – a style seen in previous videos – Shekau says: "We have not made ceasefire with anyone. We did not negotiate with anyone. It's a lie. We will not negotiate.
"What is our business with negotiation? Allah said we should not. The issue of the girls is long forgotten because I have long ago married them off," he adds, laughing, in the video released late on Friday.
The Nigerian military has claimed to have killed Shekau several times, only for him – or, as some claim, a lookalike claiming to be him – to reappear in videos taunting his enemies.
In truth, many doubted from the outset the claim of Nigeria's chief of defence staff, Alex Badeh, on 17 October to have brokered a ceasefire with Boko Haram. The group has many factions, and doubts were immediately raised about the identity and influence of Danladi Ahmadu, the man reported to be the Islamists' chief negotiator at talks in Chad.
"Who says we are dialoguing or discussing with anybody? Are you talking to yourselves? We don't know anybody by the name of Danladi. If we meet him now we will cut off his head," says the man claiming to be Shekau in the video.
"All we are doing is slaughtering people with machetes and shooting people with guns. ... War is what we want." A similar purported ceasefire in 2013 was quickly denied by Shekau, again via video message.
It was not possible to verify the video independently, or the time and date it was shot, but it was given to local journalists through the channels that Boko Haram has used to distribute video tapes for the past three years. These have become the group's sole means of communicating messages through the media.
The timing of the ceasefire announcement only heightened scepticism. President Jonathan began his campaign for February's election shortly after. His official confirmation as his party's sole candidate came last Thursday.
The head of the Chibok Elders Forum in the north-east Nigerian town of Pogo Bitrus told the AFP news agency: "[The claim about the schoolgirls being married off] is shocking to us, although we know Boko Haram is not a reliable group.
"We were sceptical about the talks to release our girls and we never took the ceasefire seriously because, since the announcement, they have never stopped attacking communities."
The elder has four nieces among the hostages, and is calling for the Nigerian government to "step up" its efforts against Boko Haram.
Certainly, recent events have done nothing to reinforce government claims to have halted the insurgency. In the past week the Islamists have advanced in the north-east, and on Thursday they were reported to have seized Mubi, a town of 200,000 people. Witnesses told the Reuters news agency that thousands had been forced to flee their homes.
Yesterday the fighting continued, a security source telling Reuters that as many as 30 Boko Haram fighters had been killed in a battle in a remote community called Sabon Gari, after insurgents stormed it on motorcycles and Nigerian troops fired back to protect it.
Three states in the country's north-east are under emergency rule as troops fight Boko Haram. Militants are said to have seized military equipment from the army – the likely source of the hardware on show in the latest video.
As well as a militia campaign, the group has appeared to carry out acts of terror in areas they do not hold. In Gombe state, which borders the three states under emergency rule, a bomb blast ripped through a crowded bus station at rush hour on Friday, killing several people and injuring many more. Estimates of the death toll yesterday ranged from four to more than 20.
The government has attributed the violence to Boko Haram's allied criminal networks, which it cannot control, and on competing factions within the group.
In the latest video, Shekau also claims that Boko Haram is holding a German national believed to have been captured near the town of Gombi in July. Germany's Foreign Minister, Frank-Walter Steinmeier, told reporters in the Nigerian capital Abuja last week that he had had no new information about the alleged hostage.
Human Rights Watch estimates that since 2009, Boko Haram has abducted more than 500 women and children from villages in the states of Borno and Yobe. Whether they are being held in north-eastern Nigeria or Chad is unknown. The charity says that in the same period, more than 7,000 civilians have died in incidents linked to Boko Haram.
The true fate of the girls abducted from Chibok, the plight of whom has sparked international outrage and the "Bring Back Our Girls" campaign, remains unknown. What the future holds for Africa's richest, most populous state is equally uncertain.
Register for free to continue reading
Registration is a free and easy way to support our truly independent journalism
By registering, you will also enjoy limited access to Premium articles, exclusive newsletters, commenting, and virtual events with our leading journalists
Already have an account? sign in
Join our new commenting forum
Join thought-provoking conversations, follow other Independent readers and see their replies