Boko Haram pledges allegiance to Isis in video message
The Nigerian terror group has become one of the most organised supporters of the Caliphate established in Iraq and Syria
Richard Osley
Saturday 07 March 2015 21:58 Comments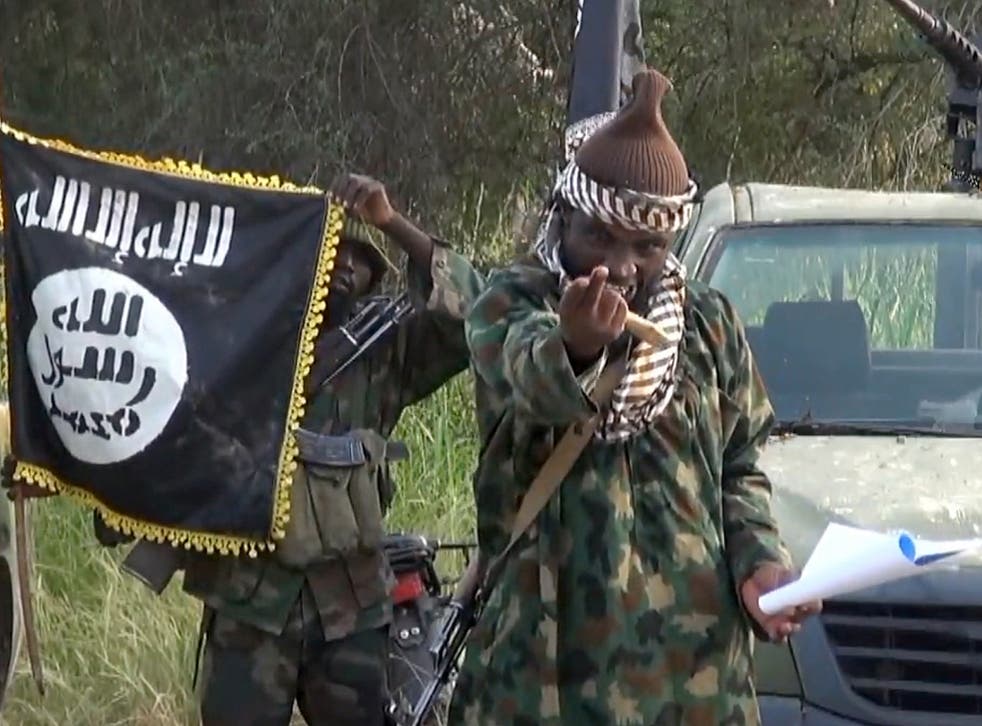 Boko Haram, the militant Nigerian group, has announced it is allying with the Islamic State (Isis). The pledge was made in an audio message, appearing to be a recording of the group's leader Abubakar Shjeka, which was posted online on Saturday evening. Monitoring news website SITE quoted the recording as saying: "We announce our allegiance to the Caliph… and will hear and obey in times of difficulty and prosperity."
Isis has already received pledges of allegiances from militants in North Africa countries such as Egypt and Algeria, and in Libya where 21 Coptic Christians were beheaded in a coastal location in February. Boko Haram, however, is one of the most organised groups to join forces, after running a bloody campaign for territory in the North African country since 2009. More than 12,000 are believed to have died, some in ruthless massacre attacks. Over 1.5 million more have been made homeless fleeing the group.
The rise of Boko Haram

Show all 20
Earlier on Saturday, at least 50 people were killed in suicide bomb attacks as Boko Haram's fighters attempted to seize Maiduguri, a city in north eastern Nigeria. There were signs of the groups sharing influences in Boko Haram's most recent video, in which grainy footage of past films had been replaced by a more slick production.
The nature of the video was familiar too: two men were shown beheaded after being accused of spying.
Boko Haram came to prominence on a worldwide scaled when it kidnapped 275 girls from a school in Borno State last April – leading to the 'Bring Back Our Girls' campaign. The group wants Islamic rule to be established in the country. Elections in Nigeria have been postponed for six weeks. Boko Haram has also moved over the country's borders and attacked in Chad and the Cameroon.
Osita Chidoka, a close associate of Nigerian President Goodluck Jonathan, warned: "The danger is that Boko Haram will try to copy groups like Isis and al-Shabaab. It can target the West like these groups do, target Europe, Britain – it would want to be like these other groups. The danger is that they can go beyond the region and become international. That is why Nigeria must be supported in what we are trying to do. We need full commitment from the international community."
Register for free to continue reading
Registration is a free and easy way to support our truly independent journalism
By registering, you will also enjoy limited access to Premium articles, exclusive newsletters, commenting, and virtual events with our leading journalists
Already have an account? sign in
Join our new commenting forum
Join thought-provoking conversations, follow other Independent readers and see their replies