British oil company SOCO agrees to cease operations in Congo's Virunga National Park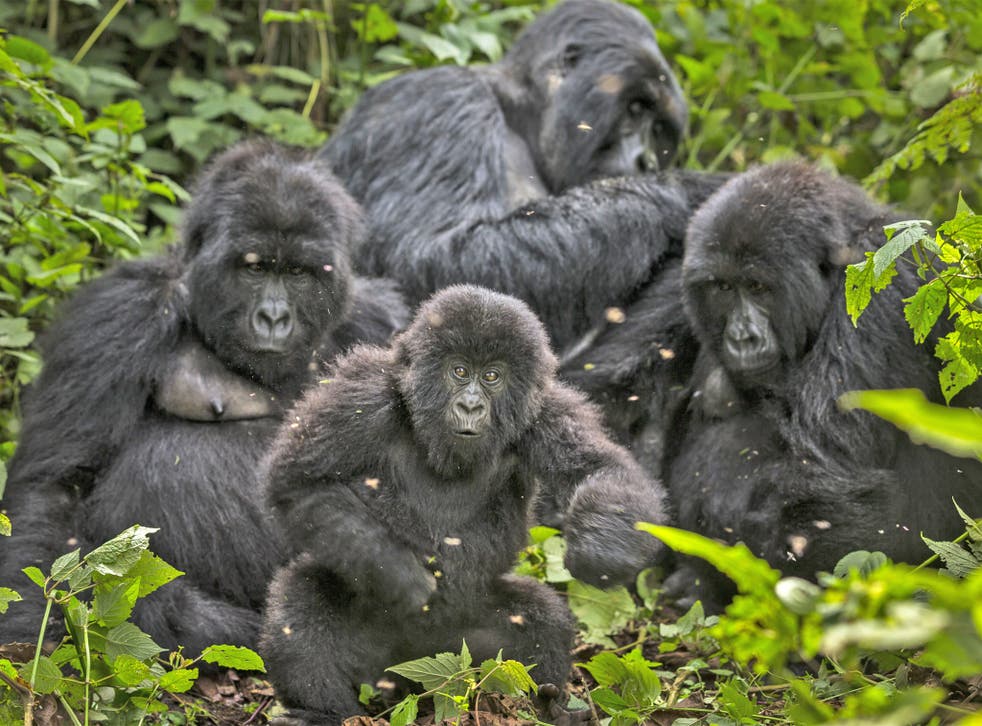 A British oil company has agreed to end its controversial operations in Africa's oldest national park following a campaign by environmentalists who warned of "devastating consequences" if drilling in the area proceeded.
SOCO International Plc, which is listed on the London Stock Exchange and last year had revenues of £360m, said it had reached an agreement with the conservation group WWF to end exploratory work in the Democratic Republic of Congo's Virunga National Park, classified a World Heritage Site by UNESCO in 1979 and the last refuge for the country's mountain gorillas.
The oil and gas company was awarded permission to explore for oil in an area known as Block V, overlapping the Virunga park, by the DRC government in 2010, and had recently begun seismic and environmental surveys. It has repeatedly underlined that its work was taking place far from gorilla areas or rainforest.
The operations were nonetheless resolutely opposed by environmental groups and also drew criticism from the British Government, which said it was against all oil exploration within the national park or any other World Heritage Site.
The Virunga park, one of the world's richest pockets of biodiversity, sits in eastern Congo and has been plagued by violence for decades, occupied by Congolese and Rwandan militia groups, including recently the notorious M23 rebel force.
In April, Belgian aristocrat Emmanuel de Merode, the park's chief warden and an outspoken defender of its wildlife, was ambushed and shot in an apparent assassination attempt as he drove alone in a marked vehicle.
The WWF revealed last month that staff in the Congo had received alleged death threats because of the group's opposition to oil exploration. There is no suggestion that SOCO was involved in either incident.
Last year, the WWF issued a formal complaint against the oil company that it had broken guidelines issued by the Organisation for Economic Co-operation and Development (OECD) for multinationals operating abroad.
SOCO denied the claims but last week entered mediation with the WWF. It will announce today that once its current contract with the Congolese government for seismic and environmental studies is complete, it will cease operations in Virunga and undertake to not to conduct work at all World Heritage Sites.
David Nussbaum, chief executive of WWF-UK, said: "Today is a victory for our planet. Congolese people around Virunga were joined by scientists, lawyers, activists and artists, governments and WWF supporters to remove the immediate threat of oil exploration."
The conservation group, which said it had set a precedent by using the OECD guidelines as a mechanism for safeguarding the environment, will now pressure the DRC government to cancel all oil concessions overlapping the park.
SOCO, which said it never got as a far as proposing or planning drilling in Virunga, is the latest oil company to pledge not to operate within World Heritage Sites. Shell promised in 2003 never to drill in such locations while French oil giant Total ditched plans to drill in Virunga last year.
In a statement, Ed Story, SOCO's chief executive, said: "Hopefully we can all get back to activities focused on both people and the environment where it does the most good for a place that we think can have a better future."
Register for free to continue reading
Registration is a free and easy way to support our truly independent journalism
By registering, you will also enjoy limited access to Premium articles, exclusive newsletters, commenting, and virtual events with our leading journalists
Already have an account? sign in
Register for free to continue reading
Registration is a free and easy way to support our truly independent journalism
By registering, you will also enjoy limited access to Premium articles, exclusive newsletters, commenting, and virtual events with our leading journalists
Already have an account? sign in
Join our new commenting forum
Join thought-provoking conversations, follow other Independent readers and see their replies