Britons among 3,000 foreigners trapped in South Sudan city of Bor as violence escalates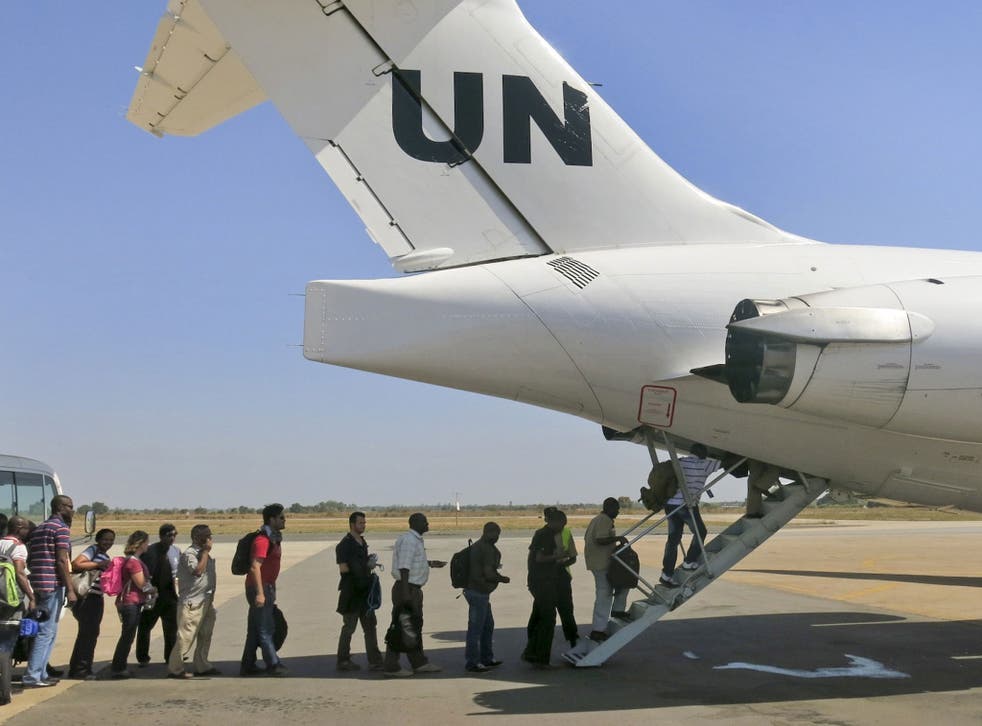 British, Canadian and Kenyan citizens are among 3,000 foreigners trapped in a South Sudan city experiencing bouts of heavy machine gun fire, one of the most violent areas of a weeklong conflict that has likely killed more than 1,000 people, a top UN official said Monday.
Australians, Ugandans and Ethiopians are also among 17,000 people seeking protection at a U.N. base in Bor, a city that could see increased violence in coming days, said Toby Lanzer, the U.N.'s humanitarian coordinator. 
The death toll from a week of violence in South Sudan has likely surpassed 1,000 people, though there are no firm numbers available, he said. The number of internal refugees is probably more than 100,000, said Lanzer, who is seeking urgent financial assistance from the U.S., Britain and other European countries. 
"I know there are many thousands of people seeking protection in churches," Lanzer said. "I know that we have our own staff that have literally walked into the bush and are communicating from there. That's where they say they are safest."
A Foreign Office spokesman said it "strongly advised all British nationals to leave South Sudan" if possible.
He wouldn't comment on numbers of British nationals or their plans.
Video: U.S. moves to avoid Benghazi repeat in South Sudan
UN Secretary-General Ban Ki-moon urged the Security Council late Monday to add 5,500 troops and police to the 7,000-strong UN peacekeeping mission in South Sudan, citing growing violence in many parts of the country, human rights abuses, "and killings fueled by ethnic tensions." 
Ban said the situation in South Sudan "is of mounting urgency," with tens of thousands of people displaced and about 45,000 seeking protection at UN bases. 
He said he was spending most of Monday urging regional leaders to increase military support and "political backing for efforts to defuse the crisis." 
In a message to the Sudanese people, the secretary-general said: "The United Nations will stay with you. We will do our utmost to protect you, to provide the humanitarian assistance you need, and most of all to help the country regain the path to peace." 
Bor is the city where rebel forces fired on three US military aircraft on Saturday, forcing the Ospreys — advanced helicopter-airplane hybrids — to abort their evacuation mission. On Sunday, the US evacuated Americans by civilian US and UN helicopters. 
The violence began late on 15 December, trigerd by an attempted military coup, according to President Salva Kiir, an ethnic Dinka, putting the blame on former Vice President Riek Machar, an ethnic Nuer. Other officials have since said a fight between Dinka and Nuer presidential guards triggered the fighting.
AP
Join our new commenting forum
Join thought-provoking conversations, follow other Independent readers and see their replies