Burnt to the ground, the Addis Ababa hotel where Evelyn Waugh (and Scoop's William Boot) stayed
Much of the historic Taitu Hotel in Addis Ababa was completely burned down in a fire this weekend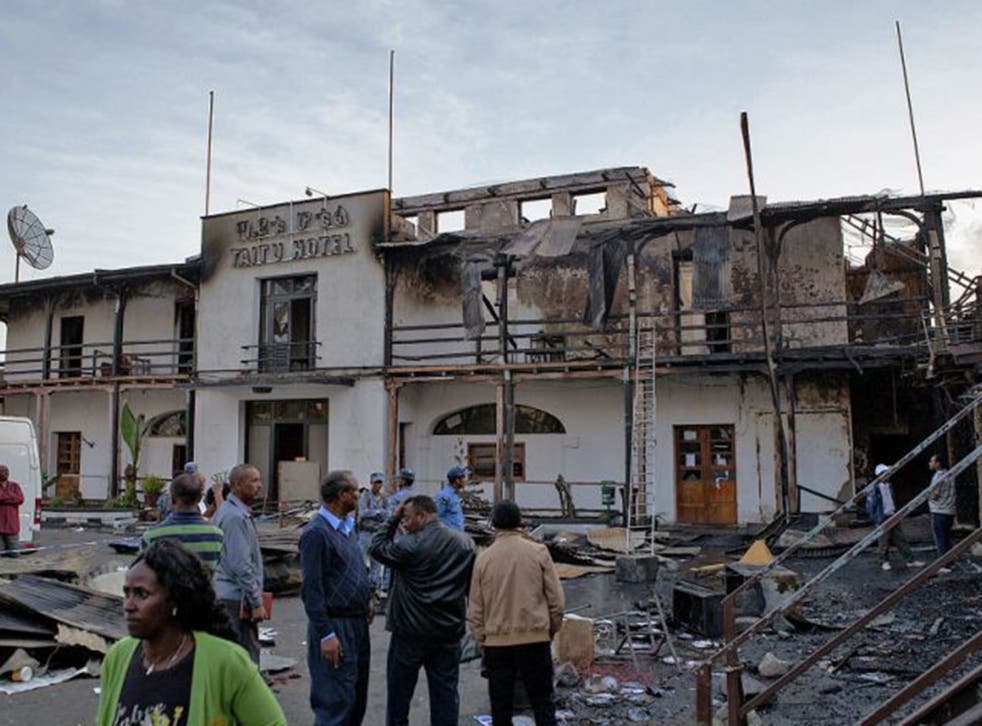 For William Boot, that innocent fettler of plants thrust into war reporting, the Hotel Liberty provided some small sanctuary in Ishmaelia.
"We think it a very promising little war," explains Daily Beast owner Lord Copper at the beginning of Evelyn Waugh's treatise on the perils of foreign reporting, Scoop. "We propose to give it fullest publicity." And so Boot, the author of a column on gardening (Lush Places) is dispatched to the front line of an invasion.
The occasional contributor of nature notes – "Feather-footed through the plashy fen passes the questing vole" – to Lord Copper's newspaper is out of his depth. He arrives in Ishmaelia – doubling for Abyssinia, or modern Ethiopia – and heads for the most popular hotel in town – the "serene and embracing" Hotel Liberty.
Waugh describes the moments before Boot's arrival. "Mrs Earl Russell Jackson [the proprietor] puffed at her pipe, licked her thumb, and turned a page of the good book. It was very pleasant when all those noisy white men were shut away in their rooms; quite like old times; they brought in good money, these journalists – heavens, what she was charging them! – but they were a great deal of trouble."
Boot is among a motley band of brigands. The real-life inspiration for the Hotel Liberty was the Taitu Hotel in Addis Ababa, which Waugh, together with the Telegraph correspondent Bill Deedes (widely thought to be the inspiration for Boot), visited during Mussolini's war with Abyssinia. "Temporarily renamed the Imperial," wrote Deedes in the Daily Telegraph in 2003, "this was where the reporters drank, plotted, quarrelled and borrowed each other's toothbrushes."
There was, correspondents remembered, a large Steinway piano, around which well-lubricated hacks would sing "bawdy songs". Reporters stayed there to be close to the local radio station, where they could file their stories.
Until the weekend, not much had changed at the hotel: its bar was still there, as was the piano. But it had expanded its musical offerings with the Jazzamba Lounge, which has an international reputation built on a revival of Ethiopian jazz. On Saturday, however, a fire broke out at the Taitu. Officials said many of its rooms and historic pieces were completely burned down.
Dr Patrick Query, the secretary of the Evelyn Waugh Society, told The Independent: "Waugh set his hapless hero, William Boot, down there among a crowd of far more seasoned, conniving, and cynical reporters, all of them living and sleeping practically on top of one another, jovially but also ruthlessly trying to scoop one another on the best stories.
"It was a den of misfits and misinformation. Waugh's own time at the Taitu in 1935, trying to report for the Mail, was only slightly less difficult. His experience among journalists and adventurers at the Taitu no doubt sharpened his sense of the tension between words and facts, especially when there are deadlines to meet."
"News is what a chap who doesn't care much about anything wants to read," a seasoned foreign hack tells Boot in Waugh's novel. "And it's only news until he's read it."
For Waugh, the destruction of the Taitu would make grim reading indeed.
Join our new commenting forum
Join thought-provoking conversations, follow other Independent readers and see their replies