Burundi crisis: Thousands flee country amid fears of violent backlash - while President Pierre Nkurunziza plays football
The armed youth wing loyal to the President - the feared Imbonerakure - are accused of intimidation, rampant violence and extra-judicial killings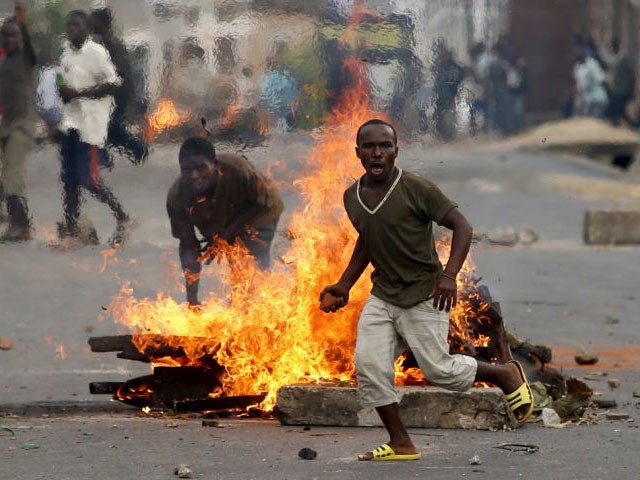 Fears that the armed youth wing loyal to besieged Burundian President Pierre Nkurunziza is readying itself for battle has pushed tens of thousands of people into flight across the country's borders.
The President, whom renegade generals attempted to overthrow in a botched coup last week, has vowed to crack down on growing opposition to his bid for a third presidential term. More than 110,000 people have fled the tiny central African state amid unrest that observers fear could trigger a return to conflict. Burundi's ethnically-charged 12-year civil war that ended in 2005 pitted Tutsis against Hutus and left 300,000 dead.
Makeshift camps in Rwanda, Tanzania and Uganda are crammed with people running from the feared Imbonerakure, who they accuse of intimidation, rampant violence and extra-judicial killings.
Protests, now in their fourth week, have left more than 20 people dead. Ignoring calls to postpone presidential polls, President Nkurunziza has even been photographed enjoying a game of football at the height of the unrest.
His opponents took to the streets again on Friday, undeterred by the death of two protesters on Thursday, and observers believe only a strong foreign media presence has prevented worse violence.
The numbers of refugees swelling temporary camps has provoked a deadly outbreak of cholera, and the UN said that 400 new cases in Tanzania are being reported daily, with around 3,000 cases confirmed so far. More than 30 people have died of the water-borne disease in the border village of Kaguna.
Those fleeing the Imbonerakure, which translates as "those who see far," say it is whipping up fear, while the opposition says the government is trying to use it to stoke ethnic tensions with the Tutsi, tensions largely overcome with the Arusha peace accords that led to the end of the civil conflict in 2005. Christophe, 38, a demobbed member of the Imbonerakure youth wing, says that he is ready to take up arms in defence of the president, whom the opposition claims is constitutionally barred from running again in upcoming elections.

He fought in the civil war alongside the group that brought Mr Nkurunziza, a devout Christian, to power. He claims comrades from rebel days – now members of Burundi's intelligence services – have armed him and his colleagues. "Sometimes the intelligence agencies need help... there are young men [in the Imbonerakure] with very serious guns and weapons," he said. The government has denied all allegations of giving weapons to the group.
In pictures: Burundi unrest
Show all 25
Euloge Niyonzima, 37, a journalist at Burundi's Radio Publique Africaine (RPA), recalled how he was attacked and clubbed by the militia three years ago, and left for dead. "They thought I'd fall and die. My friends helped me to the hospital and I survived," he said. When armed men in civilian clothing broke into his Bujumbura home last week, he decided to leave with his family for Tanzania.


Part of the reason the group is so feared is the tacit backing it receives from the state. "They operate with complete impunity," claims Yolande Bouka, an analyst with the Institute of Security Studies in Nairobi. But she said that not everyone in it is part of an armed militia, with some joining the group to promote political change. "They are not a unitary actor," she said.
Members such as David Nikiza eschew violence. "We need to use our culture and our knowledge to resolve this peacefully," he said.
The current crisis is political in nature, with Tutsis and Hutus on both sides of the fight. The failed coup, which took place while the President was abroad, brought together both ethnic groups. Yet analysts fear the militia could be used to escalate the conflict and ignite dormant ethnic tensions.
Join our commenting forum
Join thought-provoking conversations, follow other Independent readers and see their replies