Burundi elections: President Pierre Nkurunziza wins third term in poll denounced by opposition and international observers
Scores have died in violence outbursts against the government in the run-up to the election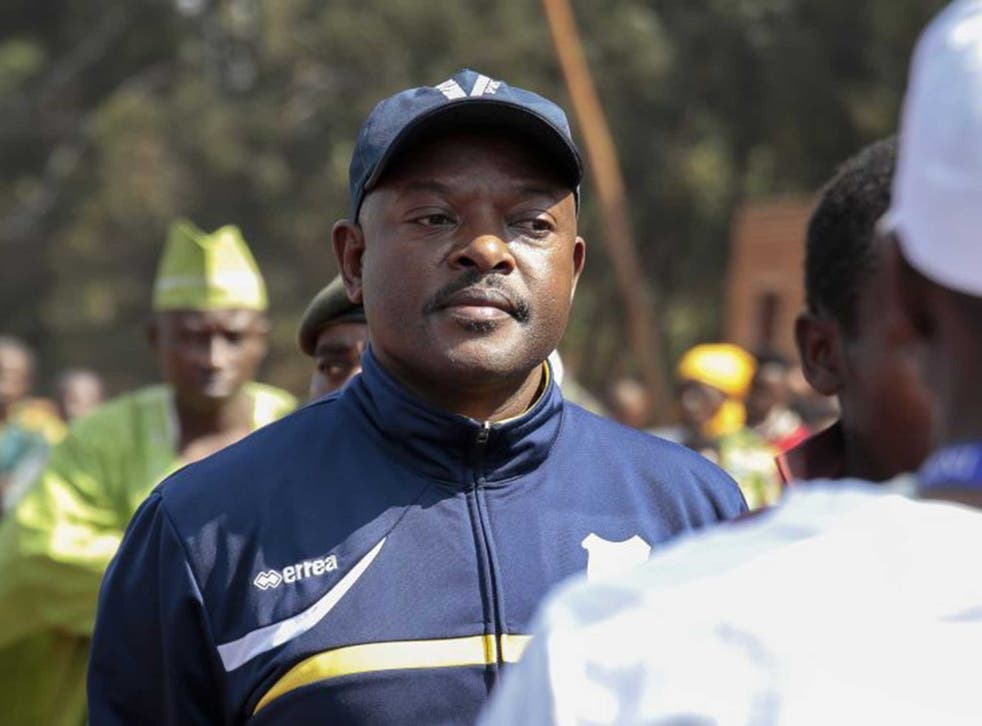 Burundi's controversial president has won a third term in an election international observers have described as "tainted" by government intimidation and violence.
Pierre Nkurunziza won 70 per cent of the vote, according to provisional results from the country's electoral commission.
Opposition leader Agathon Rwasa managed to collect 19 per cent of the vote despite boycotting the election, along with three other opposition figures running against the incumbent president.
The country has been marred by increasing levels of violence – and a mass exodus of terrified civilians – following Mr Nkurunziza's announcement earlier this year that he intended to seek a third term in office.
The move was immediately denounced as unconstitutional, breaking the two-term limit established by an agreement patching the nation together following the a destructive civil conflict which ended in 2005.
Thousands demonstrated in the capital of Bujumbura in the run-up to an aborted coup against the government. So far more than 100 people have reportedly died in sporadic flares of violence.
Mr Rwasa described the results as a "joke," and declared the victor was that desired by the electoral commission and "not those expressed by the voters".
International observers have also denounced the election. The US State Department has said the election lacked credibility, with spokesperson John Kirby claiming the legitimacy of the process "has been tainted by the government's harassment of opposition and civil society members, closing down of media outlets and political space, and intimidation of voters".
The African Union (AU) did not send observers – the first time such an action has been taken against a member state.
Although 3.8 million Burundians were eligible to vote in the election, many declared their intentions to boycott.
Despite this, the recent data from Burundi's electoral commission claims an overall turnout of 73 per cent – but notes that turnout was lowest in the capital, where much of the opposition to the president has focused.
Previous demonstrations in the run-up to the elections (both local and presidential) saw mass groups take to Bujumbura's streets and graphic images of burning tyres and agitated forces opposed to the government.
The central African country, which borders Rwanda and the Democratic Republic of Congo, has an ethnic mix of 85 per cent Huuti and minority Tutsi population. It has been embroiled in some form of violent conflict almost since it first gained independence in 1962.
The last conflict from 1993 to 2005 pitted the country along ethnic lines and cost hundreds of thousands of lives.
Register for free to continue reading
Registration is a free and easy way to support our truly independent journalism
By registering, you will also enjoy limited access to Premium articles, exclusive newsletters, commenting, and virtual events with our leading journalists
Already have an account? sign in
Register for free to continue reading
Registration is a free and easy way to support our truly independent journalism
By registering, you will also enjoy limited access to Premium articles, exclusive newsletters, commenting, and virtual events with our leading journalists
Already have an account? sign in
Join our new commenting forum
Join thought-provoking conversations, follow other Independent readers and see their replies