Cairo protests: 15 killed in Egypt in violent clashes with police as more than a thousand protesters mourn young mother Shaima al-Sabbagh
Officials confirm the 32-year-old was shot in the face and back on Saturday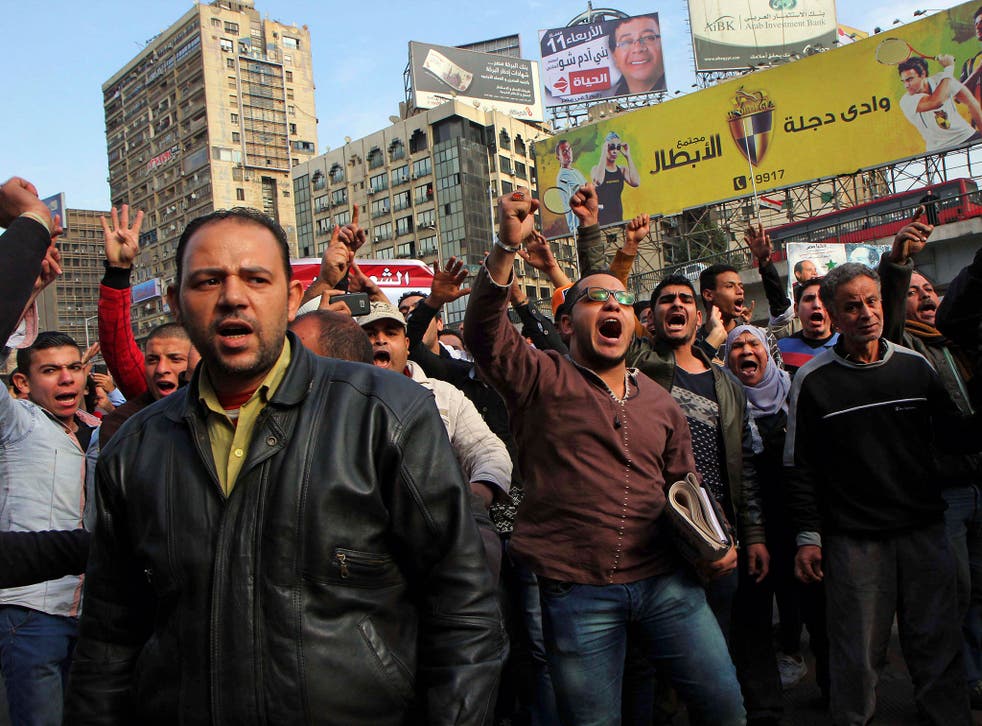 At least 15 people have died in violent clashes between protesters and police in Egypt as thousands mourned a young mother reportedly shot dead by security forces on Saturday.
Both pro- and anti-government rallies were held across Cairo and other cities as the country marked the four-year anniversary of the Arab Spring, when dictator Hosni Mubarak was overthrown after 30 years in power.
Dissent has grown over the past week in the build-up to the 25 January anniversary itself, despite a nationwide ban on all forms of public assembly without prior government permission.
Officials have now confirmed that 32-year-old Shaima al-Sabbagh was shot dead on Saturday as she joined a march to lay flowers in Tahrir Square, the symbolic heart of the 2011 revolt that overthrew the dictator Hosni Mubarak.
Ms Sabbagh was hit in the face and back by birdshot pellets, designed as a "non-lethal" crowd control tool to scatter from a single pellet when fired using a shotgun.
Her death has been met with outrage across Egypt, and more than 1,000 people marched in her funeral procession early on Sunday. She leaves behind a five-year-old son.
"Shaima was killed in cold blood," said Medhat al-Zahid, vice president of the Socialist Popular Alliance party of which Ms Sabbagh was a member.
Interior Ministry spokesman Hany Abdel Latif said an investigation into her death had begun, adding: "No one is above the law."
With anger flared by Saturday's killing, 15 more people have been killed in clashes between protesters and police, making Sunday the deadliest day since former army chief Abdel Fattah al-Sisi was elected president in June.
The worst of the violence took place in the Cairo suburb of Matariya, a Muslim Brotherhood stronghold. Special forces fired pistols and rifles at protesters, a Reuters witness said. Eight people, including one policeman, were killed, according to the health ministry.
Six people were killed in separate protests in Alexandria, Egypt's second biggest city, security sources said, while a bomb wounded two policemen stationed outside a Cairo sports club.
The crackdown on protesting represented a challenge to both Islamists and liberal activists today, with a strong security presence in keeping with the harsh laws against dissent enacted by Sisi, who ousted Mohamed Morsi of the Muslim Brotherhood in July 2013 following mass protests against his rule.
In pictures: Egypt protests on Arab Spring anniversary

Show all 11
President Sisi said his government was committed to democracy but that Egyptians would have to show patience to achieve all of what he called "the revolution's goals".
Register for free to continue reading
Registration is a free and easy way to support our truly independent journalism
By registering, you will also enjoy limited access to Premium articles, exclusive newsletters, commenting, and virtual events with our leading journalists
Already have an account? sign in
Register for free to continue reading
Registration is a free and easy way to support our truly independent journalism
By registering, you will also enjoy limited access to Premium articles, exclusive newsletters, commenting, and virtual events with our leading journalists
Already have an account? sign in
Join our new commenting forum
Join thought-provoking conversations, follow other Independent readers and see their replies