Can breakdance divert the young men of Tunisia from the killing fields of Iraq and Syria?
Sarfraz Manzoor gets down with the B-boys (and girls) of north Africa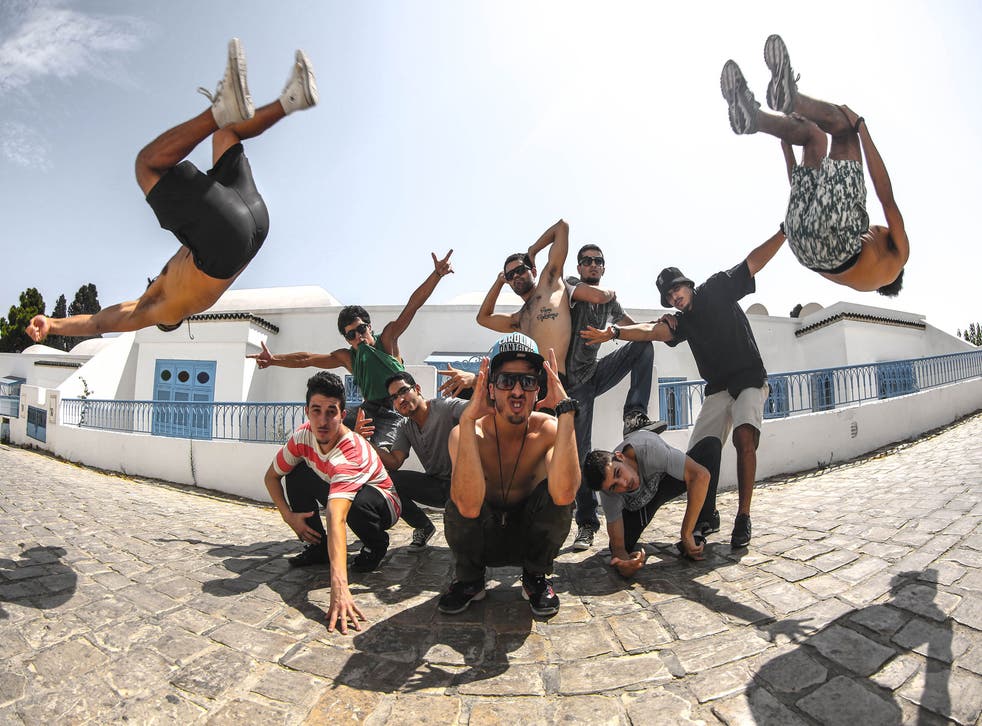 He calls himself Ninja and looks as if he is about to kill. Crouching low, he moves with stealthy menace, swiftly lunging forward then arching back as if in slow-motion. The other young men do not move as they watch. Suddenly he is on the floor, his legs kicking and thrashing. He looks as though he is dying. But then the music stops and Ninja, the champion breakdancer, returns to being 21-year-old Othmane Farhi.
It is late morning and Farhi is one of 10 men who have travelled from Algeria, Libya, Morocco and within Tunisia to meet in a rehearsal room in the Mad Art cultural centre in the ancient city of Carthage. The men are here as part of a British Council initiative aiming to help the breakdancers tell their individual stories as citizens from a region which is undergoing major social, political and economic change: on the one hand, young people are looking forward to democratic elections in Tunisia; on the other, they are in the middle of civil wars in Iraq and Syria. Breakdancing might have originated in the US, but across the Arab world, young people raised under authoritarian regimes have turned to it as a means of personal expression and political protest.
Watching over the men is a team of British breakdancers led by Hakeem "Mr Impact" Onibudo, who has to prepare them to perform a routine for a workshop at the Southbank in London, next Sunday. He is dressed in flame-red long shorts and baseball cap and, because not all the men speak English, his words are translated by Hamza "Cranky" Ben Youssef, a Tunisian breakdancer with a pigtail and a connoisseur moustache. "This show in London could change your life," Onibudo says, pacing around. "No one can tell you guys you're not dope; my job is that when you get on stage, everyone sees that dopeness."
Onibudo wants to create a routine that blends breakdancing with contemporary dance, to speak to the desperation in the men's lives and the hope that breakdancing has given them. "Nothing that's worth it is easy," he says. "'I need you to give me everything. I want you to show me who you are. Please, take me on a journey."
The B-boys (and girls) of north Africa

Show all 8
The journey for Saber "Carbon" Brik began when, as a young boy growing up in the suburbs of Tunis, he saw some breakdancers outside a derelict café in his neighbourhood. Carbon and his older brother, Chouaib, began hanging out with these B-boys, practising near the central train station in Tunis, the meeting point for hip-hop fans from across the city. "This was back in 2002, and I was only 10 but dancing with guys who were 20," says Carbon. "People would come up and laugh, and the police would harass us and try to stop us from dancing on the street."
The brothers grew up in a Tunisia ruled by Zine El-Abidine Ben Ali, who seized control in 1987 and was returned to power with suspicious majorities – in 1989, he was elected president with 99 per cent of the vote; in 1994, he won 99.9 per cent; by 2004, his vote had "plunged" to 94.5 per cent. The Ben Ali regime was not supportive of hip-hop, and breakdancing crews had to practise either outside in the searing heat, where they were vulnerable to harrassment, or inside abandoned buildings.
Ten months after the revolution in January 2011, Tunisia held its first democratic elections to form a temporary government that would run the country until parliamentary elections that take place next month and a presidential election in November.
As Tunisia progressed from dictatorship to democracy, Chouaib and Carbon progressed from dancing on the street to competing in local, national and international breakdancing battles. Today, Chouaib is one of the organisers of the workshop and a founder of Art Solution, which teaches young people across the country about hip-hop, graffiti and rap, and trains breakdancers. Carbon will be dancing in London.
In the rehearsal room, Onibudo presses a button on his laptop, and a melancholy, keening sound fills the room. It is a traditional Tunisian song that gives way to pounding hip-hop. Mustapha Ajdour is crouched, his arms outstretched. His B-boy nickname is Wolf, and in his dance he moves like his namesake – alert, attentive, with thinly disguised aggression. He has boy-band good looks, but when I suggest that to him, he says, smiling: "Nah, I'm gangster!"
Wolf has come from Casablanca and, like the others, has been rehearsing nine hours a day since arriving. Taking his top off, his body shines with sweat. "These boys are so much hungrier than the ones in Britain," Lee Griffiths, one of the British team, says. "They work so hard and just don't stop." That dedication reflects both the struggles the men have endured for their love of breakdancing, and how much they owe it. "If I wasn't a B-boy, I'd be a psycho," says Rashid "Bis Bis" Iberkaten, who has come from Agadir in Morocco. "I have all this negative energy, and there'd be no place to make it positive."
Ryan "Ray-one" El Azzabi managed to get a last-minute flight from Tripoli to Tunis after spending three days in a queue at a petrol station. "I saw young people in Libya getting into drugs or fighting, and if I wasn't doing this, I would have gotten pulled into that lifestyle too," he says. "Hip-hop saved my life."
I am seated in the back of a silver Toyota Land Cruiser on my way from Carthage to Tunis. We seem to be travelling dangerously fast, so I peer at the speedometer. It is broken. Chouaib is sitting up front. He has a large afro above gold-rimmed Ray-Bans; a cigarette dangles from his hand. "I became a B-boy as it was the only accessible thing we could do with our energy," he says. "We didn't have PlayStations, we didn't have the internet, there were only a few TV channels, so all the time we were on the streets. Then k we found that there was this thing you could do without tools – anyone can do it on the street.'"
In the days before the revolution, there was only one radio station, and it was state-run. Today there are more than 20. The offices of 100.6 FM are on the fourth floor of a building in the northern suburbs of Tunis. Karim Kouki, a rapper who hosts a show on the station, also presents a weekly TV show devoted to hip-hop. There were only three TV stations before the revolution, one state-run; today there are 13.
Kouki, 35, discovered hip-hop as a teenager. Breakdancing outside his family home, he would be spat at and called a faggot. He would attend concerts around the turn of the millennium at which the police would try to arrest the rapper who was performing. Since access to the internet was controlled and slow, most of the hip-hop Tunisians heard was from home-grown- rappers such as T Men, Arab Klan and Philosophes, who addressed political realities in rhyme. "When you turned on the TV, you saw lies; when you turned on the radio, you listened to lies," Kouki says. "The only voices telling the truth were the rappers, as they had nothing to lose."
It was rap that provided the soundtrack to the revolution, led by artists such as El General. His track "Rayes Lebled" included the lyrics: "Mr President, your people are dying/ People are eating rubbish… I talk with no fear/ Although I know I will only get troubles/ I see injustice everywhere." The song became the unofficial anthem of the Arab Spring.
The next morning, Abderrazzake "Zolax" Barina is limbering up in the rehearsal room, staring into the full-length mirror as he grimaces and makes aggressive gestures, as if about to pull a knife. "I come from a very tough 'hood in Morocco," he tells me. "The others didn't like the way I did my hair with highlights and my colourful clothes. They said I looked gay, and in this dance I am trying to represent the 'hood, as if it wasn't for breakdancing I'd be like them."
For Cranky, Zolax and their fellow B-boys, hip-hop was a creative outlet for their frustrations and passions – but what about the girls? "It is not easy being a B-girl," says Chouaib. "They have it harder than the boys and it is not considered acceptable, but they do exist." They aren't in the rehearsal room, so where are the girls?
The Whatever Saloon is an airy café-cum-creative hang-out that opened last year, minutes from the main thoroughfare in Tunis. It has hosted many B-boy events, including the North African heats for the Red Bull B-boy Championships earlier this year. It is also a regular haunt for Safa, Rahma and Nesrine.
"I dance to be free and to be me," says Safa, who is 16 and wearing a silver chain that spells Skill – her B-girl nickname – around her neck. She discovered breakdancing by watching boys doing it on the street. "There is no equality between men and women in Tunisia," she says. "Girls are told, don't do this, don't do that, stay at home." The other two nod in agreement and Rahma Boughnim, 18, recalls a recent assault: "I was practising on the street and a man came up to me and said, go home and wash the dishes, and he tried to hit me in the face."
She stopped practising outside, but now the girls rehearse three times a week after college for up to three hours at a time. "We learn our moves from B-boys and online," says 17-year-old k Nesrine. Has anyone told you that you shouldn't be into breakdancing, that you should be at home, I ask. "Yes," says Nasreno. "My father."
Despite the obstacles, when they talk about what breakdancing has given them, the girls' faces light with happiness, and even when I ask Rahma how it felt to be the target of anger, she remains smiling. "I want to be a hip-hop performer," she says. "If it is harder as I'm a girl, that's even better, because when I do it, I will be the one who will make history."
Back in Carthage, sitting quietly in the corner of the rehearsal room is a group of teenage boys. They have driven for five hours in a bus without air-conditioning from Kasserine in north-west Tunisia, a part of the country where there was heavy fighting between the army and Islamist radicals. They want to dance, not fight, and wish to be inspired by the B-boys, so they can return to their homes and do their bit to shape tomorrow's Tunisia. The fear is that the religiously conservative Salafists, who believe music is sinful, could gain in influence. "I'm afraid the extremists will get more power," Cranky says. "They are trying to profit from kids in bad situations."
Tunisia is one of the main sources of Islamist militants travelling from North Africa to fight with radical groups in Iraq and Syria. With four in 10 young people out of work, religious radicalism offers the disaffected a sense of belonging and purpose. Faced with such temptation, hip-hop could be a peaceful weapon: it has saved the lives of these B-boys in the workshop; maybe it could save their nation. "My great hero is Afrika Bambaataa," says Cranky. "He took kids in gangs [in New York] and got them DJing, so they took all that violence and turned it into positive energy. The Bronx then is Tunisia today."
Hakeem Onibudo calls the B-boys to form a circle. "This is your big chance to show London you are true artists," he tells them. "Where could you be in five years? How many YouTube hits, how many awards? You have the chance to make all your dreams come true. So, one more time: let's do this." He turns to Cranky. "Now," he says. "Translate that into Arabic."
Say it Through Breakdancing, a British Council initiative, will be at Southbank Centre, London SE1, next Sunday as part of the Africa Utopia festival (southbankcentre.co.uk)
Register for free to continue reading
Registration is a free and easy way to support our truly independent journalism
By registering, you will also enjoy limited access to Premium articles, exclusive newsletters, commenting, and virtual events with our leading journalists
Already have an account? sign in
Register for free to continue reading
Registration is a free and easy way to support our truly independent journalism
By registering, you will also enjoy limited access to Premium articles, exclusive newsletters, commenting, and virtual events with our leading journalists
Already have an account? sign in
Join our new commenting forum
Join thought-provoking conversations, follow other Independent readers and see their replies