Can musical Mali play on?
Islamism is on the march and threatening to wipe out the country's cultural heritage. Rose Skelton reports from Bamako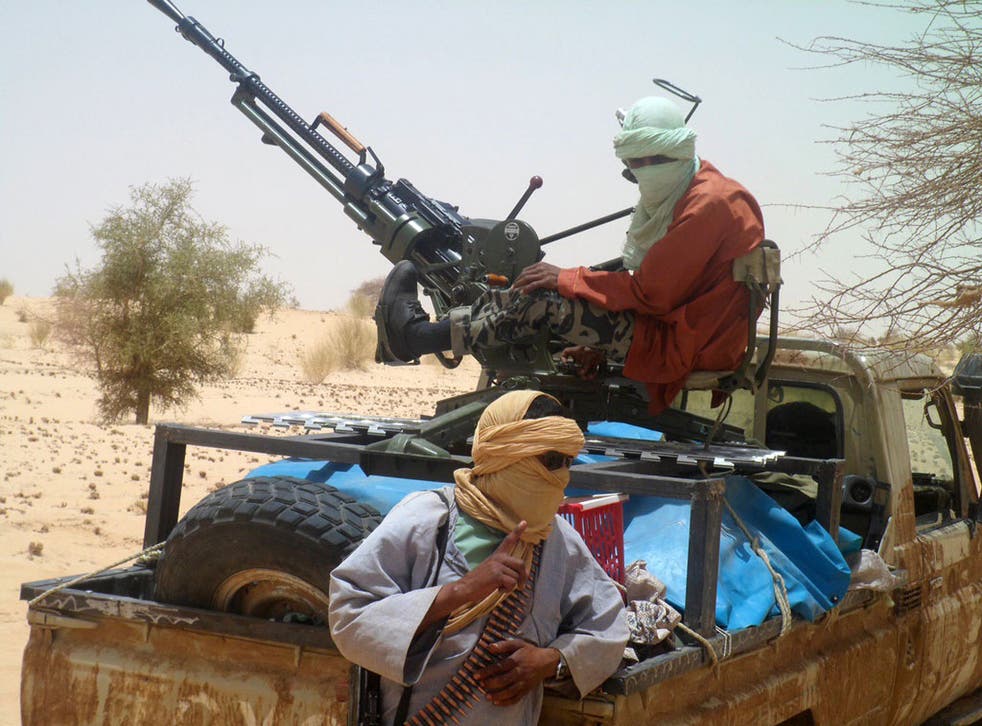 The sky threatened to tip tropical rain on to the dancers' heads. But they moved in a circle around the open-air courtyard regardless, shaking their bodies as if in trance, vibrating to the intense drum and guitar rhythms flowing from the tiny stage.
A young Malian man sat to one side of the dark dance floor, occasionally clapping in time to the beat. "I don't dance," he said, while surveying the ecstatic crowd at the concert in Mali's capital, Bamako. "During Ramadan there are lots of things which are forbidden. But it doesn't bother me to come here."
For some it may seem an unlikely way to start the austere Muslim month of Ramadan. But in Mali, where music has been an integral part of life for generations, the tolerant form of Islam practised by the majority of its population offers no objection to such a celebration.
However, in Mali's northern desert, this is no longer the case. Following a military coup in March, northern Mali has been overrun by al-Qa'ida-linked Ansar Dine militants and other hard-line Islamic groups which hijacked a decades-long rebellion by ethnic Touareg rebels. In the north, extremists violently impose a strict form of Islam, which has prompted hundreds of thousands to flee, has seen sacred shrines in Timbuktu attacked for being "un-Islamic", and now threatens the country's rich musical history.
Malian artists have exported their music with more success than perhaps any other country in sub-Saharan Africa. Artists such as the singers Salif Keita and Oumou Sangare; Toumani Diabate, the master of the 21-stringed harp-like kora; the Touareg-Berber band Tinariwen and the late guitarist Ali Farka Toure are just some of the older generation who laid the foundations for younger musicians, such as Rokia Traore and Ali's son, Vieux, to take Malian music to an even wider audience.
Damon Albarn, frontman of the British band Blur, was back in Mali recently recording a follow-up to his 2002 album Mali Music, which brought Western collaborations with African musicians into the spotlight.
Malian music has not only been exported across the world, it has helped bring the world to Mali. Music festivals, such as the renowned Festival of the Desert, where U2's Bono performed this year, had helped the country achieve a status that neighbouring African countries could only dream of – that of a tourist destination. Now, its fortunes have changed.
When soldiers unseated the president in a coup lasting a matter of hours, the military shattered the image of Mali as one of Africa's most successful democracies. The Festival of the Desert is being moved elsewhere, say its organisers, and Mali is suddenly off the tourist map – a huge blow for the country's fragile economy.
"All the hotels and bars have closed in the north," says Moussa Diallo, the director of Mali's Office of Hotels and Tourism. "Revenue from tourism has completely dried up. The north is the heart of tourism. Those people [who have lost their jobs] know nothing but that."
In addition to the empty restaurants and ghostly hotel corridors, the political turmoil – which shows no signs of ending without armed conflict – has hit musicians hard. In the north, under strict sharia law, music is no longer welcome.
Khaira Arby sits on a tiny narrow bed in a tiny room on the top floor of a youth centre in Bamako, resplendent in a pink and white muslin melhfa, which covers her whole body except her face and her hands. She has been staying here since April, and her suitcases are stacked behind her – the bags she has lived out of since she left her hometown of Timbuktu for a US tour in March.
Singing in the languages of Songhai, Tamashek and Moor, she has taken her impassioned music all over the world, and recorded solo albums heralded in the international press. But since Timbuktu was over-run by militants, she cannot go home.
"I've lost a lot of things," she says mournfully. "My heart is broken."
Ms Arby, who at least has a place to shelter and sing, is one of the lucky ones. When the northern cities of Timbuktu, Gao and Kidal fell to the extremists, her fellow musicians who remain in the north were silenced.
Pheno S, a young rapper in Gao, says he can no longer work because of the rebellion. "Please don't forget us," he says over the phone, desperation in his voice. Like many in Mali, Pheno is hoping for foreign intervention.
As scores of musicians consider leaving the country, many believe it would be a tragedy for one of the world's great musical nations, and the final nail in the coffin for its tourism industry.
Chris Kirkley, who writes the African music blog sahelsounds.com and has recorded musicians all over Mali, says many of those he works with have left for Niger, Mauritania or Algeria.
The Ngoni lute player Bassekou Kouyate, nominated for a Grammy last year for his album I Speak Fula, says he might take his family to neighbouring Burkina Faso if things don't change. "We only have two things, cotton and culture," says Mr Bassekou poignantly, sitting in his modest home in Bamako after a European tour. "Without that, we have nothing. All of the awards in the world have been awarded to Mali because of its music. If people come to destroy that, then they are destroying the heart of Mali."
Register for free to continue reading
Registration is a free and easy way to support our truly independent journalism
By registering, you will also enjoy limited access to Premium articles, exclusive newsletters, commenting, and virtual events with our leading journalists
Already have an account? sign in
Register for free to continue reading
Registration is a free and easy way to support our truly independent journalism
By registering, you will also enjoy limited access to Premium articles, exclusive newsletters, commenting, and virtual events with our leading journalists
Already have an account? sign in
Join our new commenting forum
Join thought-provoking conversations, follow other Independent readers and see their replies