Central African Republic: Brutal echoes of conflict in Rwanda 20 years ago
Since the President was overthrown last year, religious violence in the Central African Republic has claimed more than 1,000 lives and displaced one million people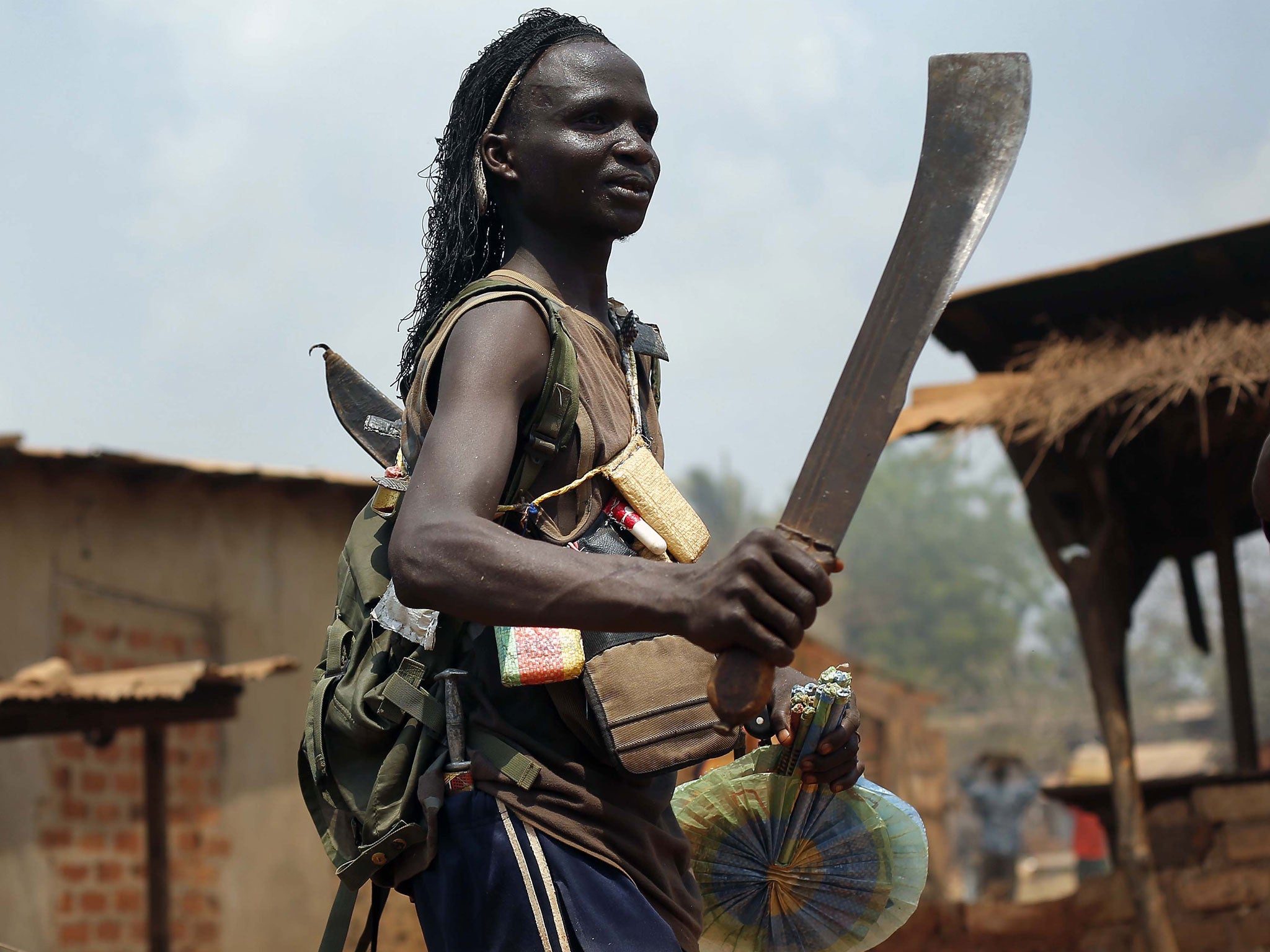 Fatimatu Yamsa knew that her desperate attempt to flee the slaughter all around her had failed as soon as she saw the Christian anti-balaka militia at a roadblock. Fatimatu was on a truck in Boali, about 100 kilometres north-west of Bangui, the capital of the Central African Republic. Knowing she was about to die, Fatimatu pleaded with the Christian woman next to her to take her seven-month-old baby and pretend it was the woman's own.
"If you make it to the next town, ask for the Yamsa family, and give them my baby," she pleaded in desperation as she was ordered to descend from the vehicle.
The baby was saved, but Fatimatu was not. As the truck drove off, she and two other Muslim women and their four children were ordered by the anti-balaka fighters to go into the mosque. One 11-year-old boy made a desperate dash for freedom and escaped. Fatimatu and the others were hacked to death with machetes on 14 January. Dried pools of blood outside the mosque still mark where they had been. When I visited a few days ago, local villagers looked away in shame, and children played inside the abandoned mosque.
In this little-known country in the middle of Africa, a spree of killing is taking place – at least 30 people have been killed in Bangui over the past three days.
When the mostly Muslim Séléka overthrew the former President François Bozizé in March 2013, effective governance of the Central African Republic ceased to exist. Fiefdoms sprang up, ruled by Séléka leaders, some of whom had come from Chad and Sudan. They ruled through terror, burning hundreds of villages and firing randomly on the terrified mostly Christian population whenever they encountered them. Although nominally disbanded in September 2013, the Séléka continued to terrorise civilians for several more months. A predominantly Christian group, the anti-balaka, then began to contest Séléka violence with its own abuses.
The Séléka's self-appointed President, Michel Djotodia, was forced from power by the international community on 10 January 2014, and fled to exile in Benin. On a daily basis, many other Séléka leaders are fleeing, having realised that the game is over for them. General Isa, the former head of presidential security for the Séléka, told me: "Now, it is every officer for himself. We are all trying to find our own way out of here."
In the aftermath of their flight, Muslim communities are facing the wrath of the Christian anti-balaka militia, originally created by Mr Bozizé to fight banditry but now reformed to fight the Séléka, and the majority Christian civilians who have suffered such terror in the past 10 months. In town after town, the Muslim population, consisting of traders and nomadic, ethnic Peuhl cattle herders, have been attacked and massacred, their homes and mosques destroyed.
Last Wednesday, immediately after the Séléka fled the Muslim neighbourhood of PK13 in Bangui, hundreds of anti-balaka fighters arrived, chasing away the remaining inhabitants, who fled to the relative safety of Rwandan peacekeepers at the scene. All around us, homes were being systematically looted and dismantled in an atmosphere of euphoric destruction. The main mosque was dismantled by a crowd of machete-wielding fighters who told us: "We do not want any more Muslims in our country. We will finish them all off. This country belongs to the Christians."
I pleaded with the anti-balaka fighters to leave the PK13 residents alone, but they showed no sign of mercy, telling me: "You get them out of here, or they will all be dead by morning. We will take our revenge."
The death records of the Bangui morgue read like a chapter from Dante's Inferno: page after page of people tortured, lynched, shot, or burnt to death. The smell of rotting corpses is overwhelming, as when people die in such numbers, it is impossible to bury them immediately. On really bad days, no names are recorded, just the numbers of dead. In the 15 minutes we managed to remain amid the stench and horror, two more bodies arrived: a Muslim hacked to death with machetes, and a Christian shot dead by the Séléka.
The French Sangaris troops, who are disarming the Séléka, often seem reluctant to intervene and told me they cannot take sides, even when Muslims, now unarmed, are killed in revenge attacks by the anti-balaka. The less well-equipped African Union Misca troops, particularly those from Rwanda, Burundi, and the Republic of the Congo, are playing a more active role. A commander of the Rwandan troops told me that their intervention in the Central African Republic crisis is deeply personal for him and his troops: "What we see here reminds us of what we experienced in Rwanda in 1994," he told me, "and we are absolutely determined not to let 1994 happen again." Peacekeeping troops on the ground are completely overwhelmed, and a United Nations peacekeeping mission is needed to stop the killings.
There are some small signs of hope. For the Christian population, the Séléka's departure has meant an end to the terror that forced them to flee into the bush, and villages that were abandoned last month are returning to life, destroyed homes being rebuilt.
In Boali, Father Xavier-Arnauld Fagba brought more than 700 Muslims in his town who were under attack to safety at his Catholic church last week. On Sunday, he preached love and reconciliation to his followers, and led them outside to extend handshakes of peace with their Muslim neighbours. "We cannot be silent and cower in the face of injustice, but must have courage," he preached. "True Christians live a life of love and reconciliation, not bloodshed."
After all of the bloodshed we have witnessed here, I listened, fighting back tears, and hoped that his message would be heard.
Peter Bouckaert is Human Rights Watch's emergencies director
Join our commenting forum
Join thought-provoking conversations, follow other Independent readers and see their replies