Chadians 'kill Al-Qa'ida's hostage taker'
Gas-plant siege mastermind Belmokhtar is dead, say Africans, but others dismiss reports as PR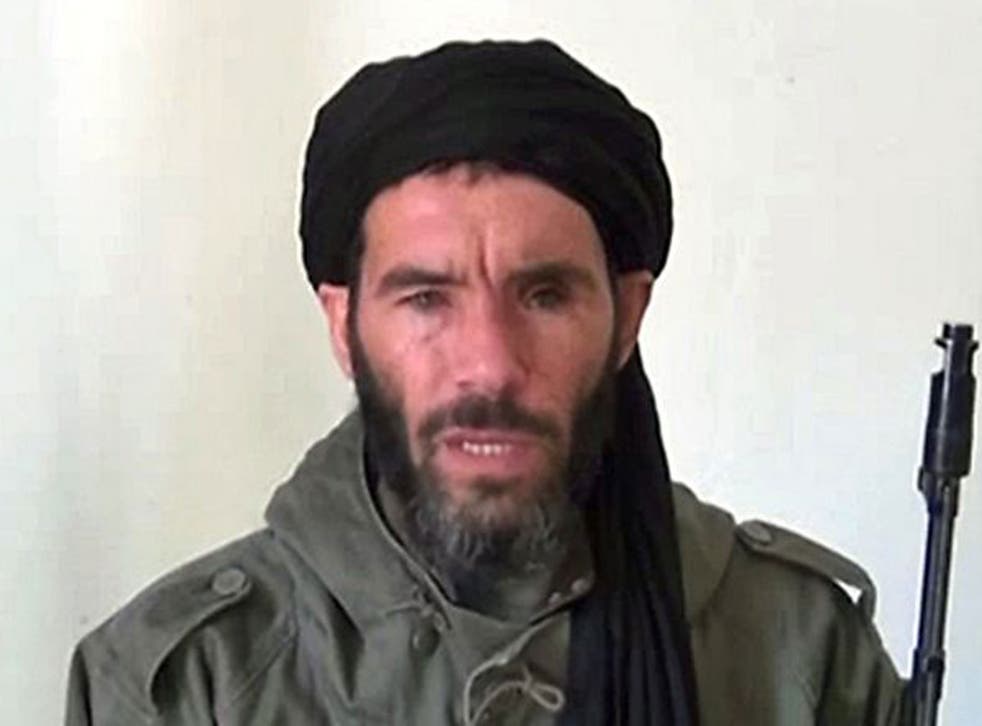 The "uncatchable" al-Qa'ida commander who masterminded a bloody mass hostage-taking at an Algerian gas plant that claimed the lives of six British nationals has been killed by African soldiers, it was reported last night.
Mokhtar Belmokhtar claimed responsibility for the seizure of dozens of foreign hostages at the In Amenas plant in January, where more than 60 people died.
Chadian military chiefs announced on state TV last night that he was one of several terrorist killed in an attack on a northern Mali mountain base. "Chad's armed forces in Mali have completely destroyed a base used by jihadists and narco-traffickers in the Adrar and Ifoghas mountains," Army Chief of Staff General Zakaria Ngobongue told the television network. "The provisional toll is as follows: several terrorists killed, including Mokhtar Belmokhtar."
Chadian troops are fighting Islamist militants in Mali as part of an international force led by France. The French military said it could not confirm the information.
If true, Belmokhtar's death would be a major blow to Islamist rebels in northern Mali who have been pushed back into their mountain strongholds by French and African forces.
But local officials in Kidal, the northern town being used as the base for the military operation, disputed the claim, saying Chadian officials were attempting to score a PR victory following heavy losses.
"These last few weeks, the Chadians have lost a significant number of soldiers in combat. [Claiming that they killed Belmokhtar] is a way to give some importance to their intervention in Mali," said the official.
In Paris, French military spokesman Colonel Thierry Burkhard said that he had "no information" on the claims of Belmokhtar's death. The Foreign Ministry also refused to confirm or deny the report.
Chad's president had said a day earlier that his troops had killed Abou Zeid, the other main al-Qa'ida commander operating in northern Mali. If both commanders deaths are confirmed, it would mean that the international intervention in Mali has knocked out the two main pillars of al-Qa'ida in the Sahara.
Until last December, Belmokhtar and Abou Zeid led separate brigades under the flag of al-Qa'ida's chapter in the Sahara. But after months of reports of infighting between the two, Belmokhtar peeled off, announcing the creation of his own terror unit, still loyal to the al-Qa'ida ideology but separate from al-Qa'ida in the Islamic Maghreb. It was this group that launched the fatal attack on a BP-operated natural gas plant in south-eastern Algeria in January.
French intelligence had dubbed Belmokhtar "the uncatchable" after a string of kidnappings of foreigners over the past decade. He also had a reputation as a "gangster-jihadist" involved in arms and cigarette smuggling, earning him the nickname "Mister Malboro" among locals in the Sahara, according to French media.
In a speech on Friday, François Hollande, the French president, said the operation in Mali was in its final stage. "Terrorist groups have taken refuge and are hiding in an especially difficult zone," he said.
Register for free to continue reading
Registration is a free and easy way to support our truly independent journalism
By registering, you will also enjoy limited access to Premium articles, exclusive newsletters, commenting, and virtual events with our leading journalists
Already have an account? sign in
Join our new commenting forum
Join thought-provoking conversations, follow other Independent readers and see their replies