Charlie Hebdo protests: Five dead as churches and French flags burn in Niger riots over Prophet Mohamed cover
Protesters have been targeting Christian and French institutions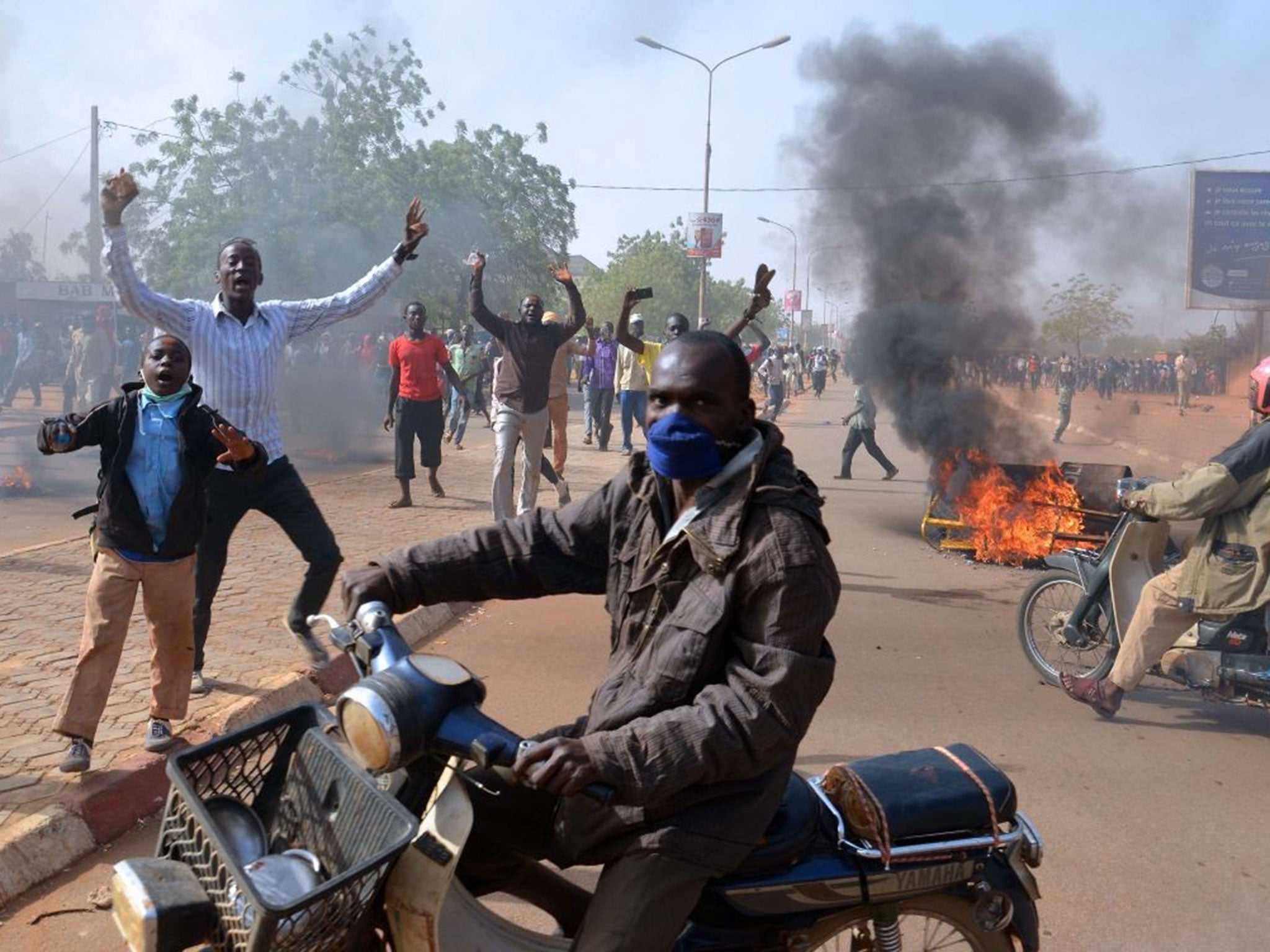 Five people have died including a man burned alive inside a Catholic church in Niger during riots sparked by Charlie Hebdo's latest cover depicting the Prophet Mohamed.
A police officer and four civilians were killed on Friday in Zinder, the country's second largest city, as churches burned and Christian homes and a French cultural centre were looted by mobs.
The death toll originally stood at four but rose to five after emergency services discovered a body in one of several churches that had been set on fire.
On Saturday a second day of protests started outside the grand mosque in the capital Niamey as stone-throwing protesters were met by police firing tear gas to disperse the crowds.
The French flag was set on fire as protesters set up roadblocks and the French embassy warned citizens not to go out on the streets.
Demonstrators attacked a police station and burned police cars after authorities banned a meeting called by local Muslim leaders. Four preachers who had convened the meeting in Niamey were arrested, police said.
At least two more churches were set alight in the city as rage over Charlie Hebdo's cover was targeted at Christian symbols in the former French colony.
"They offended our Prophet Mohamed. That's what we didn't like," said demonstrator Amadou Abdoul Ouahab.
"This is the reason why we have asked Muslims to come, so that we can explain this to them, but the state refused. That's why we're angry today."
Protests were also reported in regional towns, including Maradi, 375 miles east of Niamey, where two churches were burned. Another church and a residence of the Foreign Minister were set on fire in the eastern town of Goure.
Marches also took place after Friday prayers in the capital cities of Mali, Senegal, Mauritania and Algeria - all former French colonies.
In Algiers, several police were injured in clashes with protesters angered by the cartoons amid riots in Algiers but most marches were peaceful.
Protests also turned violent on Friday in Karachi, Pakistan, where police used tear gas and a water cannon against demonstrators outside the French consulate.
A photographer for French news agency Agence France-Presse was shot during the riots and is being treated.
President Francois Hollande condemned the violence, saying people did not understand France's commitment to freedom of speech, even in the case of the controversial cartoons of Mohamed.
"There are tensions abroad where people don't understand our attachment to the freedom of speech," he said. "We've seen the protests, and I would say that in France all beliefs are respected."
The first edition of Charlie Hebdo since the massacre sold out within minutes on Wednesday, causing the print run to increase to 5 million.
Charlie Hebdo: The first edition since the Paris massacre
Show all 15
The cover features a weeping Mohamed holding a "je suis Charlie" sign under the words "all is forgiven."
At the time of the shooting, the newspaper's editor was under police guard because of threats against him because of previous cartoons of the Prophet, which previously culminated in a firebomb attack in 2011.
Brothers Cherif and Said Kouachi claimed they were "avenging the Prophet" when they massacred 12 people at its offices.
Additional reporting by agencies
Join our commenting forum
Join thought-provoking conversations, follow other Independent readers and see their replies