Freed Chibok girl says she still misses her Boko Haram 'husband'
'I want him to know that I am still thinking about him. Just because we got separated, that does not mean that I don't think about him'
Adam Withnall
Thursday 18 August 2016 11:29 Comments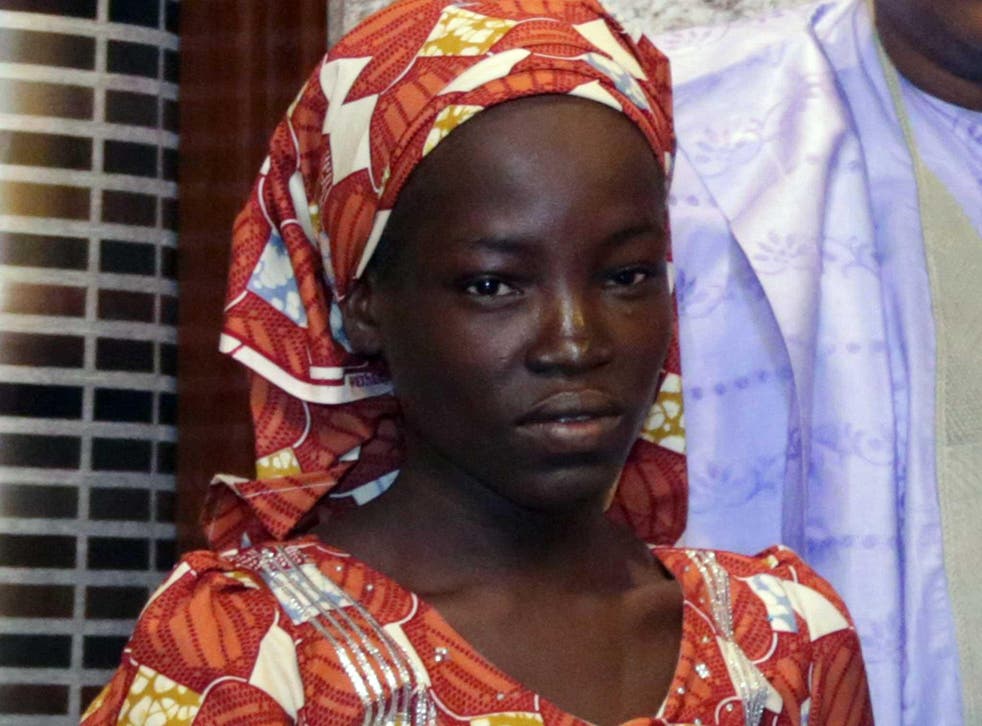 The first Chibok schoolgirl rescued from Boko Haram in more than two years says she still misses the man she was forced to marry during her captivity, who is suspected of being an Islamist militant.
Amina Ali was rescued by vigilantes working with the Nigerian military in May this year, along with her four-month-old baby and a man who she said was her husband, identified at the time as Mohammed Hayatu.
She and her baby are being held in a government facility, a common process for former victims of Boko Haram through which they are supposed to be "deradicalised".
Speaking in the first interview since her return to her family, the 21-year-old said she is "not comfortable with the way she is being kept from him".
Ms Ali told Reuters: "I want him to know that I am still thinking about him. Just because we got separated, that does not mean that I don't think about him."
Doubt remains over Mr Hayatu's role in the militant group, which has terrorised north-eastern Nigeria since 2009 and abducted at least 2,000 women and girls.
Ms Ali's mother, Binta Ali, has told the BBC the man claiming to be her daughter's husband was a mechanic before he was himself captured by Boko Haram, and that he had organised their escape.
But earlier, her brother told the broadcaster Mr Hayatu had been a fighter for Boko Haram until an increase in Nigerian government air strikes meant he was no longer willing to continue fighting.
Ms Ali's would not be the first case in which a psychologically traumatised victim of Boko Haram refused to condemn her alleged captor.
International Alert, a charity which conducted research on victims of sexual violence who are referred to as Boko Haram "wives" at refugee camps in north-east Nigeria, has previously told The Independent how it encountered at least one woman during its research who did not see herself as a victim.
Reuters said Ms Ali kept her gaze downcast throughout the interview on Tuesday, only relaxing and lifting her head when her child was brought in to the room to be breast-fed.
The interview came just days after Boko Haram released a video showing a masked man standing in front of a group of the Chibok girls, saying some of their classmates had been killed in air strikes.
The rise of Boko Haram

Show all 20
It is not known how many of the girls themselves are still alive. Only 59 of the 276 schoolgirls initially taken have been confirmed as having escaped, all but Ms Ali and one other within days of their kidnap.
And while Ms Ali had not heard about the video, she said Boko Haram had told the abducted girls that everyone was looking for them.
"I think about them a lot – I would tell them to be hopeful and prayerful," Ms Ali said. "In the same way God rescued me, he will also rescue them."
Charities like International Alert say the victims of Boko Haram face becoming victims all over again when they escape, such is the stigma against them in the wider Nigerian populace.
Asked about her ambitions for the future, Ms Ali said: "I just want to go home – I don't know about school. I will decide about school when I get back, but I have no idea when I will be going home."
Register for free to continue reading
Registration is a free and easy way to support our truly independent journalism
By registering, you will also enjoy limited access to Premium articles, exclusive newsletters, commenting, and virtual events with our leading journalists
Already have an account? sign in
Join our new commenting forum
Join thought-provoking conversations, follow other Independent readers and see their replies