Congo battles bring new exodus
As fighting flares up again between Tutsi rebels and the army, Steve Bloomfield witnessed terrified civilians fleeing their homes in the country's east
Sunday 02 November 2008 01:00 GMT
Comments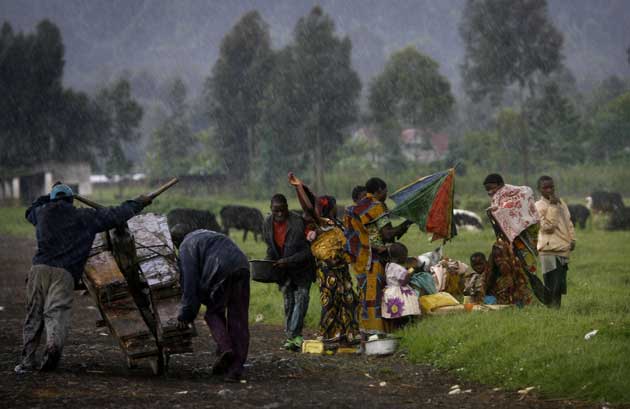 Marceline was sitting on a long wooden bench outside a ramshackle health post, deep in the Congolese jungle. Her eyes were vacant as she gently bounced her six-month-old son, Patrick, on her knee. His weak cries filled the humid air. Patrick had malaria – a disease that could easily kill someone so young and vulnerable.
When his mother spoke, she sounded like a woman who had given up. As she explained what had happened to her family, it wasn't hard to understand why. In the past six months, Marceline and her seven children had run for their lives twice. Each time gunmen had entered her village, firing indiscriminately. She had seen men, women and children felled by bullets; had watched with horror as neighbours had been killed as they ran for safety.
Now she was living in an old school with more than 100 other families. It was a damp and squalid home. Her only lifeline was the food, water and health care provided by aid agencies, but it was not enough. The family was living day to day, hoping the next morning would not bring more fighting, more upheaval. When pressed, Marceline tried to recall a time when the Democratic Republic of Congo was at peace, when she felt safe. "1993?" It was more of a question than a statement.
Today, Marceline is on the move once again. The health post in eastern Congo where I met her has been overrun by Laurent Nkunda's CNDP rebels. She and her children joined the long stream of human misery making their way down red-brown dirt roads, past banana trees and coffee plants, past emerald green hills and smouldering volcanoes, heading for the relative safety – they hoped – of Goma, the capital of North Kivu.
Days earlier I had made the opposite journey, climbing the hill out of Goma and heading towards Rutshuru, a town 55 miles to the north, which was home to more than half a dozen camps bursting with people like Marceline, who had fled the last eruption of fighting in September and October. There is a magical, if incongruous, beauty to this part of Congo. A faded signpost pointed the way to a long-forgotten tourist spot. Mist gathered around the base of the distant mountains. We passed vast fields of coffee plants, once cultivated for export. A large old colonial white house, now derelict, stood alone atop a hill full of coffee. I later met the woman who once owned it. "It was beautiful there," she said with a wistful smile.
Along the dirt road, the jungle pressing in on both sides, were pockets of Congolese soldiers, supposedly guarding the road the rebels would later come down. They looked bored and a little scared. Some wandered through villages, their AK-47s nonchalantly slung over the shoulder, haggling for free food from the women carrying enormous plates of bananas and papayas on their heads.
The soldiers' makeshift tents were in a worse state than those housing the refugees – small, shaky structures made of banana leaves and sticks. When the rain came, violently and suddenly, few were left standing. It looked like a grim existence for the poorly paid and poorly equipped troops, ill-prepared to fight a rebel force that appears to be strangely well funded.
The humanitarian catastrophe now engulfing North Kivu, and propelling the Foreign Secretary, David Miliband, and his French colleague, Bernard Kouchner, to the region, has been a slow-burner. An estimated one million people, out of a population of six million, are now thought to be displaced in North Kivu. Many, like Marceline, have fled more than once. Alice Gilbert, of the British health agency Merlin, warned that tens, possibly hundreds, of thousands of people could be without food, water and health care. "This is the worst I've seen in the 18 months I've been here," she said. "We never imagined it could get this bad."
The roots of the conflict go back to the aftermath of the Rwandan genocide of the 1990s, when the Hutu perpetrators fled across the border into Congo (then known as Zaire) alongside millions of Hutu refugees. The genocidaires soon formed a new militia, and threatened to return to Rwanda. That militia, known today as the FDLR, still stalks North Kivu, giving Rwanda's government enough reason, it claims, to be wary of an invasion.
It is also the reason Mr Nkunda (right) gives for his rebellion. A Congolese Tutsi, he claims to be fighting for Congo's minorities, and believes both the army and the UN force have sided with the FDLR. The former is undoubtedly true, the latter is not. The rebel leader is careful, though, to avoid being seen as a man who cares only for his own people. When I met him two years ago, he did not mention the word "Tutsi" once in a two-hour conversation. He now claims to be fighting for all Congolese, vowing to "liberate" the country.
Rwandan leaders vigorously deny they give any support to Mr Nkunda, but few are convinced by this. Up to 20 per cent of his forces are believed to be Rwandan. Some are former Rwandan soldiers who have been demobilised, others are recruits from Rwandan towns and villages, including the capital, Kigali, where Mr Miliband was due yesterday. Rwandan forces have regularly crossed the border and fought the FDLR. But despite the overwhelming evidence of Rwandan support for Mr Nkunda, Britain – Rwanda's largest international donor – has turned a blind eye to Kigali's transgressions.
The ultimate prize for all Congo's armed groups is the vast mineral wealth that lies beneath the land. The country has unimaginable reserves of gold, diamonds, tin and coltan, a mineral used in mobile phones. The battle for Congo's resources fuelled the two major wars that ravaged the country from 1996 to 2003. Despite an official end to the wars the conflict continued, on and off, until the 2006 elections. These, Congo's first truly democratic vote in more than 40 years, were supposed to herald a new dawn.
Joseph Kabila, who had led the transitional government after his father, Laurent, was assassinated, won handsomely two years ago, thanks not least to huge support in the east. In some parts of North Kivu he won more than 95 per cent of the vote. But the people's hopes have been dashed. Ceasefires have come and gone, peace deals signed and ignored, and throughout it all, UN peace-keepers have struggled to protect civilians.
The UN's Monuc peace-keeping mission is the largest in the world, but its 17,000 troops are stretched across a vast country the size of western Europe. The "blue helmets" have come to be hated by large numbers of the people they are supposed to protect. Rocks are often thrown at UN patrols – four of their bases were attacked by angry civilians when last week's fighting broke out. The commanders say there is little they can do. They have been dealt a losing hand by an international community that takes little notice of Congo when it is not on the front pages.
A peace deal between the government, Mr Nkunda and other rebel groups was signed in January. In the run-up to the agreement, CNDP underlings began to refer to their boss as "chairman" rather than "general". It was an indication, some hoped, that Mr Nkunda was interested in becoming a political player – but within a month he was a general again. Now his troops are not far from Goma. If he wants to take it, he can, with ease. But he knows that seizing this city of 600,000 people could finally push the Congolese government, the UN force and the international community to take decisive action against him.
Despite Mr Nkunda's promises to "liberate" his country, few people believe that he has either the men or the money to attempt it. Instead, as the fighting lulls, and families begin to trudge home once more, North Kivu may return to its previous incarnation: as a forgotten hell.
Join our commenting forum
Join thought-provoking conversations, follow other Independent readers and see their replies