Congo presidential election: Runner-up calls for protests after court rejects vote challenge
'I am now considering myself as the sole legitimate president of the Democratic Republic of Congo,' rival Martin Fayulu says despite loss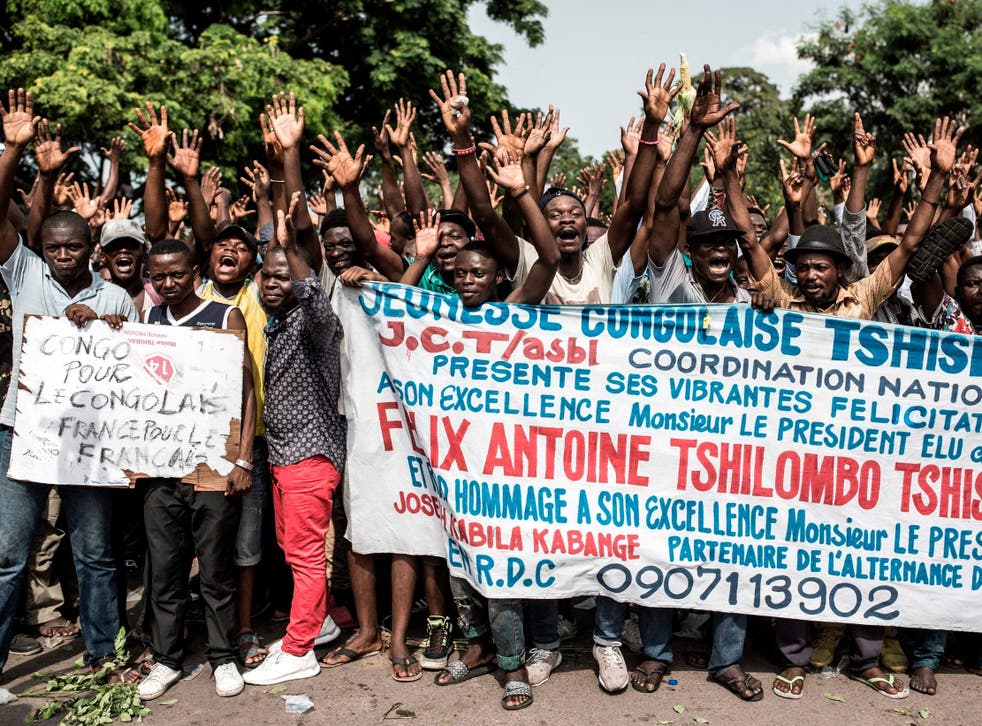 Congo's top court rejected election fraud claims and confirmed Felix Tshisekedi as its new president, sparking fears of further violence across the country.
As Mr Tshisekedi's supporters celebrated in the streets, runner-up Martin Fayulu dismissed the court ruling, claiming it had paved the way for a "constitutional coup d'etat".
The rival candidate claimed the election had been rigged and filed a legal challenge, however it was ruled as inadmissible by the Democratic Republic of Congo's Constitutional Court on Sunday.
Mr Tshisekedi, who received 38 per cent of the vote, had not been widely considered the leading candidate.
However the electoral commission's results showed him winning with a slim margin over Mr Fayulu, who received 34 per cent of the vote.
Mr Fayulu claims that Mr Tshisekedi and outgoing president Joseph Kabila made a deal to cheat him out of a more than 60 per cent win – an accusation they both refute.
In a statement dismissing the court ruling, Mr Fayulu said: "The constitutional court has just confirmed that it serves a dictatorial regime...by validating false results, [and enabling] a constitutional coup d'etat."
"I am now considering myself as the sole legitimate president of the Democratic Republic of Congo," he added in another statement.
Mr Fayulu called for people to mount peaceful demonstrations across the country.
Inside the Congo camp haunted by an unknown war

Show all 10
Unrest over the vote has already killed 34 people, wounded 59 and led to 241 "arbitrary arrests" in the past week, according to the UN human rights office.
In a speech, Mr Tshisekedi welcomed the victory and said he would seek to mend divisions in the country.
Support free-thinking journalism and attend Independent events
"This is the end of one fight and the start of another in which I will enlist all the Congolese people: a fight for well-being, for a Congo that wins," he said.
"Tomorrow the Congo we will build will not be a Congo of hate, tribalism and division."
Independent monitors had flagged major problems with the election, including faulty voting machines and polling stations where many were unable to vote.
The Catholic Church, which had a 40,000-strong team of observers, denounced the provisional result.
In a rare intervention, the African Union (AU) called for final results to be postponed, citing "serious doubts" about the election's credibility.
Congo rejected that request on Friday.
Additional reporting by Reuters
Register for free to continue reading
Registration is a free and easy way to support our truly independent journalism
By registering, you will also enjoy limited access to Premium articles, exclusive newsletters, commenting, and virtual events with our leading journalists
Already have an account? sign in
Register for free to continue reading
Registration is a free and easy way to support our truly independent journalism
By registering, you will also enjoy limited access to Premium articles, exclusive newsletters, commenting, and virtual events with our leading journalists
Already have an account? sign in
Join our new commenting forum
Join thought-provoking conversations, follow other Independent readers and see their replies